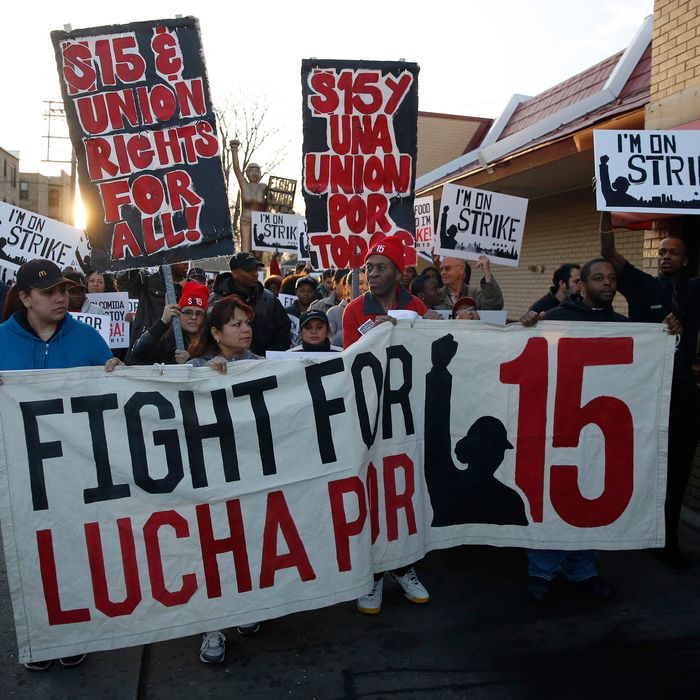 One of the movement's many protests so far.
Photo: Michael Tercha/TNS via Getty Images
The prospect of passing a national living wage looks remote at best under Donald Trump's White House and a GOP-led Congress, but maybe Fight for $15 figured that's all the more reason to organize its "biggest day of action yet." Thousands who work at fast-food chains like McDonald's are set to march with other low-wage earners — Uber drivers, child-care workers, home caregivers, and employees at nearly 20 airports — in 340 U.S. cities for a "national day of disruption." It marks the anniversary of the entire movement, which started four Novembers ago when a few dozen protesters showed up at a McDonald's on Madison Avenue in Manhattan. Since then, 22 million Americans have gotten raises because of their efforts, as the group's statement announcing today's demonstrations points out.
The cause has already picked up big shout-outs from the usual pro-labor backers — Bernie Sanders and Mark Ruffalo, to name a couple — and even though the day's still young, angry crowds with giant banners and megaphones seem to have wasted no time finding the busiest McDonald's in their areas. In several cases, it also looks like police wasted no time arresting them: