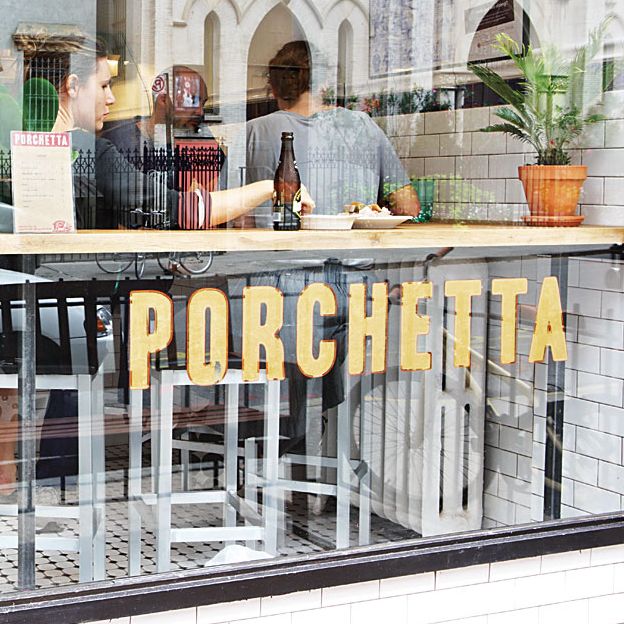 No more roast pork.
Photo: Hannah Whitaker/New York Magazine
This one comes as something of a surprise: East Village roast-pork shop Porchetta has quietly shuttered after eight years in business. Noting that business had been slow and the spot had recently been dark, neighborhood blog EV Grieve confirmed the closing with co-owner Matt Lindemulder. He says they have plans to relocate, maybe in the East Village or possibly elsewhere, but it'll have to be seen if that works out.
While sister restaurant Porsena remains open, it's worth noting that chef and co-owner Sara Jenkins moved back to her home state of Maine this past summer. She remains involved in Porsena, but she also opened a Mediterranean restaurant in Rockport called Nina June. Speaking with the Portland Press-Herald, she explained her decision as having more to do with life and her son and less to do with business: "There is a level of fetishization of food that seems to be going on (in New York), and I'm really over it … New York is just too difficult to live in at this point in my life."
The closing of Porchetta is no doubt a loss for cheap-ish dining downtown. The takeout-oriented shop, which built a menu largely around roast pork but added dishes like a Lebanese roast-chicken sandwich, received plenty of praise during its run. The Underground Gourmet was enamored with it from the start, calling its namesake dish "drop-dead delicious, abundantly juicy, aggressively seasoned," and praising later creations like carnitas tacos and a porchetta bánh mì. Last year, the shop's porchetta Cubano even topped the UG's list of the Best Sandwiches of 2015.