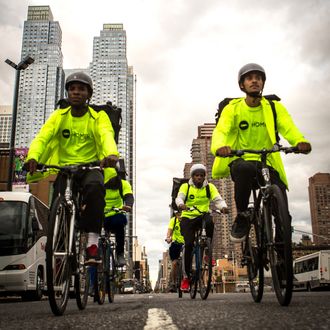 Now bruised egos are all they have to worry about with a fall.
Photo: Daniel Hurtado/Homer Logistics
Big news today in New York's underpaid, non-benefited food-courier world:
According to a report in the Post, one of the city's biggest food deliverers, an outfit called Homer Logistics, will extend medical coverage and stock options to its 300-plus riders around town. Delivery people on bikes — an injury-prone group, to say the least — have been pushing hard for health benefits lately because they argue their work conditions are uniquely dangerous. Most work contract jobs too, meaning a fractured pelvis, for example, is a financial hit.

Founder Adam Price was apparently aware of deliverers' struggles when Homer launched in 2014. The company handles third-party deliveries for a lot of restaurants in the city (clients include Melt Shop, Chop't, Digg Inn, and Dos Toros) and has wrangled about $2 million from investors. Riders average $15 an hour, and are treated as W-2 employees. Medical benefits will kick in early next year, the Post reports, once the start-up concludes talks with Cigna, Anthem, and Aetna, and decides whose coverage is best. Couriers will also get stock options, presumably another major first for riders. That perk starts once they pass the 2,000-hour mark, which takes about a year.