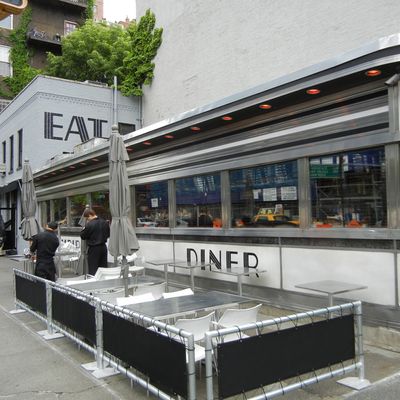 The iconic Empire Diner, which closed a year ago after a short-lived reboot.
The diner, it's long been lamented, is an endangered species in New York City. And this isn't just nostalgia clouding sentimental New Yorkers' vision: According to a new Times report, health-department records show that there are half as many diners in the city as there were just 20 years ago. In fact, there were a reported 398 diners last year as compared to 1,000 a generation ago. (Some of the more recent closings include Hell's Kitchen's retro-futuristic Market Diner, the iconic Latin lunch counter La Taza de Oro, Theater District institution Café Edison, La Parisienne, and Del Rio in Bensonhurst.) The idea that New York is losing something essential to its history is well-established at this point, but the numbers are nevertheless startling.
While diners once seemed endangered in Manhattan only, devotees have started ringing the alarm bells in more far-flung corners of the city. As the closing of Del Rio shows, even diners in the deep outer-boroughs are hurting. It's not a fluke that all these diners are closing en masse, because running them has become increasingly difficult in this city. As Crain's reported last year, the rising cost of business has cut profits in half. Take, for example, the Evergreen Diner in midtown. It makes $1.5 million in revenue, but with a $25,000-a-month rent and other expenses, the owners can barely turn a profit. There's also the issue of stocking the necessary ingredients for even the lowest-selling items on those behemoth diner menus, as well as low check averages in a city that demands high ones.
So the outlook may be grim, but luckily some of the city's best diners soldier on, thriving in their own quirky way. Here, five of New York's essential remaining greasy spoons, which are worth revisiting whenever you get a chance (and before it's too late):
Eisenberg's Sandwich Shop
Resolutely old-school and nearly 90 years old, Eisenberg's is the sort of place where you go to eat a tuna melt with a Cel-Ray on a chrome stool — firmly planting you back in the New York you know.
Court Square Diner
The Long Island City restaurant is your classic diner in all of its chrome glory, with a by-the-books interior straight out of Back to the Future. The menu is, of course, approximately the length of a textbook, with chicken-salad melts, ultimate omelettes, and chocolate custard pie.
Veselka
No one talks about very-late-night dining in New York without mentioning this vestige of the East Village's Ukrainian past, where it's possible to get a burger or borscht at 5 a.m. and come back for a second round at 4 p.m.
Cup and Saucer
The Chinatown classic isn't known for its looks. Surrounded by the hubbub of Chinatown, it's a quintessentially New York in its out-of-place-ness, a place to go for muffins, fried everything, and milkshakes.
Margon
Tucked into Times Square, Margon is part of the Latin-lunch-counter tradition — Cuban, Dominican, and Puerto Rican greasy spoons that serve lechón, rice and soupy beans, sugary café con leche, and other food from the Caribbean.