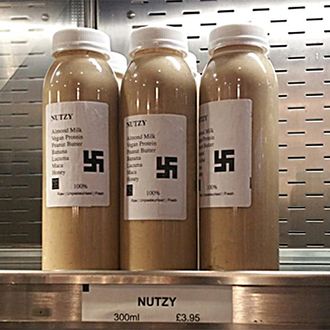 Nope!
Photo: Courtesy of Campaign Against Antisemitism
A Nazi pun is never a good idea, but it's an especially bad one when smoothies are involved. As England's Sun reports, a shop called Nin Com Soup — come on — was selling a smoothie variety it called "Nutzy," a vegan almond milk–peanut butter–banana concoction that was priced at £3.95 plus whatever sense of self-worth you lost by buying a smoothie that honors the Third Reich.

As the Sun has it, a Jewish patron first spotted the bottles and notified the Campaign Against Antisemitism. The café's manager reportedly told that nonprofit group to relax because (1) swastikas are Hindu, and (2) "Nutzy" is "something that has lots of layers," meaning the pun "was misunderstood" — "a play on 'Nazi,'" yes, but it could "also be for 'nuts' or 'courageous.' It depends how it is interpreted."
Other people failed to appreciate that nuance: The Holocaust Educational Trust, for instance, argued the bottle demonstrates "at best a lack of sensitivity, and at worst complete disrespect for the millions murdered during the Holocaust." Nin Com Soup founder Ben Page-Phillips was on the same page as the Holocaust group, it appears; he hustled out an apology on Sunday that reads:
Sadly, an employee deemed it appropriate to put a Swastika on a smoothie named The Nutzy. This was unsanctioned and the bottles were removed immediately upon being alerted by our shop manager.

Needless to say the rogue employee has been dismissed. This was incomprehensible, extremely insensitive, and upsetting to all of us. We unreservedly apologize.
The Campaign Against Antisemitism double-checked the claim, and they found bottles of Nutzy had indeed lost the swastika labels, but for some reason had been replaced "with an image of the Pope waving."