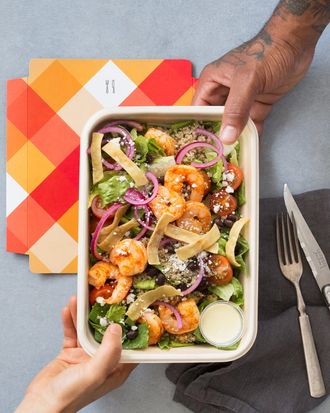 Lots of leftovers.
Photo: Courtesy of Munchery
More signs the meal-delivery business may be coming undone, beyond Blue Apron's scaling issues and a lackluster industrywide attrition rate: Bloomberg reports today that Munchery, the hybrid service that both cooks and delivers meals and has reportedly been valued at $300 million, has had to throw away several million dollars' worth of meals that the company couldn't sell. Insiders claim the company is making cooks reduce food-prep costs, which has meant forgoing organic chicken or wild-caught salmon at times, and that employees in San Francisco are there until 2 a.m. assembling meals that are at times tossed out, or donated.
A rep for Munchery denies most of these claims, telling Bloomberg nobody stays that late and no food ever gets thrown out. But an internal document that suggests that, at a minimum, there's some serious overproduction going on. From Bloomberg:
From September 2014 to July 2016, Munchery's San Francisco kitchen made about 653,400 dishes (an entrée or a side) that never got sold, according to an internal financial document and interviews with ex-employees, who asked to remain anonymous out of fear of reprisal from their former employer … Former and current employees said the start-up was overproducing food in other kitchens and beyond that time period.
That would mean 16 percent of the food coming out of Munchery's San Francisco kitchen went to waste — far more than the typical restaurant average (4 to 10 percent), and a loss totaling more than $1.9 million. A food-waste expert at the National Resources Defense Council tells Bloomberg that's "significant in terms of food," and "also significant in terms of straight financials" for the company. Munchery did admit they produce more meals than they sell, but argues there's a concerted effort to make sure everything gets donated somewhere.