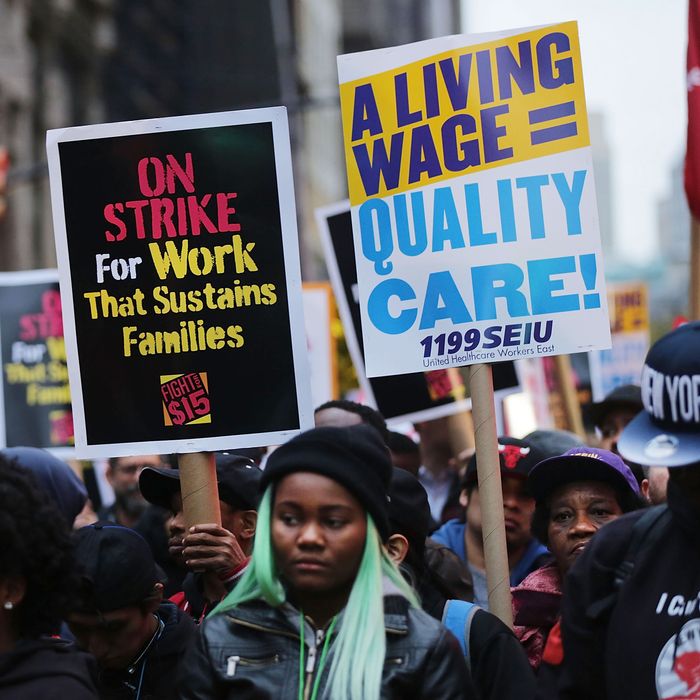 Bummer.
Photo: Spencer Platt/Getty Images
Restaurant employees and the Obama administration both got a rude awakening this morning: One week before overtime pay was supposed to expand to millions more low-income workers, a federal judge has jumped in and blocked the reform with a nationwide injunction until he can rule "on the merits." A bunch of Republican-controlled states and various business interests filed a lawsuit in September arguing the initial move was unlawful, and late yesterday the judge, Amos L. Mazzant III, said he agreed.

From the New York Times:

Tuesday's ruling arose from a case filed by a coalition of 21 states, who argued that the administration had exceeded its statutory authority in raising the overtime salary limit so significantly. A large number of business groups filed a similar lawsuit, and the suits were later consolidated.

In his ruling, Judge Mazzant, whom President Obama appointed, agreed with that logic and appeared to go even further, suggesting that the administration lacked the authority even to establish a salary limit — which the Labor Department has raised repeatedly since Congress enacted the underlying legislation in 1938.
While the delay doesn't spell certain doom for the overtime rule, the National Restaurant Association still applauded it as "a critical step … in the case against the Department of Labor." Industry lobbyists tell Nation's Restaurant News that either way, they're advising franchisees to be ready to comply if it comes to that, but they're clearly hopeful it won't happen once Republicans assume both the executive and legislative branches of government in January.
The International Franchise Association tells the trade magazine the ruling is "a serious and significant victory for the rule of law," adding: "Many franchises were faced with difficult and costly decisions about how to reclassify their greatest assets — their employees."