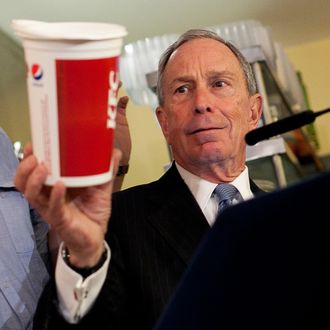 Not a fan.
Photo: Allison Joyce/Getty Images
Popular opinion could very well tip in favor of taxing sugary drinks if voters in San Francisco and Oakland approve soda-tax ballot initiatives at the polls next Tuesday, and possibly nobody understands this better than Michael Bloomberg. With so much riding on whether these measures pass or fail, it's no surprise both sides have ramped up ad spending. What is more surprising is the amount the L.A. Times says Bloomberg has ponied up: $18 million. The pro-tax side has made appeals for more money so it can counter big soda's ads; supporters say the ads dishonestly claim the levy will jack up the price of other grocery items. (The tax isn't paid by consumers — it would be the onus of retailers, who could offset it, if they chose to do so, any way they want.)

To even things up, the former mayor has spent over $5.4 million in the past three weeks to ensure the penny-per-ounce tax becomes reality in the Bay Area. This brings his donations to date to $9.1 million in Oakland and another $9.3 million for proponents of Prop V in San Francisco, compared to just $1.6 million he gave to support Philly's tax that ultimately passed. Billionaire philanthropists John and Laura Arnold also have joined Bloomberg's crusade by contributing another $3 million in the past couple weeks. (That's on top of $3.4 million they threw in to back the ballot initiatives earlier this year.) Bloomberg's contributions plus the Arnolds' are reportedly having a rallying effect by "rejuvenating pro-tax advocates," who Politico notes have been outspent by the soda industry by an almost 4-to-1 margin. Collectively, the beverage companies have spent about $19 million in San Francisco alone.