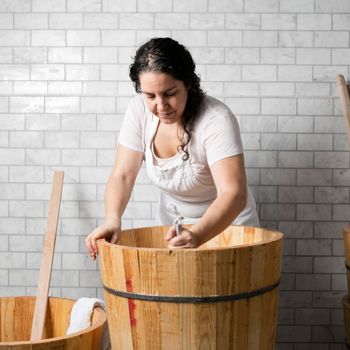 Fany Gerson at work churning nieve de garrafa at her new Mexican sweets shop.
Photo: Melissa Hom/New York Magazine
President-elect Donald Trump has said repeatedly that he wants to build a literal wall on the border, and announced plans to immediately deport 2 to 3 million immigrants. The effects of those policies could be devastating in many ways — including to the food industry, which is one of the country's largest employers of immigrants.
Across America, Mexican food earns $38 billion annually, and New York's restaurant workforce is largely composed of immigrants. Naturally, the owners of small, local Mexican restaurants are wondering how Trump's policies might harm their businesses. Here's what eight of them had to say on the subject.
Fany Gerson, owner of Dough and La Newyorkina
Born in Mexico City, Gerson moved to New York in 1998 to attend the Culinary Institute of America and opened her first business in 2010.
This was the first year I was able to vote. I got married the Saturday before, and we flew back to be able to vote. I feel almost numb. I'm in shock and depressed. I'm not only worried about the States, but also Mexico, because the peso is devaluated, so I feel like I get it from both sides. I'm very, very concerned.

I would say 40 percent of my staff is Mexican, and counting Hispanics, it goes up to 80 percent. The staff is panicked about whether they're going to be sent back — they're here legally, but parts of their family, or their friends, are not. There's a lot of uncertainty. Even as I'm concerned about my own business, it becomes a bigger thing. I say, "We're going to get through this together. I have your back, even if the government may not."
The truth is that most of the people that come here from Mexico, who are undocumented, come here to look for work — they don't want to stay here. They want to go back. They come here to get a better opportunity to provide for their families that unfortunately Mexico doesn't have. So this only makes the situation in Mexico worse, you know? It increases the gap. There are a lot of people that are like, "Oh, you should just go back to Mexico," and I say, "But now it's even worse."
But, you know, I am an eternal optimist. There have been moments of panic, especially having a new brick-and-mortar that's focused on Mexican desserts — that depends on a lot of tourism. I'm not concerned about the tourism from different parts of the world. But a lot of the [American] tourists are Trump supporters. You hear people in the streets dismissing it, like, "Oh, this is Mexican." I've always been as supportive of Mexican products as much as I can, and ingredient prices are going to go up for me. But now I want to create an area just for artisan products made from people in Mexico. I think it's important to, yes, be vocal, but also be supportive of diversity — not just Mexicans, but anything that has to do with minorities, and the businesses that represent those groups.

Cosme Aguilar, Casa Enrique
Aguilar grew up in Chiapas — Mexico's southernmost state — and moved to the U.S. in 1998. He opened his Michelin-starred restaurant in Long Island City in 2012.
When I woke up that morning, I felt exactly the same as I did on 9/11. I felt very empty. I felt very sad. But I don't think it's going to affect my business. In probably the Midwest, or the other sides, maybe they'll feel the effect, but not New York. I think we are going to go on in the same way. Emotionally, yes, but in a business sense, I don't think so.
Two months before, we had Ivanka in here having dinner. We didn't say nothing. She was just another customer. When she came it was very busy, so she waited 40 minutes to get a table with her husband and another couple. I didn't know she was here until one of the managers came up to me. I didn't believe that, so I went upstairs and looked at her, and, yeah, it was her. We just gave her the same service as everybody else.

We always want to have everybody who works here be legal, you know, in case anything happens. That's why we always look for good people who have everything in order — papers and everything. You know, no matter what happens, you have to keep going. We have to fight for our rights and try to keep the faith and keep working and do the best we can do. That's it.
Barbara Sibley, La Palapa
Mexico City–born Sibley moved to New York to go to college in 1980 and opened La Palapa in 2000.
It was devastating for me because I'm a Mexican woman of Jewish descent married to an African-American. There aren't many boxes I don't check. To me, it was very clear, hearing the rhetoric, that the threats are real. It was never just words. I have children, and having to get up in the morning and explain to them was difficult. We had to eat ice cream for breakfast.
Mexican restaurants in New York attract young professionals who like to have a good time. The economic uncertainty, and depression, in those groups — it feels very much like 9/11. People are not sure how to have a good time. I'm already seeing larger groups of people coming together, like they need a special occasion to go out, and the weekdays are much quieter. Because my East Village restaurant attracts such a diverse clientele, it's very easy to sense how people are feeling — the common thread — and it feels like they're in a state of mourning. I've had my restaurant [for] 16 years. I can see a different business pattern. I watch the stock market, and even though it seems to be a wait-and-see situation, people aren't going out as much right now. They're being cautious.
But I held a fundraiser for Hillary. It's important for me to give people in my community an opportunity to make a positive difference and feel engaged. I'm lucky in that I have something concrete to do: I can make delicious food and help people feel better.
Alex Stupak, Empellón Cocina, Taqueria, and al Pastor
Stupak, born in Massachusetts, opened his first Empellón restaurant in 2010.

My staff is probably 70 percent Mexican, and they're more emotional right now then anything else. They all have visas, and they're all here legally, but it's just more of a feeling of, Are we wanted here? I'm really trying hard to put my arm around everyone and tell them that everything's going to be okay. The psychological impact is what's most concerning to me … Not to be jaded, but at the end of the day, and I hope I'm right, what the hell is Trump going to do? Deporting 11 million off-the-record migrant workers —the country will implode.

I've always made the decision to not really push Mexican culture forward in a public way, because I'm sensitive to the fact that I'm not Mexican, and though I'm deeply inspired by the culture, doing anything public-facing has always felt like appropriation to me. But in all my restaurants, it's Mexicans who are running the kitchen. We've always tried to push outside the parameters of what's expected of the cuisine, because we want it to become a direly needed part of New York City, the same way that Italian food has become over the years … But I thrive on adversity. So, at this point, I want to stuff Mexican cuisine and Mexican culture and tacos down everyone's throat in every corner of America as much as humanly possible.
My restaurants are not unique; most restaurants, from my experience, are Mexican-run, whether they're Italian or Mexican or Japanese, for fuck's sake. As a matter of fact, I want more Mexicans working in my restaurants now. I want to bring more in. The American dream is here for anyone who wants to come in and work their asses off. New York City is one of the greatest cities in the world, and I think that's because of its diversity.
Guillaume Guevara, Miscelánea
Mexico City–born Guevara came to New York in 2004 and opened his deli in 2015.
After the election, we got an interesting vibe from people. A lot of people came in and were very nice, almost as if someone had passed away. They [were] saying, "I'm so sorry," but not even mentioning Trump by name. So we have felt very supported. A lot of these people are neighbors and friends, but many are new customers, just coming in because they know we're Mexican, to show their support.
One thing Trump is very against is the NAFTA agreement. He says that cheap Mexican products are diminishing the value of American products. Whether he'll be able to change it or not remains to be seen, but if he does, it will impact our business tremendously. I'm trying to be optimistic.
As a Mexican myself, I came to the U.S. because I wanted to be here. No one forced me. I think the majority of Mexicans came because they wanted to be here. I hope the majority will stay because they love this country and it's a wonderful place to live.
Roberto Santibañez, Fonda
Santibañez moved from Mexico City to America in 1996 and opened Fonda in 2009.
I was shocked like everyone else. I truly never thought it would happen. But I don't think he has the power to change what America stands for — I think everything he said was to gain more press and attention, and it got him what he wanted.
I really don't think it will impact the business. It's early to see. It's very hard to operate a small restaurant, as we all know. It's hard to compete with the big guys. To keep our people happy, and to just keep them, we have to pay extraordinary amounts of money so they don't go work for Dos Caminos or Rosa Mexicano.
To the best of our ability, we try to monitor that everyone is here legally, but you're never quite sure. We don't have a way of corroborating everything. The other day, two of my cooks were joking, like, "Hey, before they send us home, maybe we'll go home!" My husband is really depressed. But I have this strong belief that everything Trump said, it was just to get him elected, and he's never going to act on it.
Danny Mena, Hecho en Dumbo
Mena, born in Mexico City, came to the U.S. for college in 1998, moved back to Mexico in 2002, and launched Hecho en Dumbo in 2007.
It's been interesting to talk to my friends in Mexico and hear about the rumors spreading over there — that they're going to revoke all Mexican visas until the wall is built and paid for by Mexico. I don't think that's going to happen. There's way too much dependence on immigrants. I'm trying to think on my staff who's not Mexican. Almost everyone. We're all in shock. I've gotten to the point where I can't look at the news anymore.
I was expecting the stock market to take a hit, and it didn't. The peso plummeted. So I think because the stock market didn't drop, business seems to be continuing as normal. I haven't seen any major changes in business. It's more demoralizing than anything.
A year ago, my wife said if Trump wins, she'd want to move back to Mexico because she would feel safer there. She's a teacher, so we're going to go down next summer and reassess. I'd love to go back and raise my kids in Mexico.
Luis Arce Mota, La Contenta
Mota left Mazatlán for the U.S. in 1992 and opened his first business in 2005.
Mexicans are used to having stupid, immoral presidents and mayors, but it's deeply disappointing. As an immigrant and a Mexican restaurant owner, there's always a fear that people will call you names and demand you go back, because the president says it's okay. One of my waitresses started crying when the results came through. She's only 23, and for her, she doesn't know what's going to happen. It's hard because, in the end, through my business, I can't really express how I'm feeling, because I can't risk having retaliation.
I don't think he's going to deport everyone, because a lot of the immigrants do the jobs that keep our economy going. I'm saying to my staff that it's going to be fine. And that they're what this country needs.