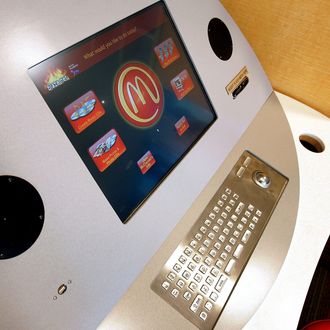 The future has arrived.
Photo: Tim Boyle/Getty Images
For the next phase of its largely lackluster "turnaround plan," McDonald's figures that maybe it should try joining the modern age. The chain tells Business Insider it's gearing up to add order-and-pay technology to its mobile app, which will give customers in America, plus a few other international markets (Britain, Canada, France, and Australia), the ability to preorder McGriddles and charge it to their smartphones. It's a touch late-coming, and the announcement itself still jumps the gun: A rep for McDonald's says the app won't surface until 2017, then could take another year to reach full rollout, which is estimated at 20,000 to 25,000 restaurants worldwide.
CEO Steve Easterbrook has teased for a while that this day would come. When the straggling chain said back in 2015 that it was going to introduce this thing known as "an app," he predicted a bold future in which customers would be able to order ahead of time, then just stroll in and pick up their food. He explained the restaurant would use phones' geo-location services to track when customers arrive.
Easterbrook missed the chance to be on the leading edge, but at least the move will finally catch the chain up with essentially every one of its competitors, from Starbucks and Taco Bell to Chick-fil-A. McDonald's says choice, convenience, and the myriad other benefits of an order-and-pay app have always been "an important part of the restaurant experience at McDonald's," though as an analyst wryly notes to Business Insider, "This isn't new technology."