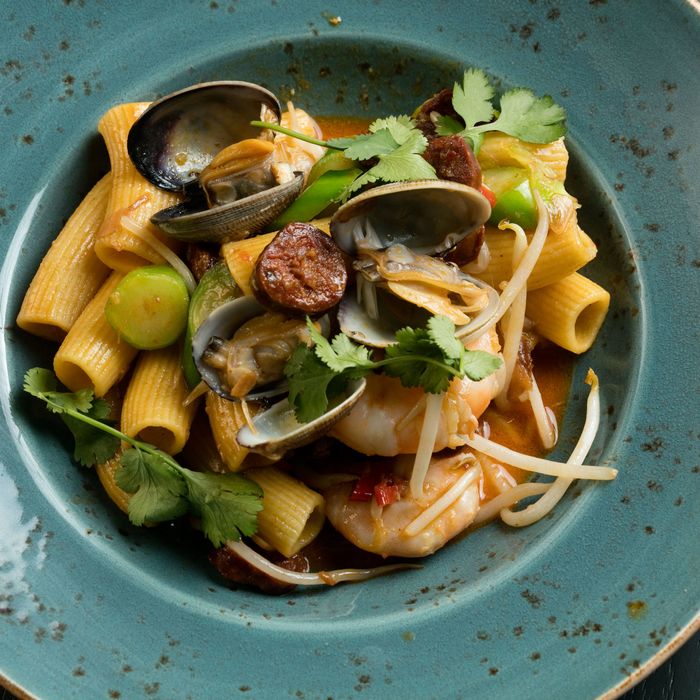 Rigatoni à la Singapore with clams, shrimp, Italian sausage, Chinese broccoli, and XO sauce.
Photo: Melissa Hom
The chef Dale Talde likes to describe his style of cooking at Talde, where he serves bacon pad thai and pretzel dumplings, as "inauthentic Asian." Now, he's giving the same cheeky treatment to Italian food at Massoni, his first foray into the Manhattan restaurant scene. (Talde had dabbled in Italian food before with Jersey City's now-closed Carrino Provisions.) The new spot is located in the Arlo Nomad, where Talde and his crew are also operating a second-floor bar named BARlo, a takeout spot called Bodega, and next spring will open the Heights, a rooftop bar.
At Massoni, which launched breakfast service earlier this week and will start dinner this coming Monday, the menu is heavy on pastas and pan pizzas. Those square pies take a pretty clear inspiration from Brooklyn's Emmy Squared, with toppings like clam and potato and ricotta salata and pistachio pesto. And while there's a straight up spaghetti with meatballs, there's also "rigatoni à la Singapore" with clams and XO sauce, Caesar salad made with nori, and "hot olive soy sauce" with the steamed orata. Breakfast is more basic, think polenta pancakes and a farro grain bowl, while Bodega will serve that same pizza plus mocha danishes, Italian-American sandwiches like meatball parm and Italian beef, and more.