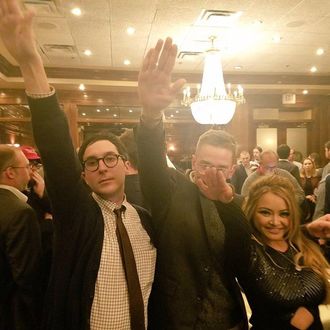 No.
Photo: Tila Tequila/Twitter
By now, many people have seen (or tried stomaching) video of people at an alt-right conference on Saturday in Washington, D.C., giving Trump enthusiastic Nazi salutes. The night before, the same avowedly white-nationalist group, called National Policy Institute, noshed on pasta at the Chevy Chase location of Maggiano's. The Italian chain now says that was accidental, and it will donate the night's proceeds to the Anti-Defamation League.

It's possible nobody would have known about the dinner at all, but internet celebrity turned Hitler admirer Tila Tequila tweeted a pic of herself and two fellow conference-goers doing the straight-handed salute, possibly made while waiting for their orders of Mom's Lasagna to arrive. (Tequila claims "obviously we were doing the Roman salute"; Twitter suspended her account.) According to the Washington Post, Maggiano's discovered it was at the center of this debacle sometime yesterday, so it hustled out a statement putting as much daylight as possible between the homestyle Italian-American chain and the extremist group it hosted:

Per the statement, that location became "the inadvertent site" of the private event because NPI made its reservation very last-minute, and under a false name: "Therefore we were not aware that NPI was dining with us or what the group represents." The chain also clarified that any "expression of support of Hitler" is "extremely offensive to us."
To make amends, Maggiano's has also pledged to donate all proceeds from Friday's sales — a total of $10,000 — to the Anti-Defamation League, which is committed to fighting anti-Semitism and bigotry.