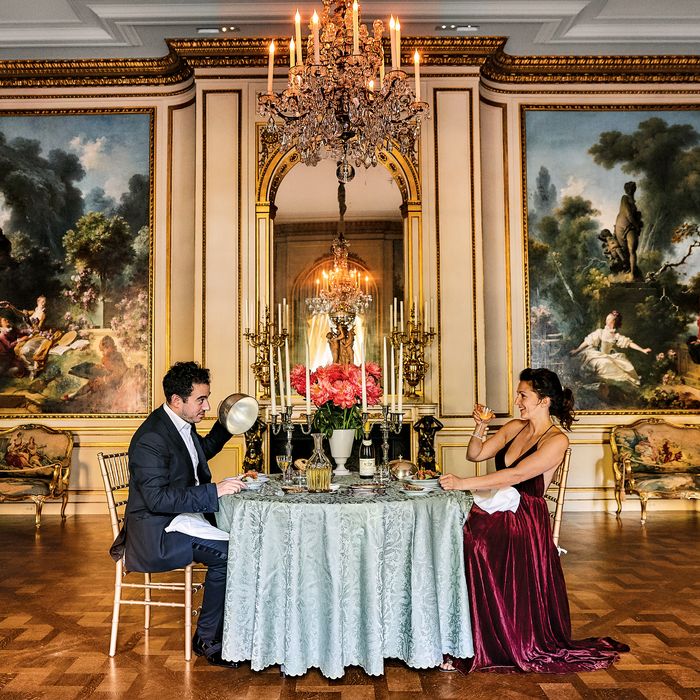 Daniel Rose and Marie-Aude, Styling by Diana Tsui. Suit, shirt, and shoes by Tom Ford. Dress by Ralph Lauren Collection. Shoes by Oscar de la Renta. Tablecloth by E. Braun & Co. Candelabras by Lynn Field at Bergdorf Goodman.
Photo: Bobby Doherty/New York Magazine
For this year's Holiday Food special, we sent American cooks with French restaurants into homes (and the Frick) to host relatively easy-to-replicate dinners.
"It smells like France in here," chef Daniel Rose says upon entering the Fragonard Room of the Frick Collection. It's a welcome smell for the 39-year-old Chicago-born chef, who rose to fame in Paris for his tiny, seasonally focused restaurant Spring, and who decamped to New York with his family this past June to launch the grand, inventive brasserie Le Coucou. He's at the Frick on this mid-October Monday to cook a romantic dinner for his wife, Marie-Aude, surrounded by the looming The Progress of Love panels, done by one of his favorite painters. (When he first arrived in Paris to study at the American University, he found himself at a Drouot auction at which he bought a "possible" Fragonard, cut from a larger painting, and had it cleaned and sold it for three times more.) For this intimate dinner (save for a crowd of security guards — the Frick has never allowed food to be consumed in this room before), Rose set out to design a menu that would allow him to spend more time eating and less time cooking: warm briny oysters with seaweed butter and oeuf norvégien (an artichoke heart topped with a soft-boiled egg and a creamy coating of crème fraîche with chives and enveloped in smoked salmon), followed by a bourride bursting with clams, mussels, large prawns, and black bass. As the two finished up their meal with a classic dense chocolate mousse and royale d'orange cookies, he said: "There's no place I'd rather be than here."
Oysters warmed with seaweed butter
Vouette & Sorbée "Blanc d'Argile" Extra Brut
~
Oeuf norvégien

J. B. Becker Riesling Kabinett "Wallufer"
Berg "Bildstock" Rheingau 2008
~

Bourride with aïoli
Domaine Tempier
Bandol Rosé 2010
~

Mousse au chocolat and royale d'orange cookies
Rare Wine Co.
"NY Malmsey" Madeira NV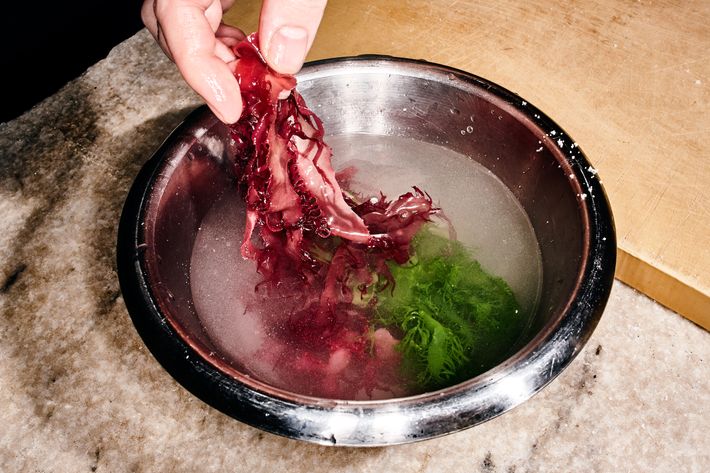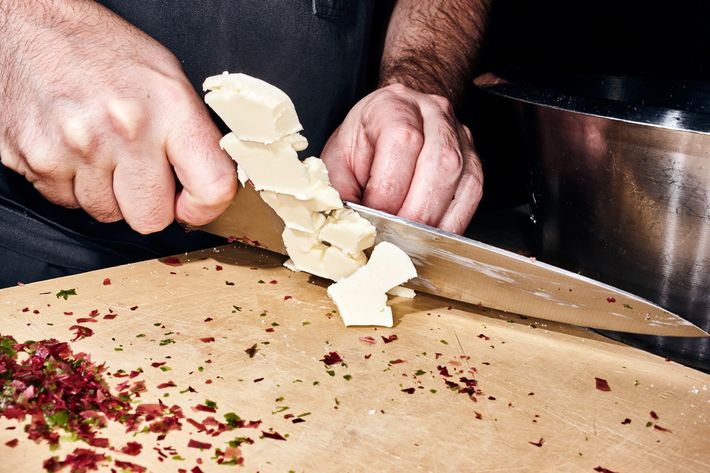 Recipe:
Oysters
Warmed
With
Seaweed
Butter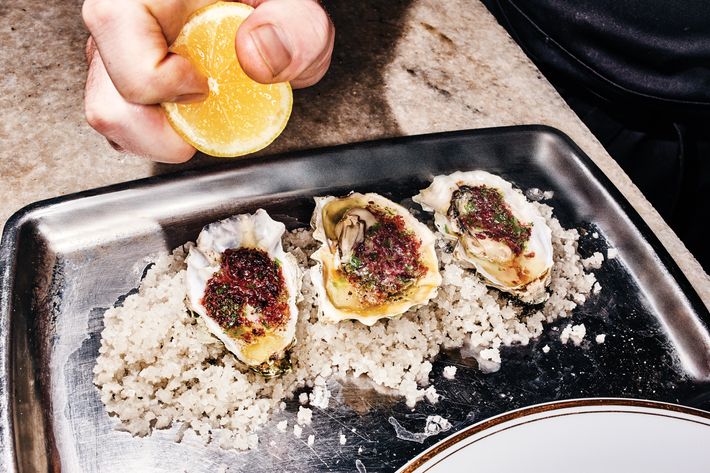 6 oysters
Sel gris salt
½ cup finely chopped red and green Tosaka Japanese seaweed
½ cup unsalted butter at room temperature
Lemon juice
Freshly ground black pepper
Shuck the oysters. Cut the muscle under each oyster and set the shells in a bed of sel gris on a platter. Rinse the seaweed to remove all salt. Mix seaweed and butter in a small bowl until completely combined. Put 1 teaspoon of the mixture on top of each oyster and place under a broiler for 3 to 4 minutes, until the butter melts and starts to sizzle. Squeeze a little lemon juice and a sprinkle of pepper over each oyster and serve immediately. (Note: Any seaweed butter remaining can be frozen and used later on fish, lobster, or chicken.)
See how the dish is prepared: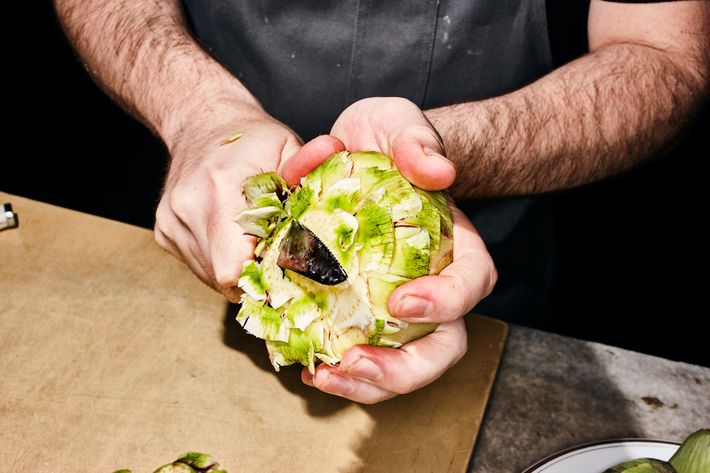 2 artichokes
Lemon juice
2 eggs
3 slices smoked salmon
Dill and arugula for garnish
To prepare artichoke hearts: Snap back the tough outer leaves on each artichoke until the pale-yellow leaves are exposed. Rub the cut surfaces with lemon juice as you go. Trim off the top with a sharp knife and pare down the leaves that cover the base of the heart. Use a teaspoon to remove the fibrous "choke" buried in the center. Keep the artichoke hearts in lemon water until ready to cook to stop discoloration. Discard all the leaves. Place the artichoke hearts in a steamer and cook until tender for about 20 minutes. Place the eggs in boiling water and cook for 5 minutes and 20 seconds (for soft-boiled). Put them in an ice bath, and when cool enough to handle, peel the eggs.
Chive Cream:
½ cup heavy cream
¾ tsp. gelatin powder
1½ tsp. lemon juice
18 tsp. salt
2–3 tbs. chopped chives
Put ¼ cup of cream in a small saucepan, sprinkle with gelatin and allow to bloom for a minute, then warm over low heat, stirring occasionally, until the gelatin has melted. Set aside. Season remaining cream with lemon juice, salt, and chives in a small bowl; add to the heated cream and stir to combine.
To assemble: Fill each artichoke heart with a spoonful of cream. Nestle soft-boiled egg into the cream and cover egg with more cream. Allow them to set in the refrigerator for 1 hour. Drape 1 1/2 slices smoked salmon over each egg. Garnish with dill or other herbs and serve on plates with a little arugula.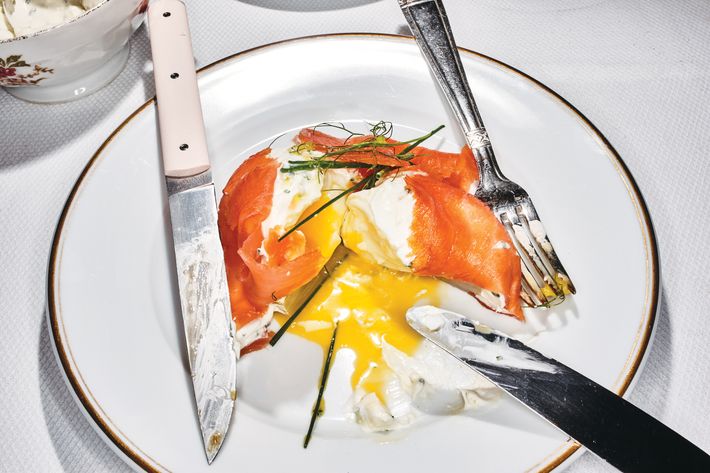 See how the dish is prepared: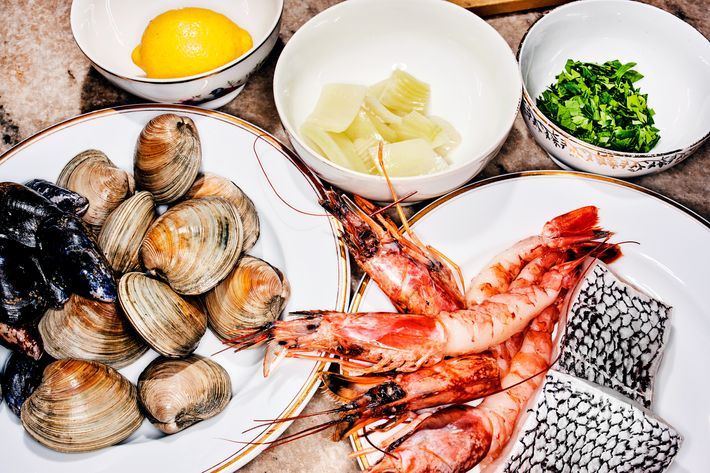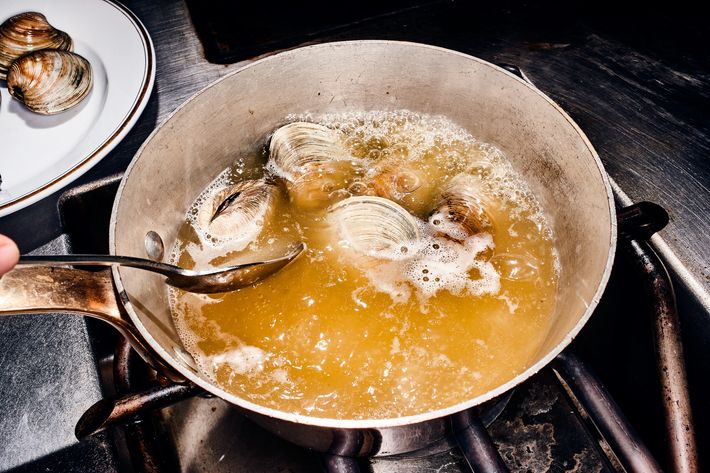 Recipe:
Bourride
With
Aïoli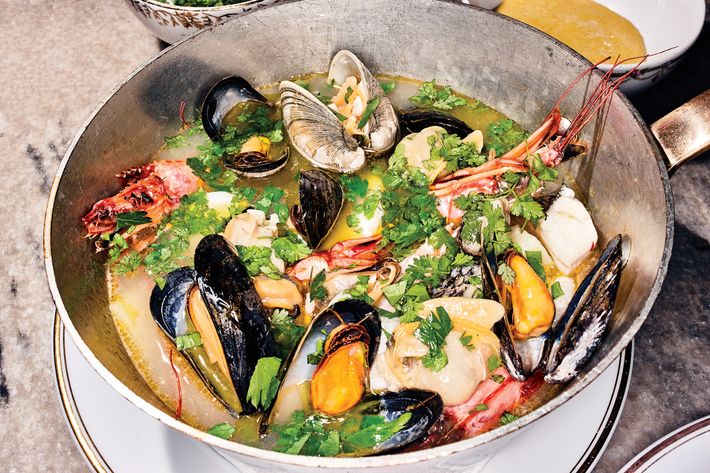 2 cups fish stock (available from a good fishmonger)
10 littleneck clams, cleaned
12 mussels, cleaned — beards removed
1 large peeled and steamed Yukon Gold potato, cut into 1-inch pieces
½ bulb fennel, chopped and blanched but still crunchy
2 pistils saffron
8 oz. skin-on black-bass fillet, sliced into 1-inch-wide pieces
4 head-on peeled shrimp
¼ cup mixed chopped parsley and chervil to taste
Lemon juice
2 tbs. extra-virgin olive oil
Bring the fish stock to a boil in a heavy-bottomed pan. Add the clams and cover until they are just opened. Remove clams and set aside. Repeat with the mussels. Add the potato, fennel, and saffron and return to a boil, then add the fish and shrimp and cook over moderate heat for 2 minutes. Once the fish is cooked, return the mussels and clams to the pan. Sprinkle with parsley and a few drops of lemon juice and drizzle with olive oil. Serve immediately in the same pan, with croutons on the side.
Aïoli:
1 small potato, peeled and cooked, about 2-by-1 inches
1 egg yolk
1 tbs. sherry vinegar
½ cup extra-virgin olive oil
7 garlic cloves blanched in milk (cover garlic cloves in cold milk, bring to a boil, peel, remove germ, and chop finely)
Salt and freshly ground black pepper
In a medium bowl, mash the potato with the egg yolk and the vinegar, and season with salt and pepper. Pour in the olive oil a little at a time, whisking until the oil is incorporated before adding more, as if you were making a mayonnaise. Stir in the chopped garlic and a few drops of lemon juice and season to taste with salt and pepper. Serve the aïoli in a bowl on the side to allow everyone to add as much as they like to the bourride.
See how the dish is prepared:
Recipe:
Mousse
au
Chocolat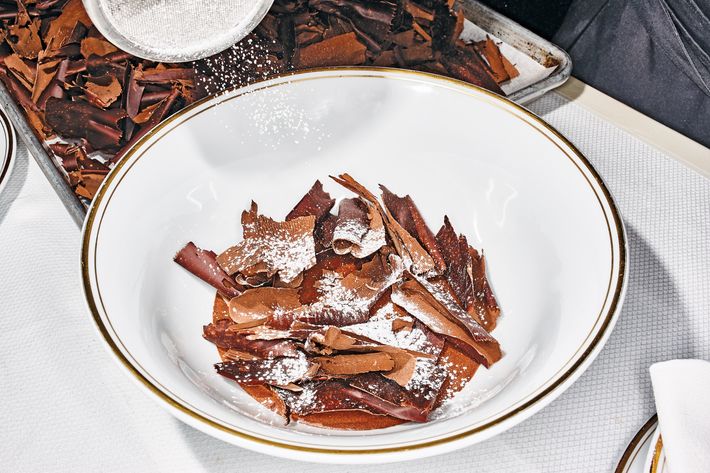 4 oz. Valrhona chocolate, 70 percent
1 oz. Valrhona chocolate, 100 percent
¼ cup heavy cream
3 yolks
¼ cup sugar
5 egg whites
Shaved unsweetened chocolate for garnish
Confectioners' sugar

Melt both chocolates in a double boiler. Bring the cream to a boil in a small saucepan and gradually stir in the chocolate to make a smooth ganache. Whip the yolks and 1½ tablespoons sugar together at high speed. In a separate bowl, whip the egg whites and gradually add the remaining sugar to make a standard meringue and until the whites reach a smooth, creamy consistency. A little at a time, fold the yolks into the chocolate ganache, then fold in the meringue a little at a time until each addition is incorporated and there are no longer any white streaks of meringue. Tap the bowl once to settle the mousse. Transfer into individual glass bowls and chill. Garnish with shaved unsweetened chocolate and a dusting of confectioners' sugar.
See how the dish is prepared:
Get Printable Versions of the Recipes
Oysters Warmed With Seaweed Butter
Oeuf Norvégien
Bourride With Aïoli
Mousse au Chocolat
*This article appears in the October 31, 2016, issue of New York Magazine.