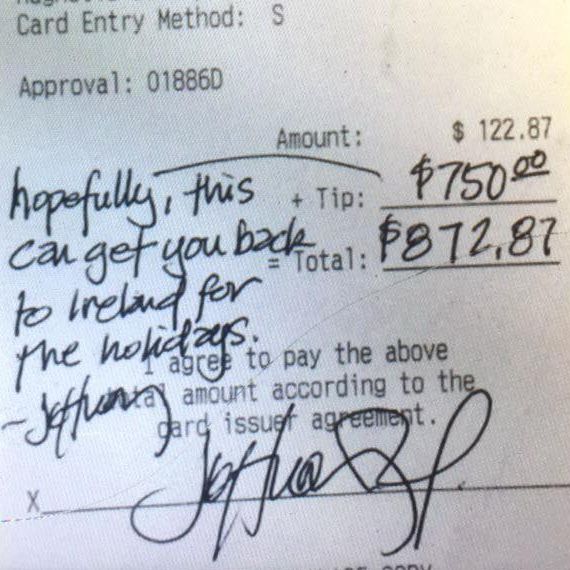 Nice.
Photo: Taryn Keith/Facebook
Hopefully this trend keeps up as we get closer to the holidays: Yet another immigrant server has gotten a mammoth tip. Ben Millar, a waiter from Ireland who works at a Houston restaurant, served a man named Jeffrey and his family this past weekend, and while talking, Jeffrey noted that they visit Ireland "often." But it turns out Millar hasn't been home in two years, and is about to have his first son in January. He tells ABC News he "jokingly" told Jeffrey, "I wish I could go back that often to see my family."

Once the family left, Millar noticed the family had left a $750 tip on their $122.87 bill, and left a note that reads,"hopefully, this can get you back to Ireland for the holidays." Per ABC News, Millar's initial reaction was "shouting, 'Holy s—!'"
Millar's girlfriend put a pic of the receipt on Facebook, writing a comment that said: "Thought I would share it to show everyone [that] there is not only hate out there. Truly blessed."

Millar tells the Chronicle he's going to save the money until Killian is born in January, then he'll take his new family to meet everyone back in Belfast.