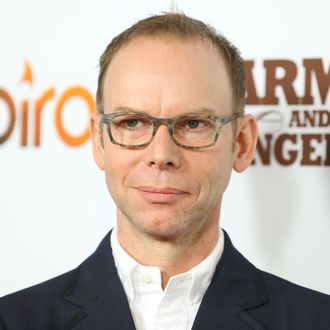 The writing may be on the wall, Steve.
Photo: Michael Tran/FilmMagic/Getty Images
Considering that Chipotle's shares have plummeted by half since last year, co-CEO Steve Ells has persevered against the odds pretty well so far — he had to take a pay cut, list a house, and face a couple of lawsuits, but his duties at the company have remained intact. That luck may be about to change, though: Two activist shareholders with strong union ties — Amalgamated Bank and CtW Investment Group — filed a resolution yesterday to strip him of his board chairmanship. In a statement, they argue his leadership "is unsustainable and counterproductive, posing a direct risk to shareholders and the public at large." Their resolution proposes replacing Ells with an outside director with none of the E. coli baggage (and they probably wouldn't object if this person had a reputation for being more labor-friendly, too).
In Chipotle's food-scare fallout, investors filed lawsuits, and CtW was behind a failed effort to oust lower-level board members. This is still arguably the heaviest-handed move shareholders have taken so far against the chain, although people could argue the writing's been on the wall ever since billionaire Bill Ackman, one of the best-known activist investors, took a big stake in the company back in September.

It's worth noting the group isn't demanding Ells's head; he'd stay on as co-CEO, just lose his position as board chairman, a title he's held since 2005. Their proposal is already gaining traction: Reuters says New York's comptroller Scott Stringer, who runs city retirement funds that own Chipotle shares, "immediately backed" the proposal. So did the California Public Employees' Retirement System, whose shares number at nearly 100,000. Ackman hasn't commented yet, but Reuters reports people "familiar with" his thinking say he's angling to make a few high-profile personnel swaps as well, demanding that a "substantial" amount of Chipotle's board become people with actual expertise in "food safety, marketing, and digital engagement." Either way, Ells may soon find himself with a little more time on his hands.