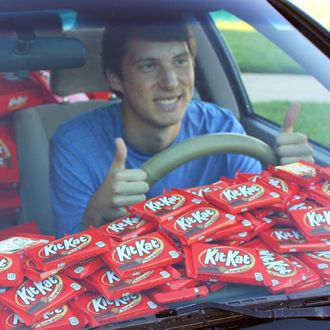 Guess things worked out in the end.
Photo: KitKat
Freshman college student Hunter Jobbins recently left his car unlocked while it was parked outside of the Kansas State dorms, and, boy, did he pay the price. He returned to find some delinquent had opened the door and stolen his prized possession:
The Kit Kat was apparently just sitting loose in the cupholder. His sadness from the discovery didn't last long, though. Hershey was eager to ride the coattails of a tweet that was accumulating hundreds of thousands of likes, so it mailed Jobbins a box of free Kit Kats with a card saying, "Saw your Kit Kat got stolen, hopefully this makes up for it." Then the company showed up at Kansas State and crammed his Toyota Camry full of 6,500 more bars — effectively a Kit Kat a day for the next 18 years.
Ever the gentleman, Jobbins decided to distribute his motherlode to students on campus. "I honestly didn't think any students would show up," he tells USA Today, but in a testament to the hunger and desperation of being a college student, he says he ended up passing out "around 4,000 to 5,000 Kit Kats." He isn't sure how to manage the newfound fame, and neither, apparently, is his school:
As he figures it, the 1,500 to 2,500 he has left over should get him "through the rest of the year."