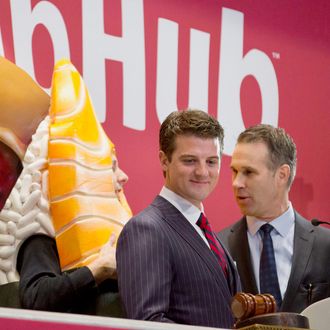 Maloney before he was forced to "reconcile my own worldview" with the election.
Photo: Jin Lee/Bloomberg via Getty Images
GrubHub CEO and co-founder Matt Maloney is having a doubly bad week after dashing off a companywide anti-Trump email on Wednesday that minced few words. "The antithesis of every modern presidential candidate won and will be our next president," he informed more than 1,000 employees. In light of this turn of events, he said he wanted several things about working for the food-delivery company to be crystal clear.
First off:
While demeaning, insulting, and ridiculing minorities, immigrants, and the physically/mentally disabled worked for Mr. Trump, I want to be clear that this behavior — and these views, have no place at GrubHub. Had he worked here, many of his comments would have resulted in his immediate termination.

Also:
Further I absolutely reject the nationalist, anti-immigrant, and hateful politics of Donald Trump and will work to shield our community from this movement as best as I can … I want to affirm to anyone on our team that is scared or feels personally exposed, that I and everyone else here at GrubHub will fight for your dignity and your right to make a better life for yourself and your family here in the United States.
Then finally:

If you do not agree with this statement then please reply to this email with your resignation because you have no place here.

The anger, once Fox News published the email, from the nation's 59.9 million Trump voters was, as you'd imagine, pretty much immediate, with many demanding boycotts on Twitter:

Maloney tells Fox News that "almost 20 percent" of GrubHub's employees personally thanked him for making that statement, so he's "not embarrassed by it." A few people at the company may have felt differently though, because a press release posted by Maloney went up a short while later trying to "clarify" his remarks. "I did not ask for anyone to resign if they voted for Trump," he explains in it. "I would never make such a demand." Rather, that email was a message about "discriminatory activity or hateful commentary in the workplace," and GrubHub "welcomes and accepts employees with all political beliefs, no matter who they voted for in this or any election."