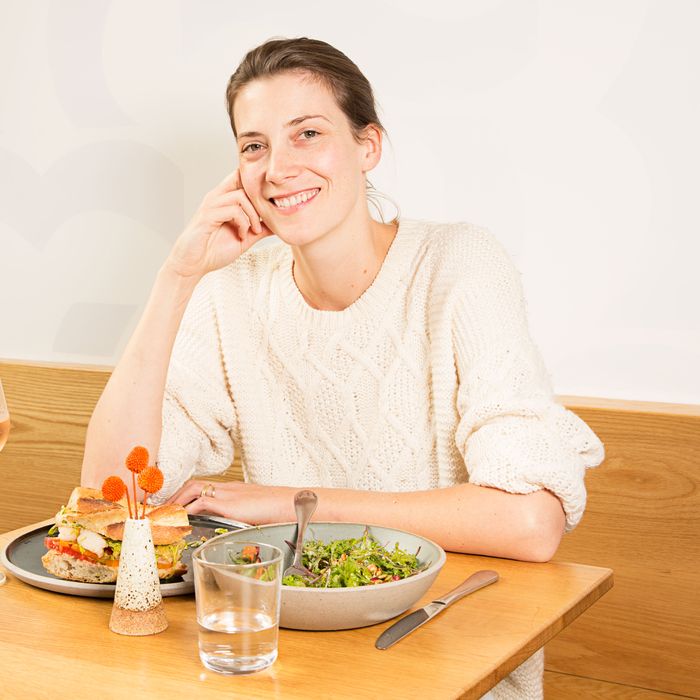 At Chez Tex in Santa Monica.
Photo: Bradley Meinz
As the food editor of Goop, Thea Baumann plays a critical role in shaping the site's content and works closely with Gwyneth Paltrow on the thriving company's books, like It's All Easy and the soon-to-be-released Goop Clean Beauty. She's no health nut, though: "I never diet, but I make a lot of my own food, which I think helps me stay healthy. I just try to avoid processed foods, or go to places that use good ingredients." In Los Angeles, that means a mix of chicken tacos, breakfast sandwiches, and turmeric lattes. Read all about it in this week's Grub Street Diet.
Thursday, November 10
I have to be downtown at Guisado's — one of my favorite L.A. taco spots — at 7:30 a.m. for a photo shoot with Ralph Lauren. I live on the east side, so it only takes me ten minutes to get there, but the early start means the Starbucks coffee on set is very welcome. After the shoot wraps, I grab two breakfast tacos (the Mexicana with scrambled eggs and salsa, and the chorizo and egg) and a lemon agua fresca to go.
I head into the office and do a little recipe testing in our brand-new kitchen — pan-seared salmon with braised lentils, and a parsley-lemon-zest gremolata, plus an escarole salad with an anchovy dressing for lunch. We're testing recipes for our 2017 detox plan, and I think this one may have just made the cut. Gwyneth eats everything that goes on the site, pretty much. She's super involved and tasting everything in the kitchen.
I get home from work at around 6 p.m. and realize I'm starving. I put a couple slices of bread in the toaster and devour a few handfuls of (organic!) ridged potato chips while I wait. I eat my toast with leftover hummus from last night's takeout dinner from Dune in Atwater Village — I'm obsessed with their falafel — and put my little 6-month-old baby, Frances, to bed.
My husband, Oscar, plays soccer on Thursdays, and we usually eat dinner together when he gets home. We have some frisée in the fridge from Sunday's farmers' market, so we decide to make salade lyonnaise. We always have a jar of homemade salad dressing (nothing fancy, just an emulsified mix of Dijon, red-wine vinegar, and olive oil) in the fridge, and he puts some bacon in the oven, so all we have to do is poach eggs when he gets back. I pour myself a glass of whatever is open in the fridge (my husband sells wine, so, lucky for me, there's always something open) and sit on the couch to look at some emails. I pull the bacon out of the oven and transfer it to a paper-towel-lined plate to cool. I eat a piece of bacon and decide to have a BLT "snack" while I wait for Oscar to get home. I end up falling asleep on the couch, and the frisée is left to languish in the fridge for one more day.
Friday, November 11
I wake up with the baby at around 5 a.m., feed her, and we all snooze in bed until 6 or so. Oscar makes coffee (he's kind of a nerd when it comes to coffee — there's a scale and a burr grinder and a Chemex involved), while I get packed up for work. I take my coffee to go and eat a banana as I'm rushing out the door at 6:45.
We're shooting some food videos in our test kitchen today, so everyone on set eats what I'm making for lunch. I can't eat any dairy or soy right now (my baby can't tolerate it in my breast milk, which is a major bummer for someone who loves cheese as much as I do), so I leave the soy-marinated salmon for the others, and eat a Mexican breakfast bowl with quinoa, spinach, black beans, and a soft-boiled egg with lots of cilantro. As far as I'm concerned, you can't go wrong when cilantro is involved.
Someone sent us some dairy-free and soy-free mini chocolate chips to try, so I snack on those while I tidy up the kitchen and finish up my work. I was pleasantly surprised by how good they were.
Oscar and I miss eating out as much as we used to before the baby, so we try to go out somewhere every Friday. The one good thing about dining out with a baby is that even on a Friday, you can almost guarantee a reservation if you're eating at 5:30 p.m., so we check out Café Birdie — a newish restaurant in nearby Highland Park. We order the grain salad with lentils, farro, broccolini, roasted carrots, and charmoula, and the chilled prawns with gribiche (which are excellent) to share, and I have the pork-cheek ragù with pappardelle.
We get home, put the baby to bed, and I immediately change into PJs; grab a pint of my new favorite non-dairy ice cream, NadaMoo! mint chocolate chip; and hop on the couch to watch Leonardo DiCaprio's new climate-change movie on Netflix.
Saturday, November 12
The whole family wakes up early and I'm craving Mexican food, so we go to El Huarachito in Boyle Heights for breakfast. I have coffee (which I usually take black and unsweetened, but here it automatically comes sweetened and I kind of love it) and huevos divorciados, plus a lot of chips and salsa.
We drive to the beach in Santa Monica for a walk and some fresh air, and to dip Frances's toes in the ocean. While we're on that side of town, we visit our friends at their new restaurant Chez Tex. I order an almond-milk latte to go.
My friend is visiting from San Francisco for the weekend, and we grab a late lunch at Honey Hi, an adorable new café in Echo Park. I order the Moroccan bowl with beef and lamb meatballs, tomato sauce, zucchini noodles, and a carrot slaw, and try to keep Frances from knocking the whole thing off the table.
We're having some friends over for dinner later, so I stop by Cookbook Market (the cutest, best curated little market ever), which is just up the street, to grab some last-minute groceries and some dairy-free rice pudding.
Since we had such a healthy lunch, we decide some soft-serve is in order and head over to Magpies in Silver Lake. I'm obsessed with this place because they have at least two non-dairy options at all times, and they have the best toppings. I order a coconut chai with maple-coconut chips.
Even though the weather is not cooperating (it's 88 degrees outside), I'm craving cozy food, so I make a French-bistro-inspired dinner: salade lyonnaise (that poor frisée finally got used), coq au vin with mashed potatoes, and chocolate pots de crème made with coconut milk (a recipe I got from Virginie Degryse, who writes the blog Crave and Cook).
Sunday, November 13
We make coffee and smoothies — frozen banana, frozen mango, kale, and coconut water — at home and catch up with family via FaceTime before heading to the Hollywood farmers' market. I'm a shameless sampler at the market, and there's so much good stuff in season this time of year. We stock up on lettuces, kale, broccoli, avocados, eggs, sausages, bacon, persimmons, and apples for the week.
We meet my sister at Go Get 'Em Tiger in Los Feliz for brunch. I order the turmeric-ginger-almond-macadamia latte (I, like the rest of the world, am on a bit of a turmeric kick) and a fried-egg-and-bacon sandwich with caramelized onions.
I get hungry again at around 3 p.m., but since we're meeting friends for dinner at 5:30 (the joys of having a 6-month-old!), I opt for a healthy snack of Goop granola with almond milk and blueberries.
We meet our friends and their baby at Salazar, a family-friendly taco spot that opened in our neighborhood this summer. We get some chips and salsa for the table (sadly, there is no guacamole on offer, due to the Mexican avocado grower's strike), and I order a Paloma and two chicken tacos.
When we get home and put the baby to bed, I realize I'm still hungry, so I heat up some of the leftover coq au vin and eat it on the couch while watching Chance on Netflix (I can't help but watch everything Hugh Laurie is in). I also split a pot de crème with Oscar.
Monday, November 14
We got some nice avocados at the farmers' market on Sunday, and Oscar made bread yesterday (he makes two sourdough loaves every week, which is kind of the best thing ever), so breakfast today is avocado toast with sea salt and marash chili.
More recipe testing in the Goop kitchen today — I make turkey burgers in lettuce wraps for lunch, and have a couple of rice cakes with almond butter and a sprinkle of sea salt for an afternoon snack.
I meet the fam at Desano's pizza for an early dinner. Cheeseless pizza is always going to be a bummer, but the crust here is excellent, and I love the laid-back vibe, so we end up eating here a lot despite my current dairy intolerance. I order the Napoletana, which has broccoli rabe and sausage, and Oscar and I share a spinach salad.
Tuesday, October 15
Avocado toast and fried egg on toast for breakfast today. Plus, coffee, as always.
I have to be in Studio City at noon, so I'm working from home this morning, testing some recipes for an upcoming shoot with Coco Bakes. I make vanilla pudding, sweet-potato bread, and molasses cookies. I go overboard on the taste testing (hazard of the job) and feel slightly ill.
I meet a co-worker for a late lunch at Chez Tex. I order the salad with kale and pomegranates, and the shrimp po'boy sandwich.
On the way home, I stop by McCall's Meat and Fish Co. in Los Feliz to pick up some clams for a recipe I'm testing. When I get home, I have my third slice of sweet-potato bread (which is really more like cake) while I prep dinner. I make a sausage-clam-kale dish in my donabe that I'm planning to use for an upcoming story. We eat it right out of the pot, using grilled bread to soak up all the liquid. I make an ice sandwich with one molasses cookie and some NadaMoo vanilla ice cream, and catch up on some emails before going to bed. Dishes can wait until the morning.