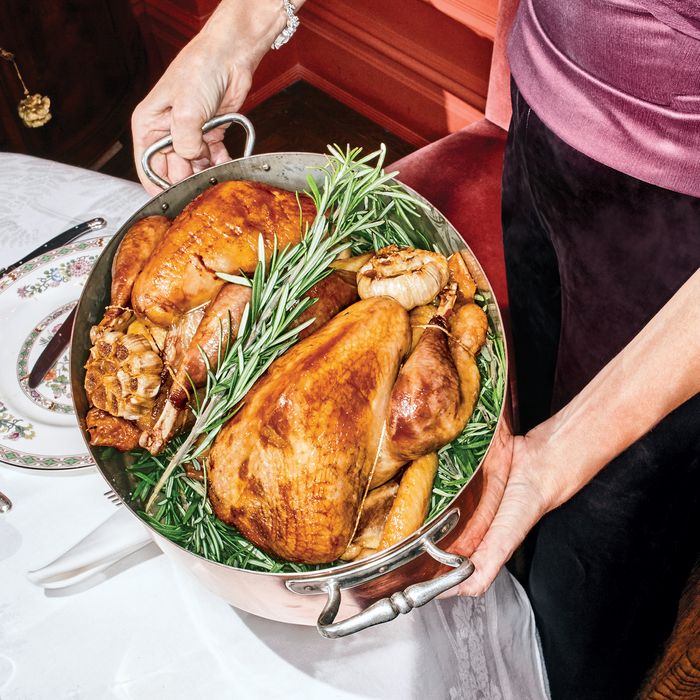 The hen.
Photo: Bobby Doherty/New York Magazine
For this year's Holiday Food special, we sent American cooks with French restaurants into homes (and the Frick) to host relatively easy-to-replicate dinners.
Just a few hours before eight dinner guests were set to arrive at Rotisserie Georgette owner Georgette Farkas's 17th-floor penthouse apartment on East 79th Street, she learned that her elevator was broken. This was not an issue for Charles Masson, the former general manager of La Grenouille, who was the first to show up, bearing the flower arrangements. "I run the marathon, so the 17th floor wasn't a problem," he said. "The only silver lining is that my mother, who has an apartment on the fifth floor, won't be up and down telling me to spruce things up," Farkas said as she started setting the table with silver and Wedgewood china left to her by her father. Fortunately, by 5 p.m., the elevator was back in service, just in time for sommelier Jean-Luc Le Dû to arrive with the wine (he and Farkas worked together at Daniel; he was the sommelier while she was Boulud's marketing director). "I have a lucky corkscrew from the École Hôtelière de Lausanne from 1991 that I haven't lost — it's such a miracle," she said before offering it to Le Dû as he decanted a bottle of Pessac-Léognan Grand Cru Classe Bordeaux. Next to arrive was Daniel Boulud, along with his wife, Katherine Gage. He made a dash for the kitchen with his tourte de boudin blanc with truffles and foie gras. "It's impossible to keep him out of there," Farkas said. When it was time for everyone (including 60 Minutes' Lesley Stahl and interior designer Alexandra Champalimaud) to take their seats, they dined on Farkas's porcini salad sprinkled with hazelnuts, the rosemary-brined and roasted guinea hen, and a celery-root purée with glazed carrots. Conversation, of course, turned to restaurant gossip: Masson revealed the name of his new restaurant ("La Majorelle, after a garden in Marrakesh"). Meanwhile, Francine Farkas and Stahl had lots to catch up on, having just reconnected after 40 years. At around 10 p.m., as the guests finished their île flottante, a soft meringue drizzled with caramel atop a crème anglaise, Farkas announced that she had just received word that the elevator would stop in 15 minutes. Everyone leapt to their feet, and the stuffed, happy crowd disappeared into the service elevator.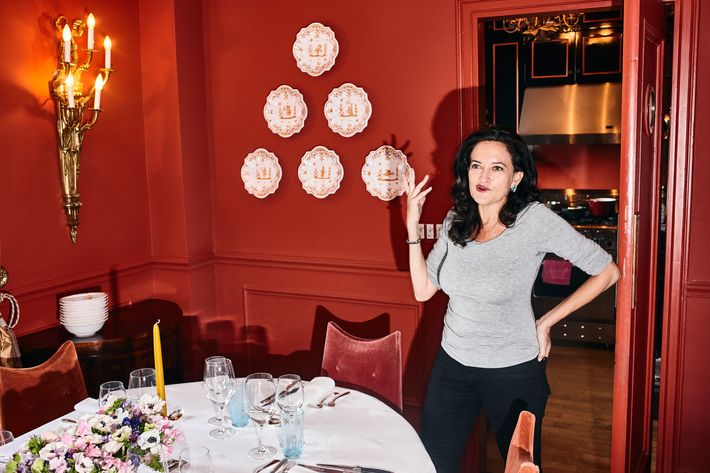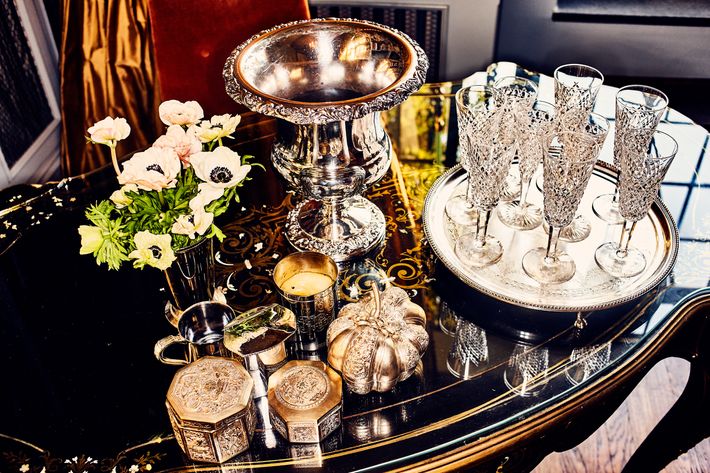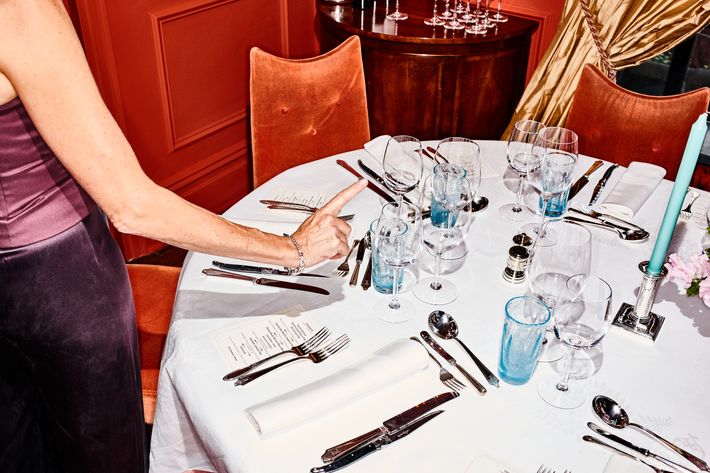 Stuffed quail eggs topped with chorizo
Salmon rillettes
Chestnut-apple velouté
"Nouveau Nez" Domaine La Grange Tiphaine, Loire Valley 2014
****
Salad of sautéed porcini, arugula, frisée, roasted hazelnuts, and hazelnut vinaigrette
R. Lopez de Heredia Viña Tondonia, "Viña Gravonia" Rioja 2006
****
Whole roasted guinea hen with rosemary jus
Celery-root purée
Orange-roasted carrots with pomegranate seeds
Château Haut-Bailly Pessac-Léognan Grand Cru Classe, Bordeaux 2007
****
American Vacherin Greensward, Jasper Hill Farm
Champagne Ulysse Collin Blanc de Noirs Extra Brut "Les Maillons" NV
****
Île flottante
Vouvray Huet Moelleux "Le Mont," Loire 1995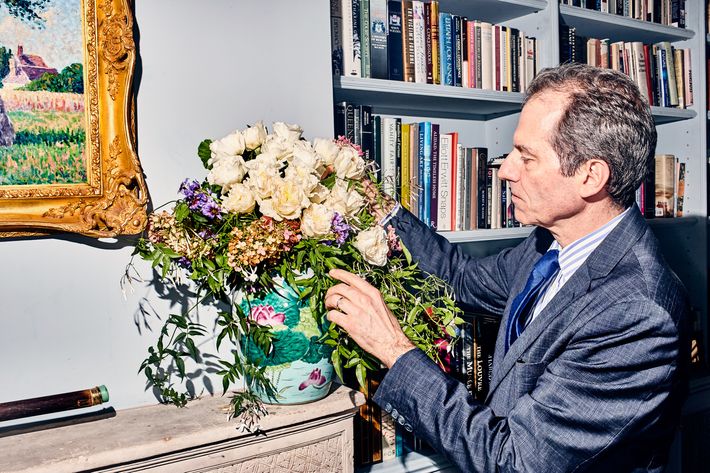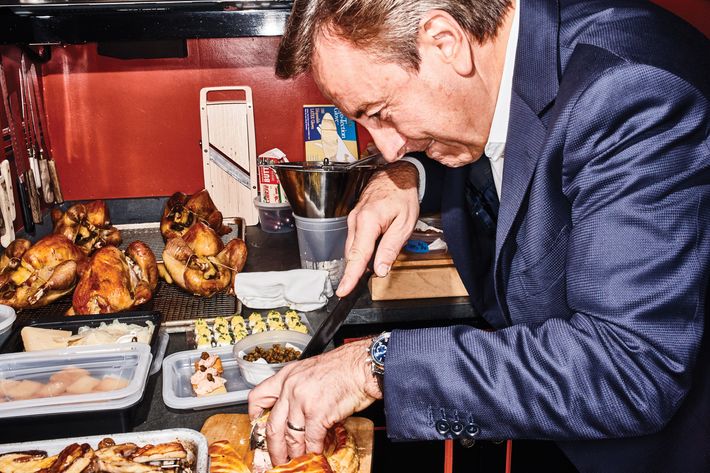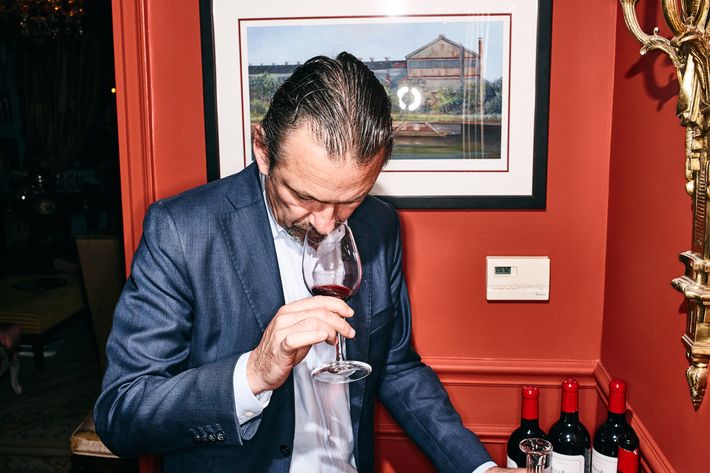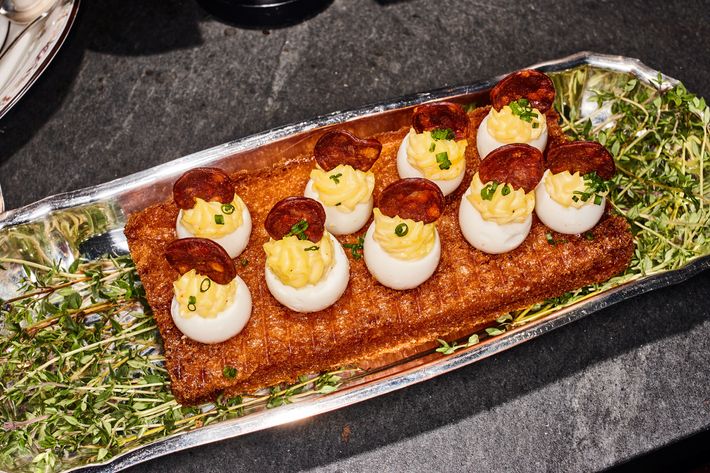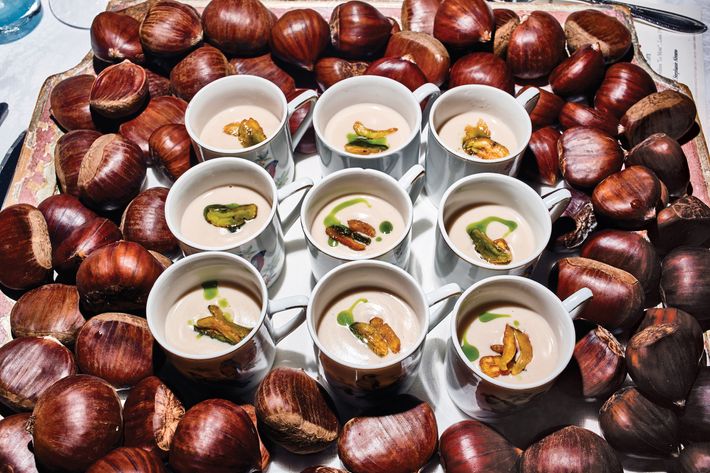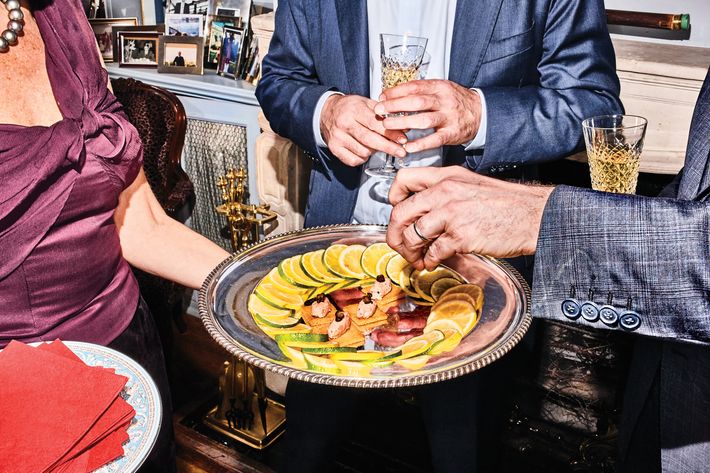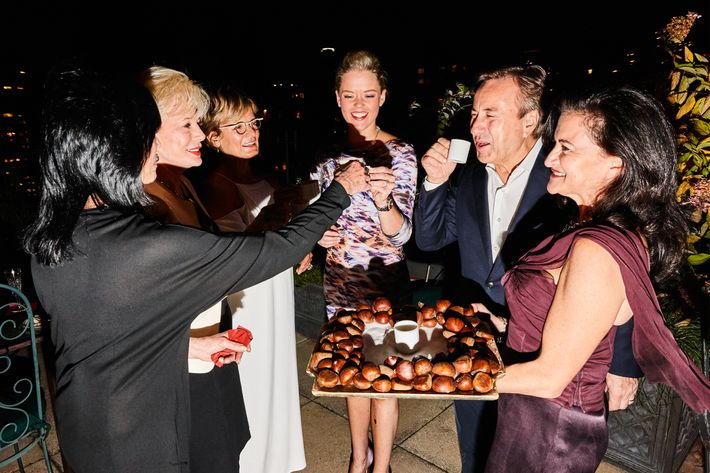 Recipe:
Warm
Porcini
Salad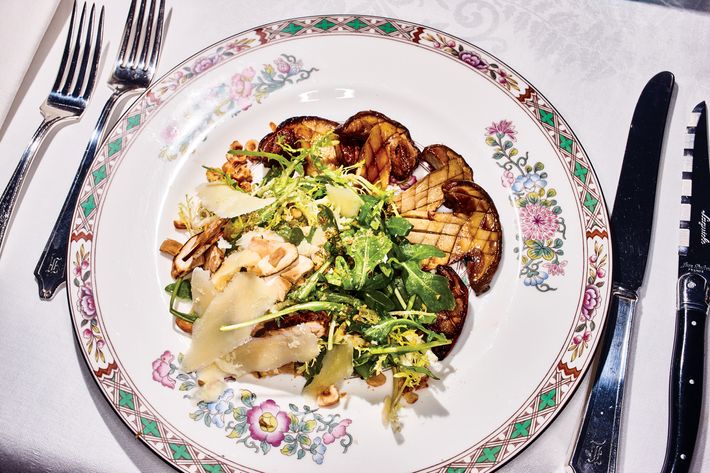 2 lbs. medium porcini mushrooms (quantity can vary with size availability)
1 cup olive oil
3 cloves garlic
2 sprigs thyme
Salt and freshly ground black pepper
¼ cup sherry vinegar
½ cup hazelnut oil
¼ cup chopped hazelnuts
2 cups arugula
1 cup frisée
¼ cup yellow celery leaves (optional)
¼ cup shaved Parmesan
Preheat the oven to 350 degrees. Clean the porcini with a damp cloth, gently wiping off any dirt. Using a small paring knife, peel away the tough outer layer of the stems. Cut the porcini into ½-inch-thick slices. In a sauté pan over high heat, add a little olive oil. When hot, add the mushrooms in
a single layer, making sure not to overcrowd the pan. Once the mushrooms begin to caramelize, add the garlic and thyme and season with salt and pepper. Add more olive oil as necessary. When the mushrooms are golden brown and cooked through, remove them from the pan, place on a paper towel or rack, and set aside. Repeat with the remaining mushrooms. Keep warm. In a small bowl, add the sherry vinegar and a pinch of salt and pepper. Whisk in the hazelnut oil. Chop the hazelnuts into pieces of a consistent size, enabling them to brown evenly. Place the nuts on a lined sheet tray and bake in the oven for about 8 minutes, or until golden brown. Season with salt and set aside to cool. Arrange the warm porcini on one side of individual serving plates. Toss the arugula, frisée, and celery leaves with the hazelnut vinaigrette and arrange on the other side of the porcini. Top with shaved Parmesan and toasted hazelnuts.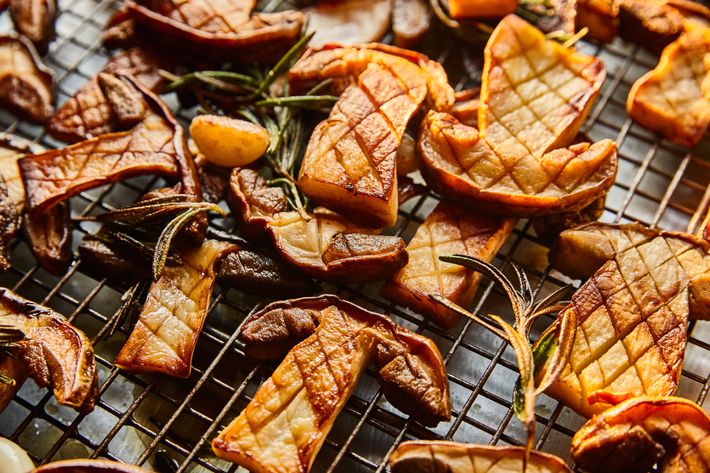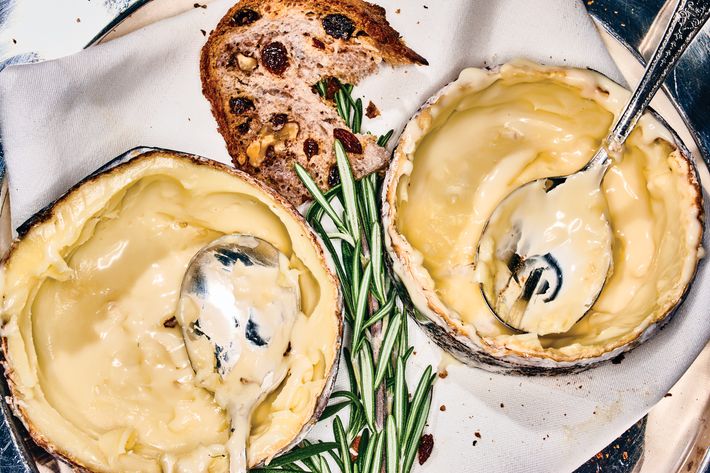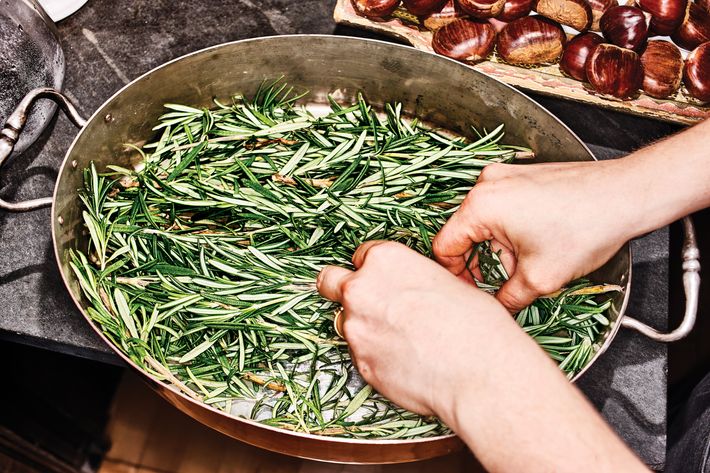 Recipe:
Rosemary-Brined
Mauer's
Mountain
Guinea
Hen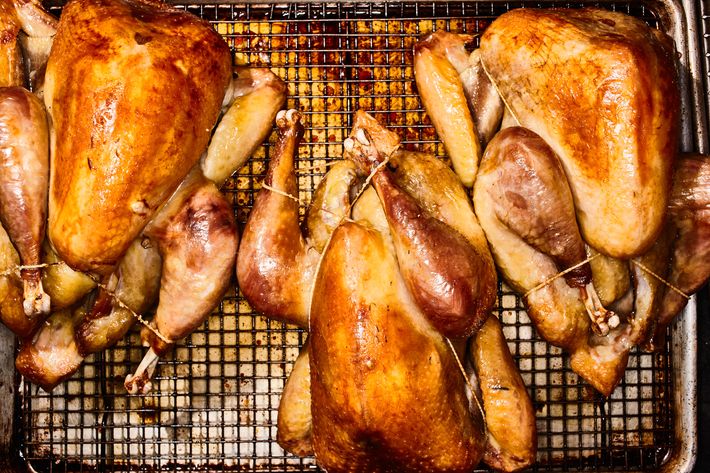 5 sprigs rosemary, roughly chopped
3 sprigs thyme, roughly chopped
½ head garlic
3 tbs. salt
3 tbs. packed brown sugar
1 tsp. white peppercorns
3 3½-lb. guinea hens, neck and wishbone removed (can be ordered from D'Artagnan Foods)
3 tbs. butter
For the brine: Place the rosemary, thyme, and garlic in a large saucepan over low-medium heat with 10½ cups of water. Bring to a boil, lower heat, and let simmer for at least 30 minutes. Remove from heat, and add the salt, sugar, peppercorns, and another 10½ cups of water. Allow to cool completely. Once the brine is fully cooled, submerge the hens completely in the brine and refrigerate for a minimum of 24 hours or a maximum of 3 days. Remove the birds from the brine and pat dry.
To cook the guinea hens: Preheat oven to 350 degrees. Place the guinea hens on a large sheet tray with a rack and cook for approximately 1 hour, or until the internal temperature reaches 135 degrees. Remove the birds from oven and increase the temperature to 450 degrees. Let hens rest for approximately 10 minutes. Return the rested guinea hens to the oven until the skin is crisp and golden. Remove the birds from oven, place a generous pat of cold butter on top of each, and allow to rest for an additional 5 to 7 minutes. Carve the birds, place on a warm serving tray, and pour the pan juices over the birds just before serving.
Recipe:
Orange-Glazed
Roasted
Carrots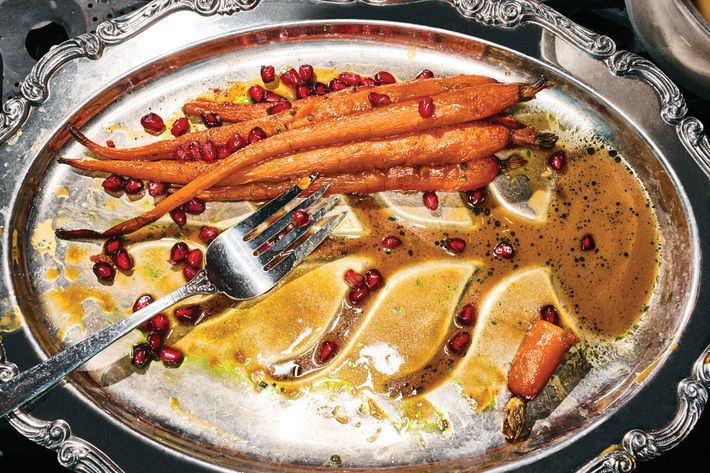 1 qt. orange juice
3 bunches carrots (at least 16)
Salt and freshly ground black pepper
1 tbs. sherry vinegar
¼ cup pomegranate seeds
1 tbs. thinly sliced chives
Preheat oven to 350 degrees. Strain the orange juice if it has pulp and place in a saucepan over medium heat until reduced by about half. Cut off the green carrot tops, discard, and scrub the carrots. Place the carrots on a lined sheet tray and roast until they have taken on a little color and are soft to the touch. Remove from oven and set aside. Transfer the orange reduction to a large sauté pan and bring to a boil. Add the carrots, season with salt and pepper, and let the juice continue to reduce and glaze the carrots. Place glazed carrots on a warm serving platter and sprinkle lightly with the sherry vinegar. Top with the pomegranate seeds and chives.
Recipe:
Celery-Root
Purée
2 large celery roots (about 2 pounds total)
1 qt. cream
2 sprigs thyme
Salt and freshly ground black pepper
1 tbs. thinly sliced chives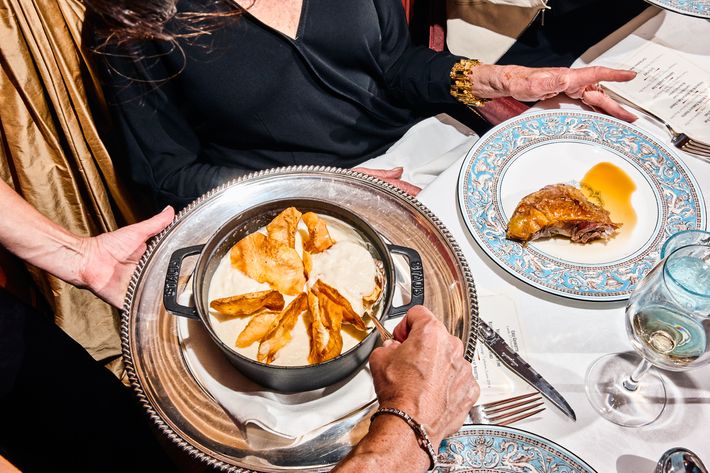 Peel the celery root and cut into roughly 1-inch cubes. Place in a pot with tall sides and pour the cream over the top to cover completely. Add the thyme and cook slowly over medium heat until the celery root is soft but before it begins to fall apart. Strain the celery root, reserving the cream, and place in a blender. Add just enough of the cooking cream to purée easily. Once the purée is smooth, season with salt and pepper. Transfer to a serving dish and garnish with the chives.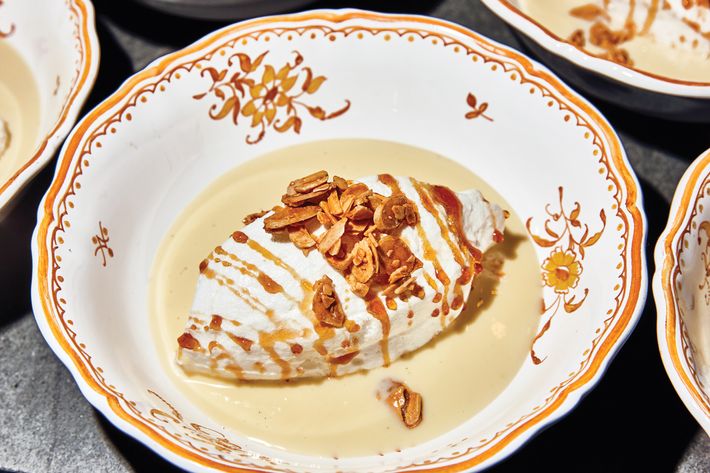 Meringue:
6 egg whites
½ cup granulated white sugar
Confectioners' sugar for sprinkling
Caramel:
1 cup sugar
Crème anglaise:
1¼ cups milk
1½ cups cream
½ tsp. salt
2 vanilla beans
1 tsp. vanilla extract
23 cup sugar
6 egg yolks
Garnish:
Toasted slivered almonds
For the meringue: Preheat oven to 200 degrees. In a stand mixer, whisk together the egg whites and sugar until glossy and at the medium-peak stage. Using two large spoons (and a container of hot water to dip them in), shape the meringue into quenelles and place on a sheet pan lined with a Silpat or other nonstick material. Dust with confectioners' sugar and bake for 15 minutes.
Caramel: Add sugar and 2 tablespoons water to a saucepan set over medium heat and watch carefully as the sugar melts. When it turns a caramel color, remove from heat. Drizzle over each meringue when they are cool. Refrigerate the caramel-drizzled meringues until ready to use.
Crème anglaise: In a saucepan over medium heat, add the milk, cream, salt, vanilla beans (split and scraped), vanilla extract, and 13 cup sugar. Bring the mixture to a simmer, then remove from the heat. Place the egg yolks in a mixing bowl, add the remaining sugar, and whisk together. Carefully whisk a small amount of the hot-milk mixture into the yolks to temper them. Slowly whisk in the remaining hot-milk mixture and then return everything to the saucepan, stirring constantly to avoid cooking the yolks. Return the crème anglaise to a medium heat, stirring continually with a metal spoon until it thickens sufficiently to coat the back of the spoon. When you draw your finger along the coated spoon, the custard should not bleed down. Immediately strain and cool over an ice-water bath. The custard will continue to thicken as it cools. Refrigerate until ready to use.
To assemble: Fill each bowl with a shallow pool of chilled crème anglaise and top with a meringue. The caramel sprinkled over each meringue should have hardened to a crunchy consistency by now. Finish with a sprinkle of toasted slivered almonds.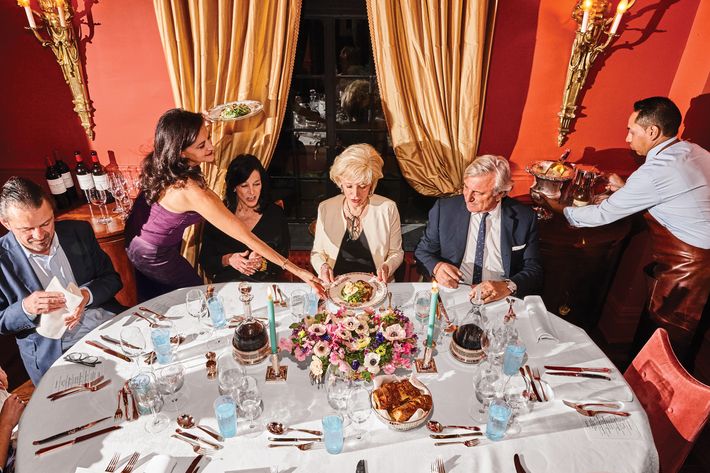 Get Printable Versions of the Recipes
Warm Porcini Salad
Rosemary-Brined Mauer's Mountain Guinea Hen
Orange-Glazed Roasted Carrots
Celery-Root Purée
Île Flottante
*This article appears in the October 31, 2016, issue of New York Magazine.