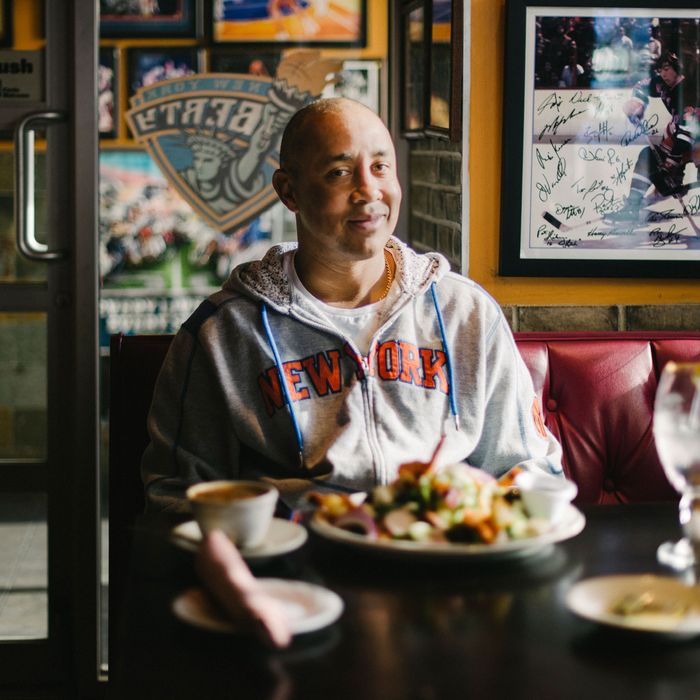 Starks at Café 31, where he often goes before dropping by Madison Square Garden for a Knicks game or event.
Photo: M. Cooper
It's been more than a decade since he last played in the NBA, yet John Starks remains a favorite among Knicks fans. Famous for his drive and intensity, he holds the franchise record for most three-point shots scored, made the NBA's All-Star and All-Defense teams, and enjoyed a very testy relationship with Reggie Miller. Since retiring from the league in 2002, he's launched a clothing line and a cigar business, and has even gotten involved in the restaurant industry. He's also a regular at the Garden, of course, where he dropped by this week to have brunch and watch the Knicks play the Jazz. Read all about it in this week's Grub Street Diet.
Thursday, November 3
I missed breakfast this morning, so I had a larger lunch than I usually would. I was at Madison Square Garden for a Garden of Dreams Foundation event, so I went to eat at the Hub, which is the MSG employee cafeteria. I had a Cobb salad, a cup of shrimp-and-corn-chowder soup, and finished it off with an apple Danish. I also had a Naked-brand protein juice smoothie.
I'm on the board of directors for the foundation, which has a lot of business people and cultural figures. A lot of them are New York people like Drew Nieporent, Phil Suarez, and Lorne Michaels. We attend events, help plan events — things of that nature. We do quite a bit every year, probably between 10 and 15 — a lot of them during the basketball season. Afterwards, I went and played golf by myself. I don't play all the time, just every now and then, but I don't play basketball anymore.

That evening, I attended the Hoops, Books & Dreams Gala in Stamford, Connecticut, for the Stamford Peace Youth Foundation. It provides children with the opportunity to play basketball; it's an AAU team that a friend of mine started, and uses the game to positively impact their academic achievement. It was a gala to help them raise money so they can keep doing what they do for kids. At the gala, I had roast potatoes, string beans, and filet mignon — I don't really eat red meat, only when I'm at events and that's what they're serving.

Friday, November 4
For breakfast that morning, I made myself some eggs at home. I cooked them sunny side up, no ketchup, with a banana on the side. To be honest, I don't eat a lot of breakfast. It depends on if I have time, but if I'm feeling full from the night before, I don't really eat. It makes me feel sluggish.
Had that meal with green tea. I don't ever drink coffee, and I prefer green tea to other teas, though it's not all I drink. I'll drink whatever tea is there. I got kind of used to drinking tea when I first started going over to China. I take a trip over there every now and then because I'm in the clothing business. I go to Beijing, Shanghai — I like it. Kobe is king there.

I had a busy schedule after, so I was running around to a few appointments for my business and events I was attending in the city and Stamford. Never got the opportunity to sit down and eat a full lunch, but I was able to snack on some Oreo's at one of the events. They're one of my favorite snacks.

That evening, I attended an event at the J House Hotel in Greenwich, where I had black-bean soup as an appetizer and had grilled snapper for my main course, along with some asparagus. It's a boutique hotel up here in Greenwich. More of an Esquire type of event, if you know what I mean. Cigars, liquor, suits, that type of thing. All of it on display, kind of showing your worth for a high-end customer. It wasn't a charity event, just people hanging out. Me and my business partners got invited. A lady asked us to come out and be a part of it. Thought it would be a good idea; we put our cigars on display.

Saturday, November 5
I had a light breakfast, just a blueberry muffin and some orange juice at my house. I don't know from where — my wife bought it. Didn't do much that day, just hung out around the house for the most part. For lunch, I headed out and had a grilled chicken, tomato, and lettuce sandwich at this deli in Stamford called MishMosh. They do sandwiches, wraps, pizza — you know, the standard stuff. I had that with a Naked protein juice smoothie. I don't go there often, just pop in occasionally, but I like it.
For dinner, we had a big private event at a cigar lounge that I own called the Stamford Cigar Lounge. It's just a group of guys that I'm part of, an organization. We meet the first week of every month, so it was my turn to host them at the cigar lounge. At the event, I had a big dinner: beef tenderloin, penne in marinara sauce, chicken Marsala, squash, and string beans. We don't have a cook there; we had the event catered — they serve good food.
Sunday, November 6
I was in the city early to be at the Garden; the Knicks had a game against the Utah Jazz at noon. Before tipoff, I ate a big brunch at the Club Bar & Grill inside MSG; it's a buffet-type place. I had French toast, smoked salmon, crab cakes, and a glass of orange juice. Watched some of the game inside. I don't really watch it on the court — I get bothered, you know? I didn't talk to any of the players, just hung back. That brunch was a really big meal, so I didn't eat too much the rest of the day. I just grabbed a turkey-and-American-cheese sandwich as a late lunch/early dinner, and called it a day.
Monday, November 7
Started off this week with a quick breakfast: just a bagel and some green tea again. Can't tell you where the bagel is from — my wife got it for me. I just eat. For lunch, I went to Café 31 Sports Bar & Grill, which is right across from the Garden. They serve great food there. It's a spot that I go to if I'm going to a game at the Garden or have to be there for some other reason. I had a bowl of vegetarian minestrone with pasta and vegetables, as well as a Greek salad with grilled shrimp. That's pretty much what I always order — I try to eat as light as possible. Had another event that night, the Sekou All Star Gala and dinner. Just some pasta with grilled chicken and mushrooms and asparagus.

Tuesday, November 8
I made some eggs this morning, sunny side up again, with whole-wheat toast and orange juice. I had a few meetings in the city, so I stopped by a place I own, Custom Fuel Pizza, in Harlem, where I had a slice and the spicy shrimp salad. It was Election Day, so I was pretty much over at the lounge. We were having an event, a party with the members — it's semiprivate, so you can bring someone if you belong. We were watching the results on the TV. It was, uh, crazy. Our guys wanted to get this over with because it was such a crazy, crazy election year. Yeah, it's been an awful one.