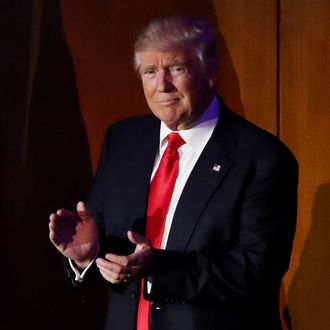 It's gonna be yuuuge, whatever it is.
Photo: Joe Raedle/Getty Images
One downside of electing Donald Trump — a man who once took five positions on abortion in three days — as the next president is that nobody's got a clue how his administration will truly affect policies in their industry. People in the food business are no exception, though that hasn't stopped experts from trying to divine what America's next leader has up his sleeve, beyond putting Secret Service agents on 24/7 KFC detail. (Secretary Christie's office, meanwhile, will be stationed outside a McDonald's.)

Really, the closest Trump has come to iterating a concrete policy was when, for about one hot minute in September, he had a fact sheet calling for an end to the "FDA food police." (The document was posted and removed in the same day.) His position on something as simple as minimum wage is a mess; over the course of his campaign, he's said all of the following: that he'll "raise the minimum wage to $15," that a $15 wage "would be a big, big problem," and also that he's "looking at it and I haven't decided in terms of numbers." Experts infer the anti-NAFTA stance he's vocalized would hurt global trade — everything from Mexican beer on up to products by multinational conglomerates like General Mills and Mondelez, whose Oreos Trump started boycotting after the company moved jobs to Mexico.
If his own business practices are any indication, labor rights can expect a hit, and one thing he's been pretty clear on is his disdain for Obamacare. There's also a not-zero possibility of a worker shortage if his wall gets built. Then yesterday, shares of several bigger restaurant chains like Cheesecake Factory and Olive Garden parent company Darden climbed on the belief that a Trump White House might repeal the Affordable Care Act and even relax other regulations that currently impact those companies' bottom lines. Some people in the industry sure seem hopeful: For example, known Trump lackey Andy Puzder, the head of Carl's Jr., predicts Trump's victory "will be great for the restaurant and retail industry," and the National Restaurant Association tells The Wall Street Journal it's got its money on seeing "relief in some of the burdensome requirements" of bad things like, you know, employee overtime.
Of course, Trump's penchant for flip-flopping plus just his general ambiguity about the entire topic might just make the situation best for cracking jokes, as some people prefer doing:

What's certain: The scariest thing would be getting invited to a Trump state dinner with a menu that promises to serve everybody steak.