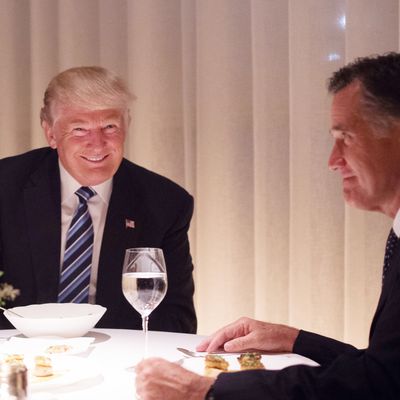 "Eat the frogs' legs, Mittens. Do it."
Photo: BRYAN R. SMITH/AFP/Getty Images
Last night, President-elect Donald Trump dined with his future chief of staff Reince Priebus and Trump frenemy No. 1 Mitt Romney. In keeping with the Donald's tendency to use his campaign and soon-to-be office to advertise his business properties, the trio had their date night at Jean-Georges, casually reminding everyone it is in the Trump International Hotel & Tower New York.
The evening's menu featured garlic soup with frogs' legs and chef Jean-Georges Vongerichten's famous scallops with cauliflower and raisin-caper emulsion; for entrées, Romney went with lamb chops while Trump and Priebus had prime sirloin (cooked, one must assume, so well-done it "rocks on the plate," in keeping with Trump's preferences).
The real story, however, is the public's immediate reaction to the meal:
This certainly won't be the end of the Romney pile-on. No doubt Team Trump is happy to outsource that labor — while advertising one of the tremendous restaurants at a Donald-owned hotel — at the very reasonable price of frogs' legs.