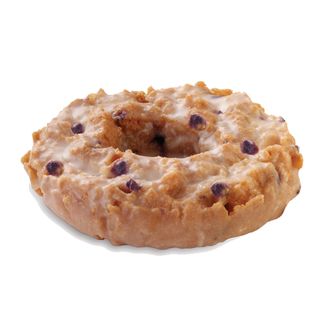 Shocker: Not a "premium" food.
Photo: Courtesy of Krispy Kreme
A man in California has filed a lawsuit that accuses Krispy Kreme of engaging in "false and misleading business practices" because its doughnuts contain … an artificial ingredient or two. In fairness, the complaint in Jason Saidian's proposed class action is that it's the chain's Raspberry Filled, Maple Bar, and Blueberry Cake doughnuts that don't contain the ingredients used to advertise them, which at bare minimum suggests some subpar pastries. His suit claims they get their flavoring instead from things like imitation maple icing and "blueberry flavored bits" made from dyed corn syrup. Per the law, nutrition facts are available online and via a 1-800 number, but Saidian is more of an old-fashioned printed-nutrition-facts kind of guy: "The donuts … are displayed in a tray behind a glass counter, along with a small placard in front of each tray that provides the name of the donut variety. No ingredients list is provided or available to customers in-store."

Krispy Kreme is slyly cutting corners, Saidian argues, because not every ingredient it uses is fake — the apple-cinnamon and lemon- and strawberry-filled doughnuts have real "premium ingredients" (a.k.a. legit fruit). Also, he feels the deception is cause for a side concern, which is that Krispy Kreme's "nutritionally inferior" ingredients could be helping to kill off its customers, an obviously poor business decision: Saidian believes the company is recklessly depriving them of superfoods like blueberries that "have the potential to limit the development and severity of certain cancers and vascular diseases … and neurodegenerative diseases of aging." That's all fine and well, but it pays to remember these are still freaking doughnuts. When Dominique Ansel made blackberry his third Cronut flavor, you damn well know it had real blackberries — but consuming one of those 1,300-ish-calorie, saturated-fat-oozing gut busters was no help to the body's vascular system, to say the very least.