What woman hasn't trawled Craigslist's men-seeking-women section hoping to find a "partner in crime" with an "adventurous palate" (wink, wink) to "cruise new restaurants with on weekends"? Well, if an intriguing opportunity posted to the personal ads on the site's Chicago page is to be believed, this man finally exists: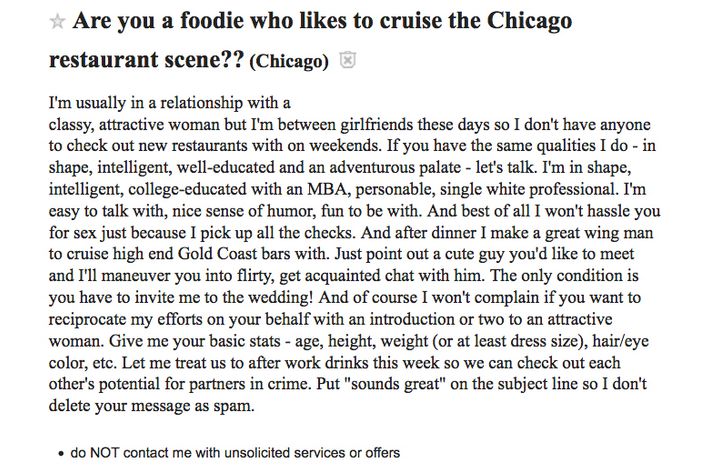 In short, he just wants a female companion to platonically visit the city's dining hot spots with. Then perhaps you two will go have a nightcap or seven at "high end Gold Coast bars." Rest assured, though, his intentions are pure — he says so right in the ad ("I won't hassle you for sex just because I pick up all the checks"). Anyway, just listen to the full package he's offering: "I'm in shape, intelligent, college-educated with an MBA, personable, single white professional. I'm easy to talk with, nice sense of humor, fun to be with."

If anyone's thinking that's about as perfect as they come, just wait, because he isn't done yet: Not only will this true gentleman pick up the bill, but he'll also tag along as your still-totally-platonic wingman. "Just point out a cute guy you'd like to meet," he writes, "and I'll maneuver you into flirty, get acquainted chat with him." It's that easy — although, in full disclosure, he fesses up that it will involve a quid pro quo ("you have to invite me to the wedding!").

Better jump on this one fast, female foodies — the post might only be active for another couple of hours. Also, don't forget to include your "age, height, weight (or at least dress size)" so he can check out your "potential."