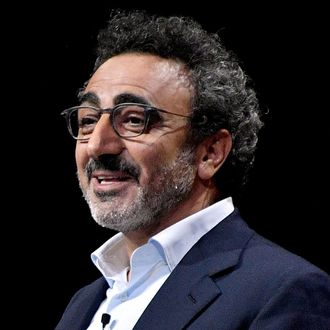 Hamdi Ulukaya.
Photo: Mike Windle/Getty Images for Vanity Fair
Maybe you prefer the taste of Siggi's or Noosa, but nobody can deny that Chobani yogurt is a top-notch humanitarian business: Founder Hamdi Ulukaya pays a living wage to 2,000 workers, has turned the billion-dollar company into one of America's leading refugee advocates, and hired about 300 immigrants from countries like Iraq and Afghanistan when Chobani opened its new Idaho factory. Apparently for xenophobes on the far right, though, that humanitarianism proves Chobani is involved in a nefarious plot to "drown the United States in Muslims."
Today's New York Times gives the nutshell version of what amounts to a smear campaign lasting the better part of a year. As Ulukaya has ramped up advocacy efforts, the paper says, he and Chobani both have seen an uptick in "racist attacks on social media and conspiratorial articles on websites." It seems like Ulukaya's refugee-crisis speech in Davos this January was the instigator: WND — basically a far-right National Enquirer — ran a story declaring, "American Yogurt Tycoon Vows to Choke U.S. With Muslims," and Breitbart News went after Chobani a short while later with several crazy reports tying "unskilled," "diseased" Idaho refugee workers to everything from a tuberculosis epidemic to a gang rape.

Some of the battier stuff included rumors that Twin Falls — home to the Chobani factory — was slowly caving to migrant workers' "multitude of Muslim friendly/Islamification requests." Bloggers quickly deduced that elected officials were part of "a cover-up," Mayor Shawn Barigar tells the Times, and "that we're all trying to keep the refugees safe so that Chobani has its work force, that I personally am getting money from the Obama administration to help Chobani hire whoever they want, that it's part of this Islamification of the United States." Most troubling of all, this concern eventually led to death threats against Barigar and his wife.
For its part, Breitbart argues to the Times that people deserve to know about Ulukaya's dealings as "one of the leaders in expanding refugee resettlement." It adds that the site's "explosive growth" is due "in large measure to the mainstream media's refusal to cover vital topics like this one."