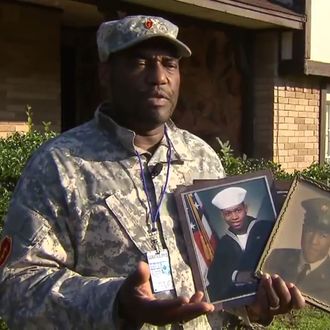 Looks pretty legit.
Photo: CBS
Like lots of places, Chili's gave out free food last Friday to military service members who stopped in for a Veterans Day meal. But apparently this deal wasn't valid for Ernest Walker, a black Army vet in Dallas who says his complimentary burger literally got yanked away by a manager who interrogated him about his service status.
Walker claims the problems started during his 35-minute wait for the food. He says an elderly gentleman in a Trump shirt approached him and his service dog, named Barack, to casually note that the military's demographics sure had changed. "'They didn't let you blacks over into World War II.' That's exactly what he said to me," he tells CBS 11. According to Walker, the man then headed to the back of the restaurant, and a suspiciously short period later a manager came up and said he was getting complaints from guests that Walker wasn't a "real" veteran. Walker showed the manager the military ID and discharge papers he'd brought specifically in case somebody asked for proof. He adds at that point, the manager "should have said, 'Thank you for your service, I'm sorry.' And I go." Instead, Walker claims the gears shifted to whether or not Barack was a legit service dog.

By now, Walker had started filming the confrontation, which ended with the manager confiscating his food "as if I was a black man stealing a meal."
Sounds like Chili's corporate office is a little embarrassed by the incident. It promptly released a statement saying, "Our goal is to make every guest feel special and, unfortunately, we fell short on a day where we serve free meals as a small token to honor our Veterans. … We are taking this very seriously and the leaders in our company are actively involved with the goal of making it right." It's not precisely clear yet what actions those are, though, and Walker has told media he plans to file charges against the manager.