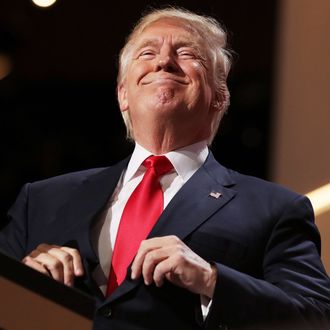 The food world is less enthused.
Photo: Chip Somodevilla/Getty Images
As reality sinks in — yes, it's officially morning in Donald Trump's America — so has profound panic among people in the food world. Starting immediately after the news broke in the wee hours, plenty of chefs, food writers, and other culinary celebs have variously filled social media with their screeds, pep talks, and existential crises, as well as lots of plans to suddenly expatriate. Let's hope those are all empty threats, though — America needs your pork buns more than Kim Jong-un, David Chang.

Sadly, you may not even have Martha & Snoop's Potluck Dinner Party for solace over the next four years: