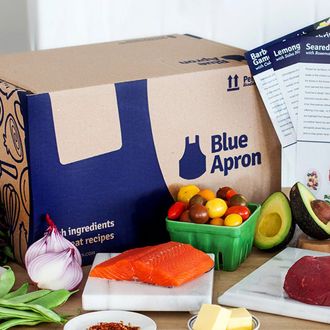 Whoopsies.
Photo: Blue Apron
More problems for embattled Blue Apron: In a follow-up to its earlier dive into the meal-kit start-up's questionable business practices, BuzzFeed reports the company also never sought approval from California to operate its Bay Area food-processing facility, which, as you might imagine, the law requires. That factory opened in 2013, which, if BuzzFeed's reporting is correct, means Blue Apron stored, packed, and shipped boxes of produce, dairy, and raw meat and fish with no state oversight for more than three years.

The company has the proper permit now, one it registered for on October 5, three days after BuzzFeed ran its piece on the less-than-stellar working conditions at that very Bay Area facility. Blue Apron contends it was never told it needed to register — that health officials in the factory's county, Contra Costa, said there was no need to get a state permit in 2013, and that it's always had the required local paperwork on file. Also, as soon as it learned of the state's permit, Blue Apron adds that it went and got one. However, the county seems dubious about why this took till October: Officials say the scope of operations at that processing facility were above the county's pay grade, and that they made this known to Blue Apron "more than once" starting in January (even supposedly leaving COO Matt Wadiak a voice-mail at one point, which he denies). But Blue Apron never reached out to the state.
California's Health Department grants that, luckily, the facility never had any "significant violations or sanitation issues," a feat Blue Apron chalks up to the fact that it's always "passed all facility inspections we've ever been part of" and "cooperated with all directives from regulatory authorities having jurisdiction over us." Blue Apron suggests at least part of the confusion is probably owing to how the company presents a "unique and novel business model that does not squarely fit within existing regulatory classifications" — basically, Blue Apron is just so mind-bogglingly disruptive to the food industry that it's creating all kinds of problems.

This post initially understated Contra Costa County's role in the confusion over the state permit. It's been updated to reflect that.