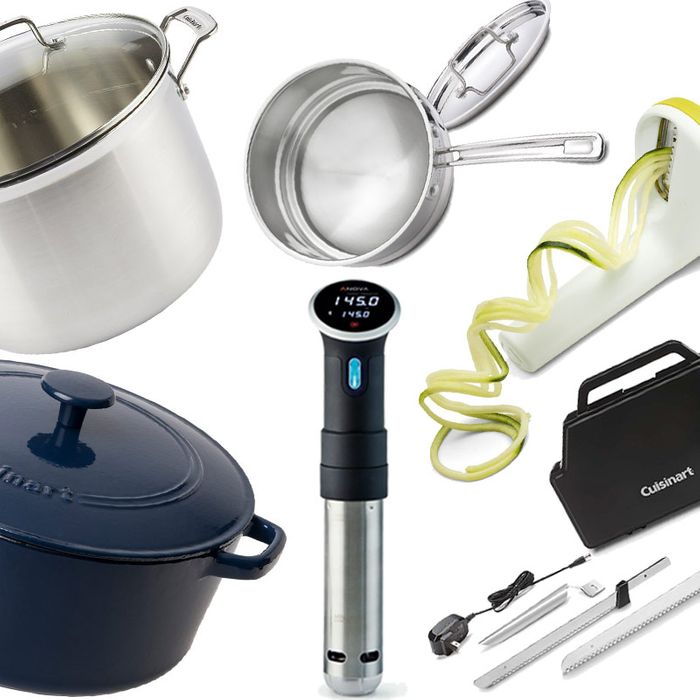 Photo: Courtesy of the Retailers
It's Black Friday, which means shopping. Retailers are offering lots of products at great discounts, and while you should stop short of buying every last gadget you can think of, it's nevertheless a good time to knock a few people off your gift list or, say, finally replace that immersion blender. Here, 15 deals on kitchen gadgets you'll really, actually use.
You may, like Grub Street, have a bit of a curly-fry habit — which is a pretty good reason to get a spiralizer, which you can use to make them at home.
It's not a tool amateur cooks always think of, but mandolins are essential for making things like potato chips. Every kitchen pro has one.
Few cocktails are more agreeable than the Moscow mule. (Even if it is made with vodka.) The proper serving vessel is a copper mug, and they're normally not available for so cheap.
It wasn't long ago that high cost of entry meant sous-vide cooking happened exclusively in pro kitchens. Avoda made it accessible to home cooks with this relatively affordable and versatile product, which you can get today for $50 less than its already reasonable price.
Especially during the holidays, electric knives can come in handy. Now you can get it for half the price.
Cuisinart makes reliable, inexpensive kitchen gear, and hey, you can always use another boiler — especially one that costs less than $15.
Scales make baking better, because you're actually measuring rather than eyeballing, and if it's just $15 why are you even thinking about this?
Winter is here, which means soup. Make your life easier with an immersion blender, which you can get right now for $22 less than you'd usually pay.
The food processor is another must-have tool for modern cooks, and Cusinart's models remain tried and true. This mini-version is great for sauces.
At a whopping $170 off, this sturdy pot is an actual steal, and it couldn't come at a better time with Christmas and winter right around the corner.
What to do with that leftover turkey from last night? Save a bunch of money on a stockpot and use it to make stock.
Making pasta at home is fun, especially when you can save a few bucks on your machine.
You no longer have any excuse to keep buying new knives every time one goes dull, because you can get this knife sharpener for $76 off.
"Snacks" definitely count as necessary kitchen accessories. These waffles will help keep you sated during those long prep sessions.
Or, go saltier (and probably a little healthier), with savory seaweed snacks.
If you buy something through our links, New York may earn an affiliate commission.