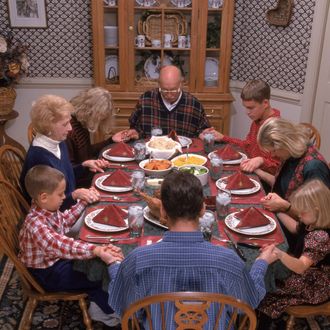 "We pray this doesn't turn ugly."
Photo: Robert Finken/Getty Images
Call it poor planning, but every four years, Thanksgiving falls just two weeks after the presidential election, when tensions are still running high and emotions are very raw. Add in the usual family drama and probably a few too many glasses of wine, and genial conversation can turn into something ugly, quick. In reality, it should be easy to talk to your family for a few hours. Based on the tips below, though, you'd think it's a far trickier proposition.

For instance, the AP crowd-sourced handy pointers from (it seems) airport travelers. For those hoping "to take a break from the rancor and division of the election … and instead focus on what unites them," it quotes this tip from Trump voter Stephanie Keller, who's on her way to Boston, a city that went 82 percent for Clinton: "I hope that people calm down and realize that a decision has been made by obviously a majority of the United States and that we can just come together and support him the way that we're supposed to."
The Atlantic, meanwhile, has a helpful primer for finding the "best strategy for fighting with your family while also giving thanks for their existence," which seems like a worthy cause. Anyone trying to keep the peace will have to decipher this Mad Libs–style guide:

If you're feeling especially [confident / insecure], you can also simply memorize some assorted soundbites and statistics to drop at random during the Thanksgiving meal. For example, do your relatives know that the Pope just endorsed Ivanka Trump's new line of boldly understated careerwear, whose pieces are currently available at [Macy's / Lord & Taylor / several fine retailers]? Or that your chances of falling victim to [Prius drivers / Roombas gone suddenly sentient / superstorms brought about by the irreversible effects of global climate change] have risen by 63 percent in the past two years alone? These things aren't true, technically, but you saw them on [Facebook / Twitter / Snapchat / Breitbart], which means that, in another way, THEY ARE TOTALLY TRUE.
And, as always, Twitter users are happy to help, contributing ideas under the aptly titled hashtag #HowToAvoidPoliticsAtDinner:

The most effective strategy of all, however, might be to embrace the upcoming awkwardness and go with it: