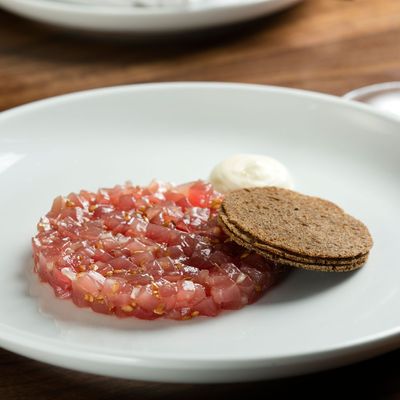 Tuna tartare with toasted flax seeds and rye crackers from Flora Bar.
Photo: Melissa Hom/New York Magazine
Fall is blockbuster season for restaurants in New York, the time of year when the biggest projects tend to open. At least that's the thinking, although every year it feels like some of the most anticipated openings slip due to inevitable delays. The last month and a half, however, have seen a string of blockbusters open (ironically, at exactly the time when many people were focused on the election and Thanksgiving). There have been openings from many big names — April Bloomfield, Tom Colicchio, the Estela guys, and so on — as well as debuts from rising chefs, overachieving surprises, and much more. Even better: It's not over yet, and there are some big restaurants to be really excited about that should open in the next few weeks. Here, find Grub's highlights of the fall season so far.
Augustine
Keith McNally's first hotel restaurant has five martini riffs and other drinks from cocktail king Dale DeGroff, rotisserie meats like duck à l'Orange, cheese soufflé, and all the usual McNally flourishes (banquets, old mirrors, so on) you know and love.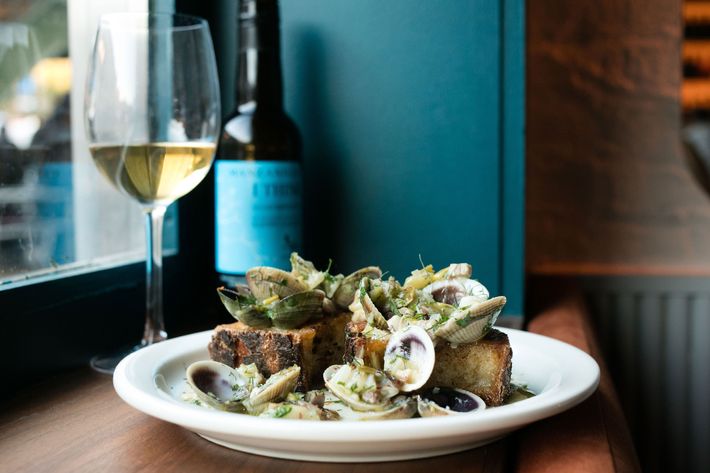 Flora Bar
Thomas Carter and Ignacio Mattos's third restaurant is already making big waves. Far from their downtown base in the Met Breuer, they're serving tuna tartare, omelettes with two types of caviar, and a smart wine selection. Bonus round: They've got a café, too, with an impressive pastry chef turning out subtle sweets.
Fowler & Wells
Tom Colicchio's latest restaurant, also in the Beekman Hotel, is all about retro New York dishes like oysters Rockefeller and baked Alaska — the sort of things you'd really like to eat right now.
Hart's
The cozy Bed-Stuy wine bar isn't the biggest opening — it's literally tight in there — but it's an overperformer. The chef, an alum of Andrew Tarlow's Brooklyn empire, makes a worthy new clam toast and surprisingly craveable plate of chorizo, potatoes, aioli, and soft-boiled egg; service is warm; and there's a solid but affordable wine list.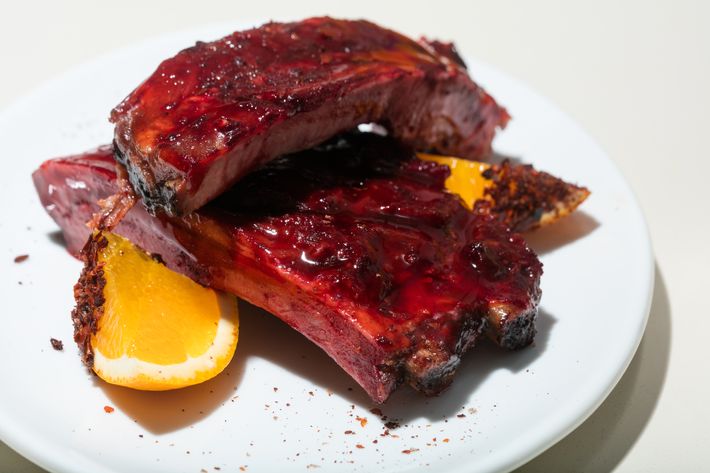 Italienne
The chef Jared Sippel worked at the acclaimed restaurants Quince and Frasca Food and Wine, and all signs point to him making waves here in New York. At his first restaurant, split into a taverna and prix-fixe dining room, he's cooking food like lobster with coconut vichyssoise and duck tagliata.
Kreuther Handcrafted Chocolate
It's not everyday New York gets a destination chocolate shop from a guy with chops like Marc Aumont, the sort of classic pastry chef who has devoted his life to the craft. The chocolates here are milky rather than dark and bitter, and you'll find bananas-Foster bonbons, pastries with chocolate mousse, pralines, and more.
Lalo
Gerardo Gonzalez made a big name for himself working the tiny kitchen at El Rey, and now he has a real restaurant to flex his (vegetable-forward) muscles. At his new spot, which he describes as a "New Age '70s Mexican diner," there's carnitas with flour tortillas, coconut clam chowder, and sumac sours.
Leuca
Andrew Carmellini knows a thing or two about restaurants. For his first venture outside Manhattan, in Williamsburg's William Vale hotel, he and chef Anthony Ricco have created of a simple but satisfying menu of duck-egg ravioli, grilled lamb, and one very elegant sundae.
Ops
Like Hart's, Ops is an ideal neighborhood spot infused with Tarlow DNA. Here it's all about pizza (like the one topped with mortadella) and natural wine, a combination no one can refuse.

Sugarfish
Kazunori Nozawa's chainlet has an obsessive following over in Los Angeles, and it's a new sushi spot that's actually filling a hole in New York's ngiri scene: offering an affordably priced omakase ($27-$51, tipping included) that doesn't sacrifice quality.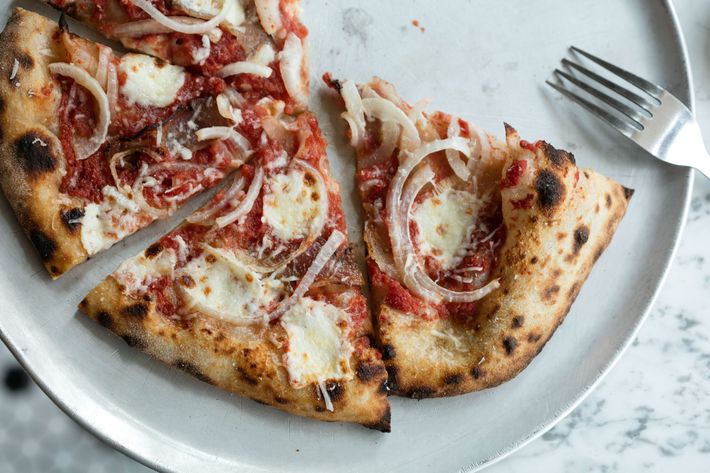 Sunday in Brooklyn
Speaking of L.A., the three-floor Williamsburg spot — a restaurant, bar, and marketplace rolled into one — is inspired in part by Venice's exceedingly trendy Gjusta. For now they're only serving dinner, during which Atera alum Jamie Young serves inventive dishes like black-cod pastrami with rye sour cream, aged pork chop with hazelnut dijon, and desserts like a smoked-chocolate sorbet.

White Gold
April Bloomfield's butcher shop and all-day restaurant brings the chef's meaty inclinations to the Upper West Side by way of cornish pasties, pork chops with gravy, a hot-dog happy hour, and some vegetables, too.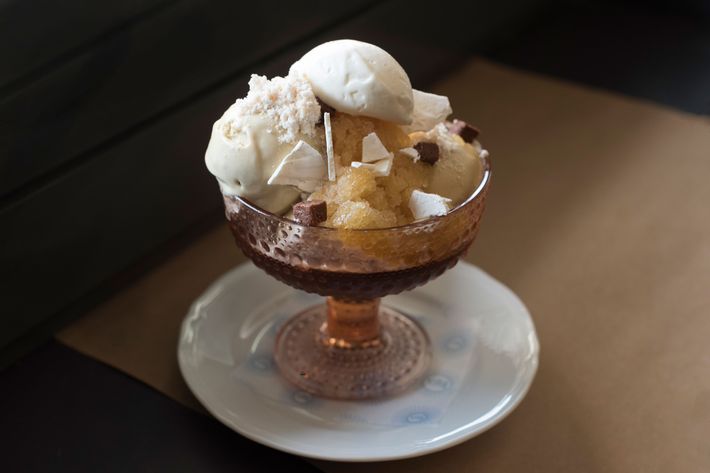 Looking Ahead
Atla
New York's Mexican-food scene is better than ever, but certainly a casual taqueria from Cosme's Enrique Olvera doesn't hurt.
Black Walnut
Rob Newton can do it all: He makes a mean fried-chicken sandwich, but first established his name with his creative interpretations of Southern cooking. When his new Boerum Hill spot opens next month, he'll get back to that.
Bunker
The only knock you could make against Cheap Eats–favorite Bunker was that it was tiny and on a desolate strip of Ridgewood, which made going there something of a gamble. That won't be the case when the owners reopen in a larger Bushwick location, which should happen sooner rather than later considering they've closed the original.
Loring Place
Former ABC Kitchen chef Dan Kluger's long-in-the-works restaurant looks like it will finally — hopefully — open. Expect wood-fired pizza, dishes like roasted bass, and lots of vegetables.
Nur
You might not know unless you keep a close eye on Tel Aviv's restaurant world, but Nur is a big deal as it'll be the New York debut of influential Israeli chef Meir Adoni.
Tim Ho Wan
If a spot check this week is any indication, it looks like it won't be long before the Hong Kong import and Michelin-starred dim-sum spot opens. Grub understands: If it lives up to the original's standards, it'll seriously improve New York's somewhat lackluster dim-sum scene.
Union Square Café
Danny Meyer's reboot of his first restaurant is slated to open imminently in a space twice the size of the original and with a fresh update by chef Carmen Quagliata.