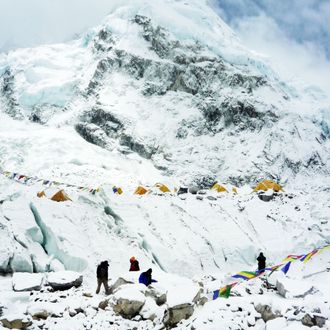 Don't forget to pack the heat lamps.
Photo: Courtesy of Pemba Dorje Sherpa/AFP/Getty Images
Are restaurants where the food is served inside a dumpster or by waitresses carrying Glocks just not "extreme" enough for you anymore? A chef who's worked under René Redzepi and Tom Aikens may have just the thing: For the next leg of his One Star House Party — a traveling food extravaganza T magazine describes as "a mix of culinary anthropology and light construction" — James Sharman will offer one lucky set of adventurers dinner on … Mount Everest.
The ambitious aim of One Star is to open 20 pop-ups in 20 different countries over 20 months. (They've already scratched off China, Vietnam, and Thailand.) This next one coming to Nepal starts December 10, and sounds like it might secretly be a Wes Anderson movie: Fifteen guests who pay $1,050 plus the cost of airfare will get to fly into the world's most dangerous airport, trek for almost two weeks with their own private porter, then eat at "a Pop-Up restaurant like no other" located at an altitude of about 17,000 feet in Everest's base camp.

Sharman and his team haven't said what's on the menu yet, but the theme of the whole project is trying out local cuisine in "unique or challenging circumstances." Guess that means to expect tsampa and, if the group has a really (un)lucky run-in, some Abominable Snowman tartare.