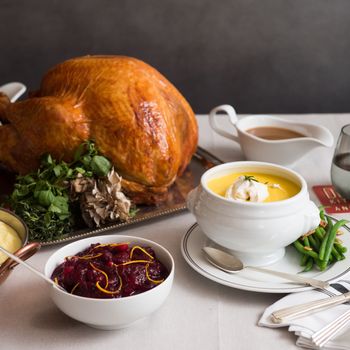 Daniel Boulud's traditional spread, at DBGB.
Photo: Evan Sung
Believe it or not, Thanksgiving is right around the corner. If you're not planning on cooking at home, or you just want a break this year, there are a lot of top restaurants around town that have special menus, and Grub is here to help you figure out which ones you should care about. Here, 38 places where you're guaranteed to have a great Turkey Day meal.
Above 59th Street
Rotisserie Georgette
Prices: $84 for three courses and $40 for children 10 and under, optional wine pairing $47
The Upper East Side restaurant will stick to classics, with just a slight French accent. There are vegetarian options for all courses, and four choices for entrées. Those who can't imagine Thanksgiving without a bird can get roasted turkey with turkey sausage, sage, sweet onion, and brioche stuffing; pomme purée; and cranberry-orange compote. They're taking advantage of the rotisseries here, also offering roasted branzino with lemon-fennel dressing, as well as a prime rib béarnaise. Optional sides include a turkey sausage–and–black truffle stuffing and, of course, sweet potatoes with a spiced marshmallow crumb crust.
Dovetail
Price: $125 for three courses, optional wine pairing $75
If you live on the Upper West Side and are into smart takes on vegetables, look no further than John Fraser's first original. The prix fixe menu includes starters like a Fuji apple salad and truffled pappardelle, plus a wide range of options for your main: not only turkey but king salmon, pork chops, and a sirloin steak. You'll get sides, of course, like brown bread dressing and pomegranate-cranberry relish, and dessert choices include stuffed cheesecake and pumpkin pie.
The Cecil
Price: $65 for three courses
Up in Harlem, the Cecil will give Thanksgiving the restaurant's signature Afro-Asian spin. There's a collard-green salad, oxtail dumplings with green-apple curry, palm-sugar-brined turkey with braised greens and giblet gravy, poussin yassa with coconut sticky rice, and pumpkin potpie. Dessert is traditional, like sweet-potato pie, goat-cheese cheesecake, and bread pudding.
Porter House Bar and Grill
Price: $92 for three courses or $38 for children 10 and under
The recently redesigned spot on the Upper West Side is dabbling in all kinds of Americana. There's crab cakes and Maine lobster bisque, turkey with bread and apple stuffing, chili-rubbed rib eye with buttermilk onion rings, and desserts including Dutch apple pie and carrot cake.
Jean Georges
Price: $188 for four courses or $98 for children ages 8 to 10
At Jean-Georges Vongerichten's flagship restaurant, the prix fixe menu includes tuna tartare with tapioca chips, truffle-crusted king salmon, turkey with foie gras stuffing, and an "orchard" or chocolate tasting for dessert.
Vaucluse
Price: $99 for a three-course meal
Michael White's French restaurant on the Upper East Side offers a prix fixe menu that includes beef tartare, rabbit-and-Reblochon-cheese ravioli with black truffle, and mains like turkey with pain perdu stuffing, as well as hazelnut-crusted sea bass. For dessert, you'll choose from a pumpkin tart, apple galette, or gâteau au chocolat.

RedFarm
Price: À la carte
Both locations of RedFarm will be open on Thanksgiving, when they'll serve specials including Joe Ng's Peking turkey, with crêpes and an assortment of condiments, in addition to the regular menu.

Crave Fishbar
Price: $75 for three courses or $45 for children
The seafood specialist, which has locations on the Upper West Side and Turtle Bay, will serve specials such as tempura-fried hake, clam-and-mushroom chowder, turkey with pan drippings, and teriyaki green beans. Dessert is simple: chocolate-chip cookies and sweet-potato pumpkin pie.
Above 23rd Street
Eleven Madison Park
Price: $245 for four courses, $135 for optional wine pairing
Get opulent. The menu here kicks off with chicken velouté with black truffles and kabocha squash with chestnut, followed by appetizers like foie gras torchon with more black truffles and scallops with sea urchin and fennel. For the main show, you'll choose from slow-cooked beef with hen of the woods mushrooms and horseradish, lobster with daikon and citrus, and roast turkey with caramelized apple and chestnut stuffing. The desserts cover the Turkey Day bases: apple tart with vanilla ice cream, pumpkin pie with chestnuts and maple ice cream, and pecan pie with malted ice cream.
The NoMad
Price: $145 for three courses
EMP's sister restaurant the NoMad will offer a slightly more casual experience. Starters range from foie gras with beef carpaccio and crimini mushrooms to white truffles shaved over tagliatelle with Parmesan. For your entrée you'll choose from slow-cooked cod, bone-marrow-encrusted beef, and roast turkey. Don't worry, there will be plenty of sides: mashed potatoes, brussels, chestnut stuffing, sweet potato, and cranberry compote. Also, there's a dessert trolley!
The Breslin Bar & Dining Room
Price: $75 for three courses, $45 for optional wine pairing
Do Turkey Day the April Bloomfield way and skip the turkey. The menu at her meat emporium subs out the traditional bird for duck served with chestnut stuffing, cranberries, and braised cabbage. Finish your meal with pumpkin pie and cinnamon ice cream, or hit up the bar for a Thanksgiving gin fizz and an à la carte menu.
The Polo Bar
Price: À la carte
Ralph Lauren's clubby spot seems like an ideal place for a very traditional meal. Specials include autumn-vegetable salad with Pleasant Ridge cheese as well as roasted turkey with maple-bacon Brussels sprouts, sweet-potato gratin, pork-sausage stuffing, and cranberry-apple chutney. Dessert means pumpkin pie or a pumpkin-and-vanilla-bourbon ice-cream sundae.
Má Pêche
Price: $45 for three courses
David Chang and his crew have assembled a very Momofuku spread, for a good price, too. Instead of just serving plain old turkey, they're going all in with Turducken, which is what happens when you let Americans make a roulade. There's also a butter lettuce salad with yuzu-sesame sauce to start, sides like pomme roti and cornbread stuffing, and five-spice apple pie.
Agern
Price: $195 for five courses, $125 for optional wine pairing
At Claus Meyer's tasting-menu spot, they're giving the holiday the Scandinavian treatment. That means succotash, but also lobster with smoked butter and pine, a choice of turkey with Brie and hay cream or turkey wing with whey glaze and hazelnuts, and desserts including sweet potatoes with smoked buttermilk and pickled cranberries.
Riverpark
Price: $135 for three courses or $65 for children 12 and under
If you're in the mood for a view, Tom Colicchio's waterfront restaurant is your spot. On the prix fixe menu there's risotto with delicata squash and pumpkin pesto, turkey with wild-mushroom stuffing for a main course, and sides including roasted autumn vegetables.
Indian Accent
Price: $95 for four courses
The ambitious Indian restaurant kicks off dinner with a sweet-potato chaat, which is followed up by its sweet pickled pork and duck khurchan matthi, a type of salty cracker. There's turkey here, yes, but it's stuffed with paneer and served with sides like chile-bacon beans and a tandoori turkey kulcha, and followed by sweets like caramelized pecan rice pudding.
Lupulo
Price: À la carte
If you're a beer nerd, head to this Portuguese-style gastropub. The meal is up to you, but they'll offer turkey dinner ($45 per person, family style) with a vinho verde–and–pimentón–marinated bird, plus sides like blood-sausage stuffing and grilled Brussels sprouts. Other dishes include toasted farro and butternut squash, hickory-smoked ham, and Portuguese doughnuts with salted caramel and passion-fruit curd.
Downtown
Fowler & Wells
Price: $155 for four courses, optional $90 wine pairing
Here's your excuse to check out Tom Colicchio's brand-new spot in the Beekman. The restaurant will host its first Thanksgiving, with appetizers like roasted Jerusalem artichokes and foie gras torchon, second course options including beef-cheek ravioli, and entrées such as turkey with roasted mushrooms and chestnut stuffing. Tapping into its throwback Americana theme, sweets include baked Alaska and a chocolate torte with hazelnuts.
Maialino
Price: $115 for four courses, $65 for kids menu
Danny Meyer's restaurant in the Gramercy Park Hotel will serve three tasting menus. There's an Italian-American-themed one with chestnut soup and roasted Brussels sprouts, turkey with polenta and sausage stuffing, and a pecan tart with amaro crema. Another option sticks to Maialino's greatest hits, like stracciatella alla Romana or Roman-style egg soup, roast suckling pig, and a spiced apple cake with fior di latte. A third menu is aimed at kids, with tomato risotto croquettes, ricotta ravioli with butter and lemon, turkey potpie, and ginger and chocolate-chip cookies.
North End Grill
Price: $105 for four courses, $60 for optional wine pairing
For those sticking to the deep end of downtown, Danny Meyer's restaurant in Battery Park City will serve special dishes like gravlax carpaccio, roast turkey with cranberry sauce and sweet-and-sour rutabaga, and pumpkin pie.
DBGB Kitchen & Bar
Price: $65 for three courses
Daniel Boulud's beer-soaked bistro isn't keeping it too traditional. The kitchen will cook dishes like butternut-squash soup with spiced pumpkin seeds alongside crispy shrimp with tofu and spicy pickled peppers, roasted turkey with cranberry compote and other sides, and rice-flake-crusted salmon. For dessert, there's pumpkin pie, pecan pie, caramel baked apple, and a black-and-white sundae.
Nix
Price: $62 for three courses
If you're a vegetarian worried your roasted-squash entrée will be boring, book a table at John Fraser's all vegetables, all the time restaurant. The meal here starts with a family-style spread featuring deviled eggs and baby squash cakes. For a starter, you can choose from a butternut soup with spicy tofu cream or a beet, apple, and kohlrabi salad with crispy pecan nibs. Mains include a Thanksgiving potpie with truffle cauliflower and whole maitake mushroom baked with sausage spices, fennel slivers, and delicata-stuffed cabbage. For dessert, there's pumpkin pie with calvados cream or pear-and-apple crostate with vegan maple gelato.
Fifty
Price: $70 for three courses or $30 for children 12 and under
The new restaurant in the old Commerce space is also celebrating its first Thanksgiving. The prix fixe meal includes pan-roasted scallions with roasted cauliflower and roasted maitake mushrooms with truffle to start, family-style butter-roasted turkey with jalapeño-cheddar cornbread, and pecan pie and tres leches flan.
Sessanta
Price: $65 for three courses
If you take your turkey with a side of red sauce, the restaurant in the Sixty Soho is the place for you. On the three-course menu there's tortellini in capon broth, burrata with Concord grapes, entrées like duck lasagna and turkey with buffalo mashed potato, and pumpkin pie to wrap it up.
Houseman
Price: $85 or $45 for children under 10 for three courses
There won't be those famous French fries, but you won't mind. The American restaurant in Tribeca will serve dishes like triple liver mousse, turkey with roasted Brussels sprouts and sweet white potatoes, and apple or pecan pie for dessert. There will be add-ons, too, if you're feeling particularly hungry.
Saxon + Parole
Menu: $95 for three courses or $45 for children 12 and under
From 2 p.m. to 9 p.m., the Bowery restaurant will serve a prix fixe menu with fowl and foie gras terrine and olive-oil-poached salmon to start. Options for main courses include turkey with Armagnac gravy and charred-lemon fennel and a strip steak, along with sides like chorizo-cornbread stuffing and mustard mashed potatoes. At the end, you'll be served a tower of treats stacked with cinnamon marshmallows, mini pumpkin cheesecake bites, and more.
Harold's Meat + Three
Price: Breakfast is $25, dinner is $49
At the recently opened southern restaurant in Tribeca's Arlo Hotel, they'll serve both breakfast and dinner. Both meals will be family style, with emphasis on sides like mashed or sweet potatoes, green-bean casserole, creamed onions, and biscuits plus pecan pie, sweet-potato pie, and pumpkin-spice layer cake. Groups of eight or more will get a whole turkey, while smaller groups can choose turkey with gravy or ham.
Rebelle
Price: $78 for three courses
The Michelin-starred French restaurant will go prix fixe for the holiday. Dinner starts with a selection of amuse-bouche, followed by your choice of a kale, apple, and walnut salad with dried-cherry vinaigrette or roasted squash with pear and brown butter. Options for mains include roast beef, pan-seared halibut, or roasted turkey, served with a choice of sides like foie fat stuffing, green-bean casserole, or sweet-potato brûlée. Dessert, for the table, means apple, pecan, or pumpkin pie.
The Gander
Price: $85 for four courses or $45 for a kids menu
Dinner here begins with an amuse of cauliflower soup with brown butter and sage, after which you'll have your choice of dishes. Start off with a chopped salad with green goddess dressing or roasted Brussels sprouts with apple and bacon, followed up by a main like tubetti with buffalo taleggio, pan-seared cod with squash pureé, beef tenderloin with potato stuffed cabbage, or roasted turkey with gravy and cranberry dressing. Finish the meal with pumpkin mousse or a sugar-cookie ice-cream sandwich. Vegetarian options are available as well.
Aldea
Price: $85 for three courses or $50 for children 12 and under, optional wine pairing for $45
George Mendes's first restaurant will give Thanksgiving a few Portuguese flourishes. Appetizers include mussel soup with chorizo and shiitake and chanterelle mushrooms with Benton's bacon. For your entrée, you can try something different with salt cod with white corn pudding, or keep it classic with a turkey plate. Dessert means fried apple pie, pumpkin biscuit cake, and housemade ice creams and sorbet.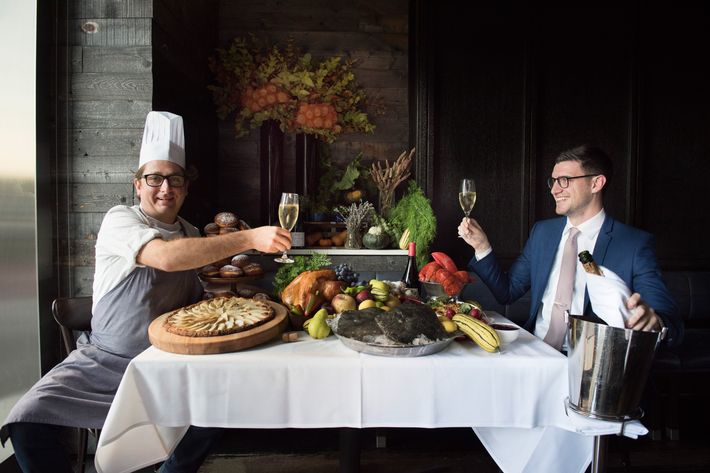 Brooklyn
Sauvage
Price: $65 for three courses
The stylish bistro from the Maison Premiere team will stick to its usual routine of Frenchified American cooking. Dishes include butternut-squash velouté with chestnut and crab, venison tartare with pickled beets, turkey with sourdough harvest stuffing, and hazelnut cake. Walk-ins will be welcome at the bar.
Reynard
Price: $95 for four courses and $48 for children
There are few nicer places in Brooklyn for a special occasion than Andrew Tarlow's hotel restaurant, which makes it a solid choice for the holiday. The light is fantastic during the day, so the restaurant will be open from 1 p.m. to 8 p.m. with dishes like grass-fed steak with horseradish cream, brook trout with brown-butter hollandaise, housemade sausage, and apple-caramel cake.
Glasserie
Price: $69, reservations only
The Middle Eastern restaurant will serve a family-style meal of foraged mushrooms, cheese flatbread, autumn mezze, a rabbit feast with tagine stew, pecan and cream pie, and more.
Meadowsweet
Price: $85 for three courses
For another classy Williamsburg option, head to the south side's Meadowsweet. On its prix fixe menu, there will be starters like squash-and-chestnut bisque, entrées including filet mignon with onion jam and roasted and braised turkey with bread dumplings, and dessert choices such as devil's food cake and pecan pie.
Maison Premiere
Price: $75 for three courses
Maybe you prefer absinthe with your pumpkin dessert. The menu at the New Orleans–themed bar-restaurant keeps it French-ish, with options like butternut-squash velouté with truffle whipped cream, sliced turkey breast and turkey-leg roulade with liver and mirliton stuffing, and pumpkin-pecan tart.
L'Antagoniste
Price: $40 for three courses
The Bed-Stuy restaurant won't completely lose its French spirit this Thanksgiving. There's roast turkey with gravy, yes, but also sweet-potato dauphinoise, haricot vert, your choice of tarte tatin or pumpkin pie, and more.
Buttermilk Channel
Price: $75 for three courses
Here's a good reason to head to the Carroll Gardens brunch favorite: 15 percent of food sales go to anti-poverty organization Neighborhood Together. You'll get your choice of starters like a delicata-squash tart or cauliflower-and-leek soup and a main course of cider-brined turkey with buttermilk whipped potatoes, caramelized-onion gravy, and potato-and-butternut-squash gratin. Desserts like cream-cheese pie, sweet-potato pie, and pecan pie keep it traditional.
Queens
MP Taverna
Price: $40 for three courses or à la carte
Why not go Greek this year? The modern taverna's offering appetizers like butternut-squash soup ($10), bulgur salad ($11) with dates and almonds, and "grandma's meatballs" ($11) with lemon, tzatziki, and grilled pita. You can opt for roast turkey ($26), grilled branzino ($23), or lamb chops ($30) for your main, all of which come with sides like mashed potatoes and Greek sausage stuffing, and finish your meal with a dessert like walnut cake ($7).