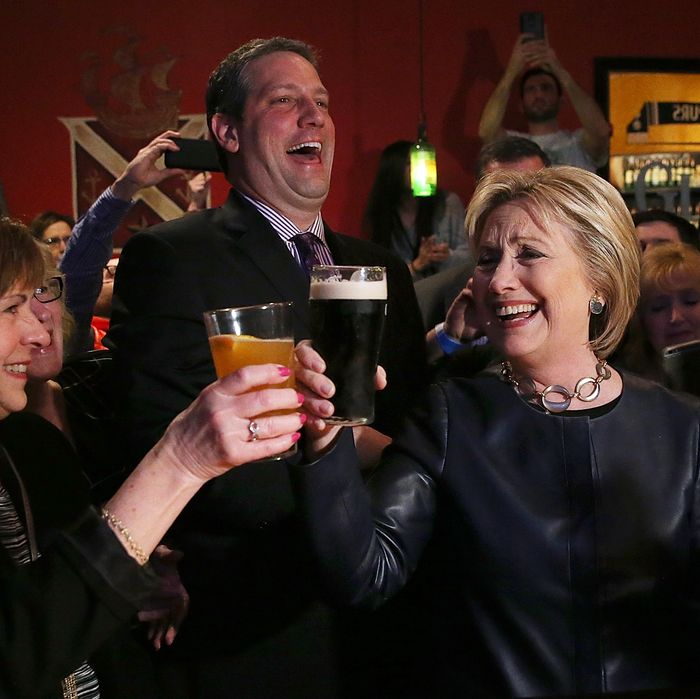 It's going to be a long night.
Photo: Justin Sullivan/Getty Images
If there's one thing everyone could probably use tomorrow, it's a drink. Recent polls show the two candidates are very close, and as the results roll in, it might be comforting to have some company (and snacks). Here are 20 places in New York where you can socialize and publicly panic as you learn the fate of the country.
Downtown:
Housing Works
If you love books and politics, then this "Election Fever" party is the place for you. Sponsored by Sixpoint Brewery, the cheap drinks will flow from 6 p.m. until the night's end. And since it's Housing Works, proceeds go toward services for the homeless and those suffering from HIV/AIDS. So, it's drinking for a cause.
Village Pourhouse
For its own spin on election-themed drinks, Village Pourhouse will feature $8 Donald Drumpfs (make Donald Drumpf again!) and Secret Servers. And that's not even the best part: The bar will have piñatas of the two candidates — you can win prizes from it, but the catharsis will probably be rewarding enough. The party starts at 9 p.m.
(Le) Poisson Rogue
The highlight of the party here is definitely the live entertainment: There will be a concerto performed about Trump — as in, a musical interpretation of his many Trumpisms from throughout the campaign. It's sure to be a fun night. Doors open at 6 p.m., and the show starts at 7 p.m.
Rockbar
This West Village gay bar will host a party with trivia, to keep things interesting. You can also enjoy $6 drinks and $3 Miller Lites in honor of democracy, starting at 8 p.m.
Campeon
This Mexican sports bar has plenty of TVs to spare, and on Election Night, starting at 9 p.m., they will all be tuned in to the results. To help set the mood, a live DJ will keep the party going before and after a winner has been announced. There will be plenty of free swag: The first 200 people to enter will receive a "We're Screwed" T-shirt. Plus, as the states get called, you can help color a map to visualize how the election's turning out. Drink specials include $3 cans of Budweiser (red) and PBR (blue).
Ambrose Beer and Lobster
Head down to the South Street Seaport for $4 Budweisers and Bud Lights. A live band will help keep your spirits up.
Midtown:
Rock Center Cafe
This place is located right next to the Democracy Plaza at Rockefeller Center. At the end of the night, the ice-skating rink will either light up blue or red depending on who wins, and a map of the U.S. will show the results state by state. You can stop into the café to get yourself one of the Election Night specials before 10 p.m.: the Donald, the Hillary, and the Undecided. Hopefully there won't be too many of that last one at the polls.
Etcetera Etcetera
Not only will this Italian restaurant show results on a big-screen TV, but it'll offer a buffet, for $37. It's the perfect place to eat your feelings after you vote. Just for the election, it will stay open until midnight.
Liberty Hall
This underground event space beneath the Ace Hotel will host an election-screening party with plenty of seating and food and drinks. Plus, you'll be below ground when the results are announced, so you'll probably be a little bit safer in the event of the apocalypse.
230 Fifth
You can also usher in the new president at this rooftop bar. Either stay inside the enclosed penthouse lounge, or take in the views of midtown inside the rooftop garden. Election coverage will play on a giant screen, and drink specials include $7 beer, $8 wine, and $10 cocktails. The party will start at 6:30 p.m.
Uptown:
e's BAR
Starting at 5 p.m., this fun, laid-back bar will screen results live through a big HD projector. You can also drink cocktails inspired by the candidates: A "Hillary Clinton" and a "Donald Trump" both cost $9 and are made with gin, lemon, and club soda, but the Clinton's got a splash of violet liqueur while the Trump has a splash of cranberry. And if the results start to get you down, the bar also has board games to get your mind off things for a while.
Brooklyn
Brooklyn Winery
A special Election Night screening will start at 6 p.m., but get there early to ensure you have a seat and to enjoy happy hour, which runs from 5 p.m. to 8 p.m. with $7 glasses of wine and $3 bar snacks. If you're still hungry, there's a special Election Night menu, with crispy Brussels sprouts and buttermilk fried chicken.
Nitehawk Cinema
Below this dine-in theater is the Lo-Res bar, where wearing an "I Voted" sticker will earn you happy-hour prices all night. Normally, screens play old VHS tapes all night long, but not for the election. The movie collection will be put away in favor of news networks.
The Well
There are a lot of reasons to vote: fulfilling your civic duty, exercising a fundamental right, and, of course, getting a drink. By showing up with an "I Voted" sticker, you can enjoy drink specials in the bar or outside on the spacious patio. Also, happy hour goes from 4 p.m. to 9 p.m. with two-for-one beers. Dual HD projectors will bring live updates, with the sound turned up.
Videology Bar & Cinema
Most Tuesdays, this Williamsburg bar hosts movie nights. But for the election, it'll screen the results starting at 6 p.m. with drink specials.
Noorman's Kil
If beer isn't your thing, then head to this vintage-esque whiskey bar. Of course, polling results will be on throughout the night. And drink specials include $5 Four Roses bourbon and Whipper Snapper whiskey, starting at 5 p.m.
Black Rabbit
Watch the results as you snuggle up near the bar's fireplace. Really, there is no better place to cry over the election than next to a fireplace.
Mission Dolores
The party at Mission Dolores is nonstop from 8 p.m. until 4 a.m. the next morning. It's a great place to celebrate if you win, or drown your sorrows if you lose. Drink specials will continue long after winners are announced, but you can watch as the results pour in until that happens.
Pacific Standard
This West Coast–themed bar's election festivities will kick off at 4 p.m. Drink specials include $20 for five IPAs, and you can also eat tacos as you watch the live coverage, since it will be Taco Tuesday. They probably won't be as good as the taco bowls at Trump Tower, though.
Black Forest Brooklyn
All night long, this comfy German bar will show election coverage on a huge HD screen and sell discounted beer and half-price bottles of wine. If worse comes to wurst, you'll drink yourself silly and fantasize about moving to Europe.