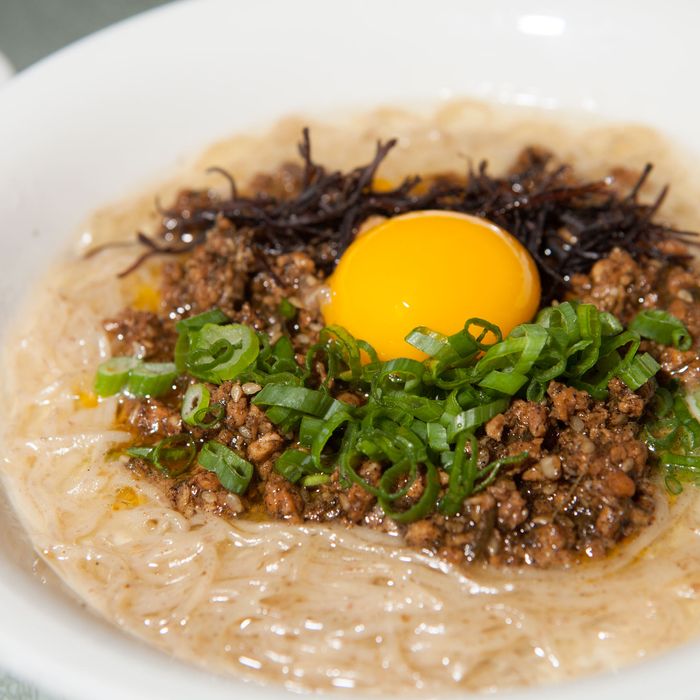 Ivan Ramen's new tori paitan, a type of ramen made with dense chicken broth.
Photo: Konstantin Sergeyev
Winter is right around the corner, both literally and metaphorically, which means: It is noodle season. New York's ramen obsession hasn't abated yet, and new shops continue to open, while some of the city's top spots introduce new and often very creative bowls. But there's a good chance you're going to need more in the noodle-soup department than just ramen to get to the finish line this year. With that in mind, here are 12 new noodle soups to check out:
Tori Paitan
Where: Ivan Ramen
Price: $17
Ivan Orkin has always been a proponent for subtler, lighter chicken broths. So it's no surprise that he's sticking to birds when crossing over to the heavier side of ramen with his introduction of a bowl of tori paitan, considered the tonkotsu of bird broths. Hailing from Kyoto, tori paitan is an opaque, collagen-heavy chicken broth that's a bit like drinking schmaltz thinned out with chicken soup. It's served with minced chicken, egg yolk shio kombu, and Orkin's trademark rye noodles.
Shoyu-Chintan
Where: Mew Men
Price: $13
Previously Ramen by Mew, this shop from the team behind the modern Korean hit Her Name Is Han got a makeover this fall. For something lighter, check out the shoyu-chintan; it's a clear chicken broth seasoned with soy sauce and served with chicken and duck oil, pork chashu and chicken chashu, scallions, and marinated snow peas.
Mu Ichiban
Where: Mu Ramen
Price: $18
The Long Island City hot spot is known for its creative takes on ramen, like duck shoyu and a refined tonkotsu that's less fat and more pork. Its latest is the Mu Ichiban, a very deluxe bowl of dashi and tonkotsu broth made with hana kutsuo (the shavings of dried, fermented, and smoked tuna). That's topped with konbu seaweed from Hokkaido, Berkshire pork, and ton toro, or pork jowl.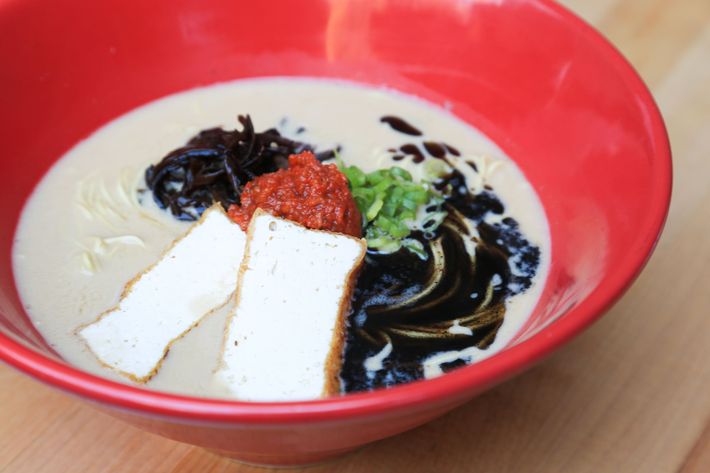 Akamura New York
Where: Ippudo
Price: $16
Ippudo landed in New York to spread the gospel of tonkotsu, the ultra-heavy pork broth, but over the year it's eased up on the dogma and introduced broths made of chicken and even vegetables. Now it's rolled out a sesame-based broth, which it says was three years in the making, created to mimic the consistency and texture of its milky, rich tonkotsu. Along with thin noodles and scallions, it's served with chashu-style tofu, sesame kikurage mushrooms, black garlic oil, and red miso paste.
The Quiet Storm
Where: Ramen Shack
Price: $12
Keizo Shimamoto — a.k.a the ramen-burger guy — has worked for Ivan Orkin and came to New York to open a branch of Bassanova. At the new Ramen Shack in Long Island City, he's serving almond milk, fried onions, and, in the case of the Quiet Storm, a 13-ingredient broth. It's seasoned with soy sauce and comes with gyofun pork belly, naruto, nori, menma, and more.
Ume-Shoyu
Where: Mr. Taka Ramen
Price: $14
The Lower East Side shop made its mark on the tonkotsu-crazed city scene with a yuzu-scented shoyu broth. This fall, it doubled down on fruit, introducing a chicken-and-bonito broth with whole-wheat noodles, chicken, shiso flakes, and ume (Chinese plum) sauce.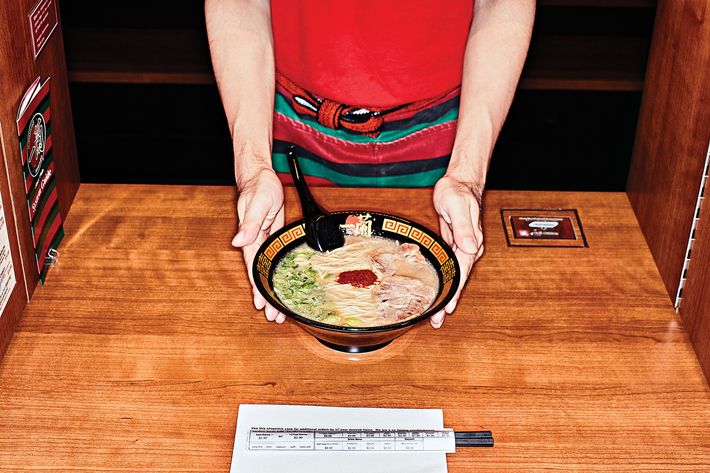 Tonkotsu
Where: Ichiran
Price: $19
Ichiran has sported some very long lines since it opened last month, and a recent visit confirms that hasn't entirely let up. The Japanese chain is known for having diners eat alone in "flavor concentration booths," a.k.a ramen isolation chambers, but you can eat with friends here in New York. Still, there's just one type of ramen. A tonkotsu, customizable according to preference for things like richness and noodle texture, that's not oppressively rich, if you get it "medium," but still sticky with collagen.
Beef Guksu
Where: Atoboy
Price: $12
The Korean restaurant's brand-new lunch menu includes the Korean noodle soup called guksu, made with a beef shin and brisket broth seasoned with soy sauce, fish sauce, and more. It's served with someyon noodles, a garlic-bacon oil, and topped with beef, seaweed, scallions, and mung-bean sprouts.
Chicken Noodle Soup
Where: Hao Noodle and Tea by Madam Zhu's Kitchen
Price: $20
Lately, the cosmopolitan Chinese restaurant has been fortifying its menu for the winter. The new dishes include this chicken noodle soup, made with a chicken broth that's amped up by boletus mushrooms, scallions, ginger, and white pepper. It's finished with poached chicken, bok choy, thin noodles, and shitake mushrooms.
Classic Okinawa Soba
Where: Ramen Lab
Price: $14
Between pop-ups, Sun Noodle — noodle-maker to the stars — brings its own team to cook ramen, gyoza, and other Japanese dishes. Right now, Sun Noodle Kitchen has its eyes on Okinawan-style soba. Its tight menu features three styles, including one made with silken tofu and fish broth, but if you're a soba newbie try out the classic made with a clear, light pork broth, braised pork belly or sparerib, and garnishes of pickled ginger, fish cakes, and spring onion.
Wagyu Sukiyaki Udon
Where: Tsurutontan
Price: $26
This Friday, the Union Square udon palace will start serving a version of the Japanese hot pot dish — which in this case means slowly cooked meat — called sukiyaki. Here it's made with Wagyu beef, shitake and enoki mushrooms, shungiku greens, and udon noodles.
Market Noodle Soup
Where: Chaan Teng
Price: $16
The new Hell's Kitchen restaurant, from a team including Pichet Ong, focuses on Chinese-American dishes like kung pao duck, a half General Tso's chicken, and a duck-leg noodle soup for warming you up.