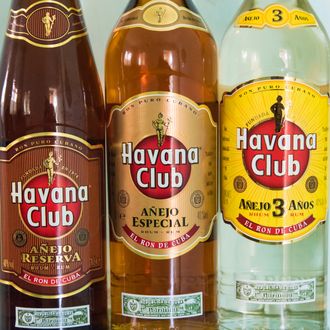 Photo: Roberto Machado Noa/LightRocket via Getty Images
President Obama today lifted the remaining pesky restrictions on Cuban rum, meaning American visitors can now clank home with as many bottles as they think their bodies will allow. The $100 combined limit on rum and cigars the administration put in place with last year's embargo restrictions has formally been removed in a so-called "sweeping directive" that lets travelers bring back as much of either vice as they're willing to pay duties on.
Now, Cuban cigars are their own animal, but it's worth pointing out that this access to rum isn't quite the breakthrough it sounds like. Getting a bottle of legit, actual Havana Club — not Bacardi's Puerto Rican copycat of the same name — was never a Bay of Pigs–level clandestine act; it could always be purchased at the airport duty-free shop of Cuba-friendly countries. But if your thing is having an experience truly auténtica, you can at least now wander the country cramming an empty duffel bag with bottles of locally distilled añejo.