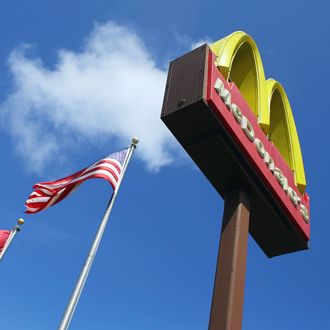 They claim McDonald's ignore their complaints.
Photo: Joe Raedle/Getty Images
Labor group and Mickey D's archenemy Fight for $15 has helped more than a dozen McDonald's workers file complaints against their employer detailing a widespread pattern of workplace sexual harassment. The claims — 15 in total — include on-the-job groping, very inappropriate sexual contact, and managers showing employees dick pics, and are the latest blow by the workers'-rights movement in a four-year battle to make the chain responsible for the working conditions at franchises. (Fight for $15 named the corporate office in the complaint, too; the EEOC will get to decide whether McDonald's should be held jointly responsible.)

Some of the workers add they faced retaliation for complaining about harassment on the job. Fight for $15 got the whole group on camera and compiled their stories into this video:

In one complaint, California employee Kristi Maisenbach alleges her supervisor "grabbed my breasts on several occasions and would intentionally rub his genitals against my butt." She adds he also offered her $1,000 for oral sex, but says when she reported the acts, her hours took a nosedive and she eventually had to look for another job. Another worker, CyCei Monet from Michigan, claims a manager rubbed his genitals on her, too, and would say that he wanted to "do things" to her. "McDonald's monitors everything we do — from how fast the drive-through is moving, to how we fold our customers' bags," she told reporters. "Yet when I filed a complaint against my shift manager for regularly sexually harassing me — which included him showing me a photo of his genitals — McDonald's had no response." Monet says she ultimately quit as well.
The chain maintains a "zero tolerance" policy toward sexual harassment. In a statement to media, a rep wrote: "There is no place for harassment and discrimination of any kind in McDonald's restaurants or in any workplace. We take any concerns seriously and are reviewing the allegations."
Fight for $15 has posted a petition on its website, and workers in more than 30 cities are planning a lunchtime protest at their stores today to draw attention to the complaints.