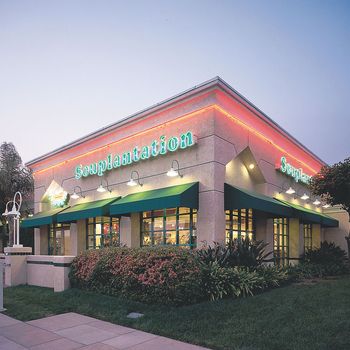 Have you ever even been to a Souplantation?
Photo: Courtesy of Souplantation
The restaurant bloodbath is in full force, as delivery services, meal kits, and other services continue to wage war on traditional dining establishments. When flatbread specialist Così filed for bankruptcy protection on September 29, it was just one of three restaurant companies to do so during that week. Also filing were Rita Restaurant Corp, which owns taco chain Don Pablo's, as well as Garden Fresh Corp., the parent company behind the chains Souplantation and Sweet Tomatoes. That's just the beginning, and a new report in The Wall Street Journal indicates that, after years of rapid expansion, America has hit its restaurant-chain saturation point.
No fewer than five other chain operators have filed for protection this year, while Ruby Tuesday, a mall staple, announced plans to close 100 restaurants; and 27 Bob Evans locations closed in April. This industry contraction comes after a period of significant expansion. From 2006 to 2014, the number of U.S. restaurants grew faster than the population, or by 7.3 percent compared to 6.9 percent. But over the last two years, the number of restaurants declined from 638,000 to 624,000. Younger people just aren't eating out as much, and a variety of factors have been blamed for this, including anxiety over the crazy presidential election, the rising costs of operating restaurants, and grocery prices hitting a "completely unprecedented" low.
So far, it's mostly been independent operators closing, while chains have continued to grow. Now even fast-casual chains, so recently seen by chefs as a sure bet to riches, are falling victim. In this case, overexpansion — a.k.a. every restaurateur declaring they were opening the "Chipotle of" whatever — appears to be to the problem. One solution: If you can't beat 'em, join 'em. Two of New York's most successful chefs, David Chang and Michael White, have launched delivery-only restaurants of their own, and even unlimited-bread-stick innovator Olive Garden has recently emphasized its delivery catering and takeout services.