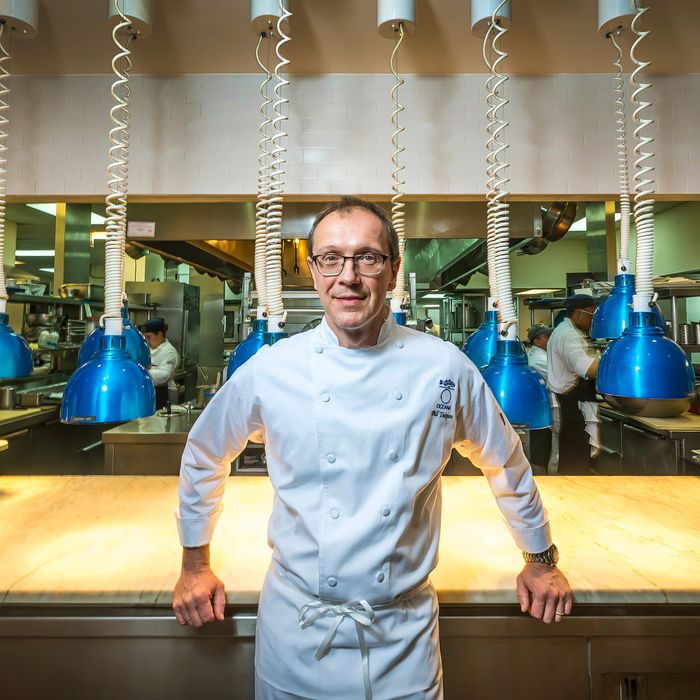 "Listen, I just want a job for the next 15 years, and to cook and make people happy."
Photo: Noah Fecks
In May, Bill Telepan closed his ten-year-old namesake Upper West Side restaurant — less than two years after he shuttered his downtown spinoff, Telepan Local. Like so many New York restaurateurs, he said that he had to work within "very small margins," and that his revenues could not cover his increasing costs, meaning he had to operate at a loss. It came as a shock: Telepan, one of the first chefs in the city to popularize farm-to-table cooking, is talented and widely respected and well-liked. But fortunately, the setback hasn't turned him off from cooking, or derailed his career, as Telepan has landed at Oceana, a high-volume seafood restaurant in Times Square. Here, he explains why it's a good fit for him and how his life has changed.
So, how are things going at Oceana so far?
They're going pretty well. I started on October 3, and we got the menu changed rather quickly. I had a couple guys from Telepan come with me, and that was very helpful. I had some time, about a month, before I knew I was coming in, and so I had a good plan of what to do for the fall.
Why was this job appealing to you?
I had a few offers, and what was appealing about it was that I worked with the managing partner, Paul McLaughlin, 25 years ago at Le Bernardin, and throughout the years we remained friends. We always thought about doing something together, and when I had a little trouble downtown at Local, I called him to see if he could help out. When the opportunity came up, he called me and said, "Would this interest you?" I wasn't sure about doing a fish restaurant at first because of the way I cook. But I figured I could implement — I could do what I do, or have done in the past, and sort of apply it to this restaurant. Also, the Livanos family is great, and I've known them for years. It's a busy restaurant. It's a beautiful place. It just seemed like the best opportunity for me to find success.
Oceana is much, much larger than Telepan. Is that a shock to your system?
Oh yeah. It's about three times the size. I did work at Judson Grill for seven years, which was almost as big, and so I have that experience — and my experience at Gotham Bar and Grill, where I cooked for seven years. This is a really large restaurant though. We have our own private party kitchen. We have this 100-person bar and lounge area, which has its own menu. I was like, Oh my god, how many menus do I have to do? There are a lot of moving parts.

Does it feel strange to just be the chef now and not the chef-owner? Does that offer a sense of relief?
Yes! I have a central office now! I mean, the Livanos family has several restaurants. There's a joke, because I got an email from Paul saying they were talking about pictures for the website and to "just call the central office when you're ready." I got a kick out of that because I was the central office at Telepan.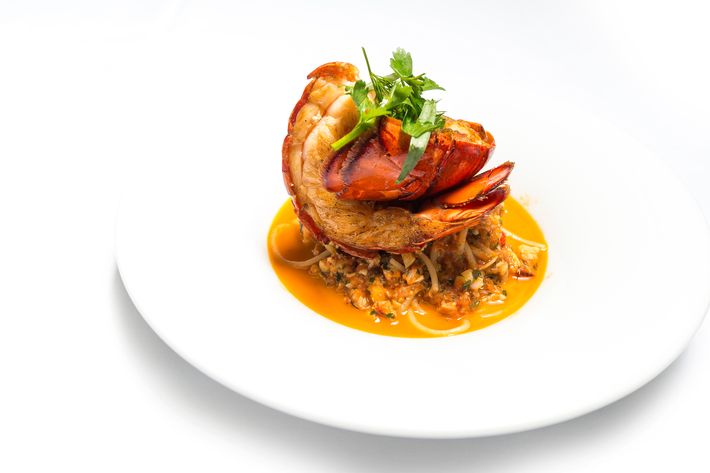 Do you miss having complete control?
I think the thing I miss is the flexibility of my time. I think it was good to, I don't want to say come and go as I please, but I had people in place at Telepan. It was nice because it was close to my house where I lived. It was close to where my daughter went to school, so I got to be at everything that she did. So that was nice. But I was always accountable. I still feel it because I take ownership in this job. But in the end, I was handling the accounting with the bookkeeper; I was handling all the back-of-the-house office stuff. Now my time is freed up.
And you can just focus on the food.
Yes. With such a large staff, it's really, it's important that I can have that freedom.
How big is the staff?
I think when I last counted there were 43 back-of-the-house employees, not including management. So with the pastry chefs, there's probably like 50.
Wow. So let's go back in time to the closing of Telepan. It was very abrupt. What ultimately motivated you to make that decision and end it in that way?
I actually kind of drew it out. We were struggling. I really wanted to make it to ten years and see if that could help boost sales. There was the possibility of a re-review after a decade. We revamped it in 2013. We did all these things, and we had the Michelin star, which was super. We always got some attention, and it was a good neighborhood restaurant, but I think, ultimately, as costs rose, we had to raise prices. Over time, we priced ourselves out from being the neighborhood restaurant, and became the neighborhood special-occasion restaurant and pretheater spot. Then we lost some pretheater business because of all the restaurants that since opened in that Lincoln Center area.
We were talking about it when we were entering the summer, and I had to make a decision of whether we were going to go through the summer again and continue, whether to go through to at least June. Then I was just like, "Well, we're going to make all this money on Mother's Day. Let's pay the rent and then close." At the very end of the month, the end of the weekend before Mother's Day, I told the staff, and we gave them a week. They kind of knew. They felt it. It was abrupt in that it seemed inevitable at a point, and then I was just like, "I can't do this anymore." You know?
It's so hard to do what you do.
It's hard. It is hard. The thing is, it went so fast. It just becomes a part of your lifestyle, and I still have regulars who call who are struggling to find a place to hang out. There are plenty of places to hang out, but they loved the staff. That last weekend, we didn't tell any of the customers. Well, there were a few people we told toward the end, and they came, and it was kind of nice. It was nice to hear all the good things. But they needed to come more! Like one customer said, "If I'd have known, I'd have come more. I would have sent a check once in a while."
What are you supposed to do? Write on the menu, "We're struggling!"
Exactly! You want to be positive. This one woman would come in all the time — twice a week for eight years, consistently. You could count on her. If she wasn't there, she'd have to tell us she was going away, because she was in her 80s. She knew my family. Like, not just my wife and daughter, but my mom and dad and my sister from New Jersey. She came to Oceana recently, and she was like, "This is not you. It's not you." I said, "Don't worry. I've been here two weeks."
Well, it's not your home in the same way as Telepan.
But you can make it your home, you know? I like being friendly with the customers and getting to know what they like and taking care of them. I haven't been here a month, and they have tons of regulars here. I want to get to know them and I want to make them happy and please them and feed them well. I think that's why we do it, you know? That's what I like about the business. That's why I'm in it.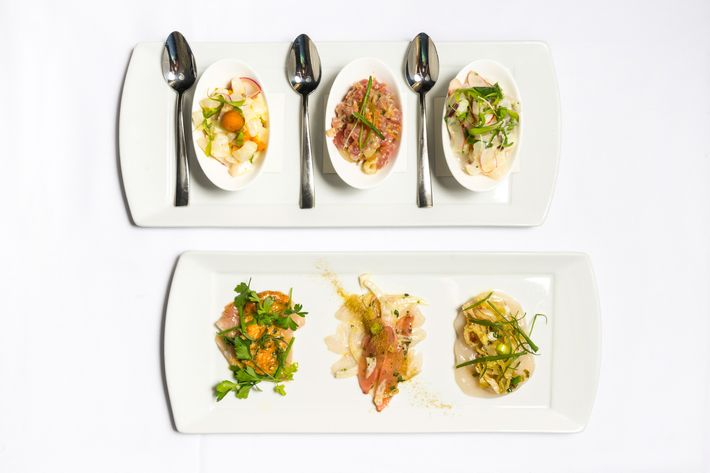 More broadly, how are you seeing restaurants change, for better or worse, in New York?
Well, I still think there are a lot of great things going on in New York. I don't know why people are saying there aren't. I mean, just on the Upper West Side alone, it's great. I live on 86th, and it's nice for my wife and I to just grab a pizza at Motorino. Or I could take my daughter to Jin Ramen. We have our little hole-in-the-wall Italian restaurant, Celeste. We have our hipster bar in Jacob's Pickles. But I think, in a sense, it's just getting harder, and I think everyone's screaming doom and gloom. The restaurant business is always hard. You can't get away with certain things you used to anymore.
Like what?
I don't want to … Anyway! I don't know. There were just things you could do to get by. The thing is, you don't make tons of money at restaurants. People think, Bill's got his own restaurant, so he's got a house in the Hamptons and three cars. We're in the service business. It's blue collar, in a sense, and we're serving white-collar people. It's not an easy gig, and I've had two knee operations. I'm not an athlete, and it's because I'm on my feet all the time. I have three herniated discs because I'm bent over all the time. Yes, rents are up. It's hard. You're trying to get blood from a stone. There are some people who've been lucky and have found the formula that works for them and have been able to grow. That's what we're searching for. We're always searching for that. Listen, I just want a job for the next 15 years and to cook and make people happy. I hopefully have found that home.
I hope you have too. You were one of the earliest pioneers of farm-to-table cooking, which now, of course, has become ubiquitous. What's it been like to see that philosophy catch on and evolve?
Before I was a chef, I worked with people who really cared about the quality of their ingredients. They didn't always want to have asparagus on the menu year-round and to dice red pepper and garnish it in every dish. Knowing guys like Tom Colicchio and Jean Georges and Daniel [Boulud], these guys were the early pioneers. But I guess I always had that sensibility, not thinking it was going to become a trend, because that's the way you're supposed to cook. Alice Waters was always an inspiration to me. And yeah, I love being an early part of that, and to think I helped that movement along, I'm very proud of [that]. But I was a later pioneer. I'm second generation for sure.
What do you think of the future of farm-to-table? It now feels like a meaningless word.
I think that's true. There's people who would scream it and then buy one bag of broccolini or whatever. Listen, whatever. It's a marketing thing. Those people are found out. You can just look at menus and see what's on them at certain points of the year, and you know whether they're real or not. I just care about what I do, and I know what I know. I get mad if I have to keep an ingredient on the menu a little longer than I normally want to. I hate March!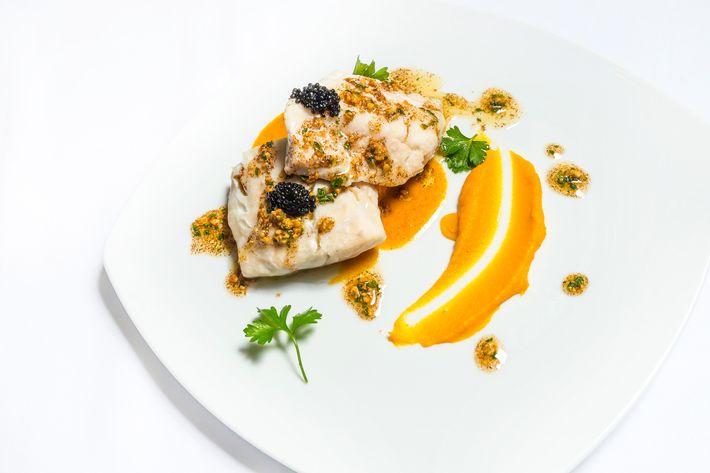 You hate March?
Because it's too cold and rainy and I'm tired of root vegetables by that time … The thing about fish is there's so much I have to learn, because I was sort of limited at Telepan, in terms of seafood. There was a funny point where I thought, I should just take fish off the menu. It's over. Fish is over. It's got a lot of mercury in it. Farmed fish is bad, and it's really expensive. But I like cooking fish. I think, coming here, what's exciting is the possibility of working with all these different species. I was one of the first chefs involved when Dock to Dish.
Will you add dogfish or bluefish? What do you have planned?
I just started with bonito, which I'd never really worked with before. I'm hoping to build as we all get more comfortable. Hopefully, people will reach out to me and say, "Hey, I got this." Because that's always fun. I just got a call from Kerry [Heffernan], who is on the Seafood Watch Board and said he wants me to be a part of it. There's all this fish that they deem "trash fish," even though we don't like using that term, which I will try to implement. I want to do a deep-fried porgy on Sundays and Mondays when I can get them in fresh. But again, I just changed the menu. It's big. I feel good about it. We've got to fine-tune everything, and it's busy here. In fact, I've got my largest service right now in about 15 minutes, so I've got to run!