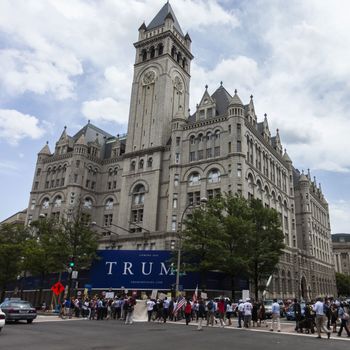 In his deposition, celebrity chef Geoffrey Zakarian suggested Donald Trump's kids sue their dad.
Photo: Anadolu Agency/Getty Images
When Donald Trump launched his presidential campaign with racist comments about Mexican immigrants last July, innocent Americans — not realizing what was coming — were outraged. Celebrity chefs José Andrés and Geoffrey Zakarian responded by bailing on their projects in the then-under-way Washington, D.C., hotel that bears Trump's name. Both chefs argued that Trump's comments made it impossible for them to work with him. The ensuing drama, as The Washingtonian discovered through depositions and court documents, caused more headaches than the chefs imagined, while Team Trump was never able to recover and get back to square one.
Andrés's decision to dump Trump was seemingly his own. Following public outcry, the CEO of Andrés's Think Food Group, Kimberly Grant, contacted Ivanka Trump, who didn't bother to respond, while the chef spoke to a longtime friend and former Mexican diplomat. While his friend advised him that the situation would blow over, Andrés decided to bail. Ivanka told the court that the Trumps found out about his decision like everyone else: when they read about it in the Washington Post. While the chef thought his sneak attack would give him the advantage, it's not clear he really thought out the potential consequences. Speaking with The Washingtonian, he says, "we didn't expect there was going to be any litigation." Which sounds like a strange thing to say about the Donald, whose love of lawsuits is well known.
Like Andrés, Zakarian tried to reach out to Team Trump first. There'd been some hiccups in bringing Zakarian's National restaurant to D.C., with Zakarian and Ivanka locking horns over interior design. But Zakarian had signed a letter of intent for a 20-year lease, telling a business partner it was "the best location in the best hotel in Washington!!" Andrés's decision prompted Zakarian to ask his then-buddy Donald Trump Jr. if his father would make a public apology, telling him that he'd think about moving ahead with the project if that happened. When it didn't, Zakarian ghosted Donald Jr. and, following Andrés's example, broke the news with the New York Times. Later that month, the Trumps sued both chefs for $10 million, only to be countersued by each. Possibly still bitter about Ivanka questioning his design decisions, Zakarian suggested in his deposition that the Trump kids "should sue Donald senior."
The fallout reportedly turned into a nightmare for Team Trump, which struggled to find a chef willing to be associated with the name. The Trumps, who insisted to their real-estate firm that the restaurant had to open with the hotel, were turned down or not taken seriously by a litany of chefs and restaurateurs including Tom Colicchio, Bryan Voltaggio, and Stephen Starr. The Trumps quickly signed on BLT Prime for the space Andrés's restaurant was supposed to occupy, despite there being a nearby BLT Steak. They were never able, however, to find anyone willing to take over the space Zakarian vacated, and eventually they just gave up. Grub has one suggestion for a potential tenant: the hot new baloney-sandwich truck from Portland, Oregon, called Donald Trump BS.