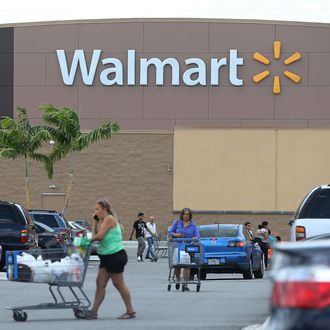 They've rolled back recycling.
Photo: Joe Raedle/Getty Images
Believe it or not, the world's largest grocer has actually made strides lately in eliminating food waste — this summer, it instituted a universal best-by label system in stores and now even sells ugly produce. Which is why this new investigation by the CBC must be a real bummer for Walmart: The broadcaster has a two-part series out this week that shows how stores in Canada are dumping large amounts of "perfectly good" food well before their best-by dates. A team basically rummaged through the garbage bins outside two Toronto stores for 12 days straight, and unearthed a variety of fresh fruit, unopened pastry boxes, unexpired cartons of milk, Parmesan cheese "with months left before it needed to be thrown away," bottled water (?), and even frozen items that were still cold to the touch.

In a second story, an employee who used to work at nearly a dozen Vancouver Walmarts over a six-year period says he'd routinely see trash bins piled high with things like canned food, baked goods, tubs of margarine, yogurt, and entire bags of produce. Among the explanations for why were that the items were cosmetically imperfect, or that a section lacked shelf space. More disturbing, according to that worker, was that nothing ever got sorted or separated: "Everything that gets thrown out, gets thrown out in its package," he says. "There was zero recycling, except for cardboard boxes, where they can make money." He adds he even wrote to the city's waste-management department. "I asked them, 'How come Walmart does not have to sort their garbage?' I did not get a reply." Meanwhile, the CBC adds that after it contacted Walmart for comment, stores started locking their trash bins up behind a fence.

The megachain did give the CBC a statement. It argues what their investigation uncovered is just Walmart's quality-assurance mechanism: "On some occasions, food which has not passed its best-before date is deemed unsafe for consumption. As a rule we don't place fresh food items on display for sale if the quality is not acceptable." A worker tells the CBC his Edmonton store had a more cynical take, though: "Once I asked my manager, 'Why do we have to just throw it away? Why can't we just, you know, give it away to some people that really need it?'" His boss reportedly answered, "If you just give it away to people, then why are they going to buy it from us?"