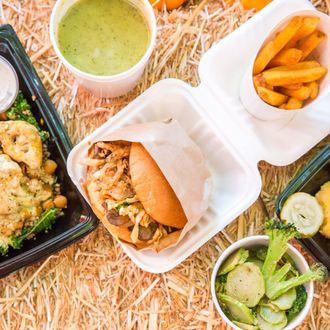 A sampling of fall menu items.
Photo: Courtesy of Veggie Grill
It's probably time people learned the name Veggie Grill, a fast-casual chain that's going gangbusters in Southern California and also happens to be entirely vegan. It announced Wednesday that investors who are liking what they're seeing have sunk another $22 million into the company so it can finally expand in earnest beyond the West Coast. The chain received $20 million in 2013, money it used to double the number of stores it was running to 28. The investment should be enough to double the chain's size again by 2019, it predicts, and the spots it's eyeing for expansion are primarily urban areas all over the country. The plan is to widen Veggie Grill's footprint in California, but also to "move out of the West Coast region," CEO Steve Heeley tells Nation's Restaurant News. "We're still evaluating markets, but we're looking at the Midwest and the East Coast."
The chain's seasonally rotating menu offers a mix of burgers, salads packed with superfoods, Asian-inspired bowls, and even a few main-and-two-sides-style entrées, all made without any meat, dairy products, eggs, cholesterol, or trans fat. Some people may never know it, though: Dishes include several with fried "chickin'" plus veggie versions of everything from crab to beef.
NRN says there are also plans to occupy airports and university food courts. The chain seems emboldened by its own market research, which it says shows "a large number of what we call 'veggie positive' people" out there who still like meat, but "want to move vegetables to the center of the plate." Veggie Grill will add even more bragging rights soon, too, as it's about to become the first chain to serve Beyond Meat's plant-based patty, a close competitor of the Impossible Food "bleeding" burger beloved by David Chang and other chefs right now.