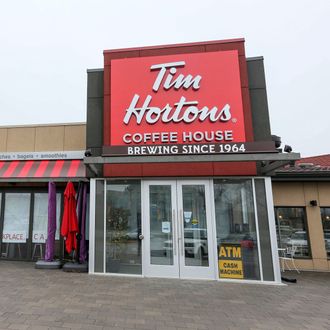 A Timmy's on every corner.
Photo: Andrew Francis Wallace/Toronto Star via Getty Images
What do Americans not need right now, in an era where there are already 30 billion K-cups consumed annually, pre-ground McCafé bags crowding the supermarket, and soda companies diving into coffee, but increasing evidence that the precious commodity is going extinct? Probably, for starters, enough brand-spanking-new Tim Hortons locations to accurately describe the chain as "everywhere" in America.
Alas, that seems to be exactly the goal that parent company Restaurant Brands, also the owner of Burger King, has for Canada's top coffee-and-doughnut chain. Restaurant Brands' quarterly earnings came out this week, and they left little to be desired; to show investors they've still got a fire in their belly, CEO Daniel Schwartz walked them through a big Tim Hortons expansion. Per Bloomberg:

Since Burger King bought Tim Hortons in 2014, the chain has been accelerating growth abroad to help drive sales. In August, it said it would be pushing into the U.K. through a master-franchise joint venture. … Closer to home, Tim Hortons is focused on expanding into new U.S. territories and adding stores in markets such as Minneapolis and Cincinnati.

"We think the Tim Hortons brand should be everywhere in the U.S.," Schwartz said. "We're always focused on finding new markets."
It's worth noting that the chain has been in the midst of a big U.S. "expansion" for a while, though not anything aiming for such … ubiquity. Saying it now is sort of strange timing, too, considering Starbucks and Dunkin' Donuts — which together comprise about 20,000 American stores — believe the future will boil down to who gets the most third-wave-y. Because Timmy Ho's is a place where "doughnut burger" gets uttered and the mochas consist of "Espresso, frothed milk and cocoa mix."