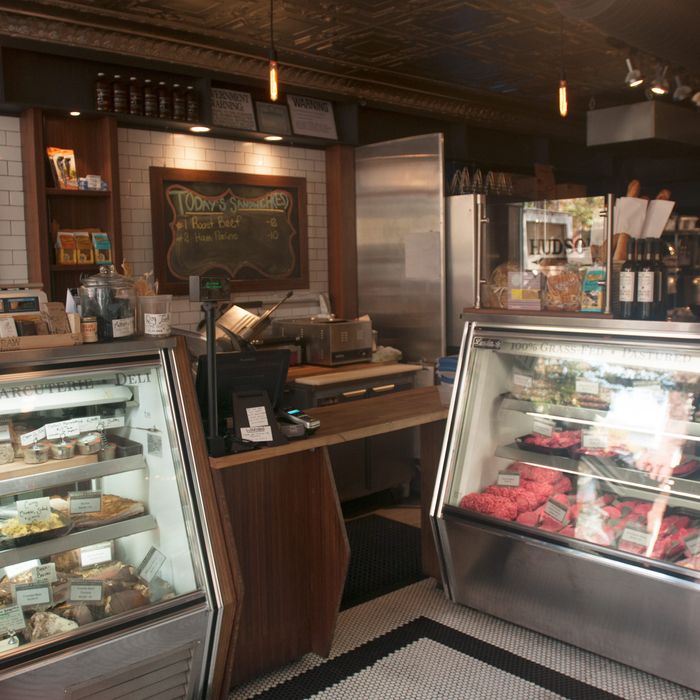 The West Village shop.
Photo: Courtesy of Hudson and Charles
At first glance, you might want to dislike Hudson & Charles, an unabashedly modern butcher shop that opened in late 2013, just a few blocks away from the storied Ottomanelli & Sons Meat Market in the West Village. Rib eye sells for $29 per pound; the men are bearded; Bon Iver is on the speakers. But, setting hipster stereotypes aside, it offers one of the most delightful food-shopping experiences in all of New York. It's good news, then, that co-owners Jason Fox and Kevin Haverty are finally opening a second location next month — this time on the Upper West Side, at 555 Amsterdam Avenue.
Hudson & Charles is even more boutique than, say, Murray's Cheese or Despaña Fine Foods: The shop is teeny-tiny, and each item that takes up precious space is there for a reason — because it's the best. To start, the meat: It's all locally sourced, pasture-raised, and grass-fed, and you can purchase custom cuts of beef, pork, lamb, goat, and chicken. Too hungry to wait? Too lazy to cook? There are also made-to-order sandwiches, like "The Balboa," a panini with smoked ham, bacon remoulade, raw baby Swiss cheese, and pickles. It'll certainly offer soon-to-open White Gold, and its chopped cheese, some not-so-healthy competition.
But what really makes Hudson & Charles stand out are the curated fixings. It's the only place on the East Coast to sell this fancy raspberry-flower honey, which sits on the shelf next to down-home Martin's potato rolls. The shop's own crostini, housemade with beef tallow, pairs perfectly with this smoked ricotta, and you can also pick up ropa vieja (Cuban beef stew), pâté de campagne, rotisserie chicken, and beer and cider growlers.
All of this could certainly come off as pretentious and aggressively artisanal, if the staff wasn't so damn nice and helpful. That's what makes this feel like a true neighborhood shop — advice about how to cook each specific cut of steak, which pasta (and even butter) pairs best with porchetta, and why it's worth trying "umamiwurst," as silly as it sounds. Hip, new-age shops like Hudson & Charles should never displace old, beloved favorites, but for food obsessives who want to discover new ingredients — of which they are many on the Upper West Side — this will be nice to have nearby.