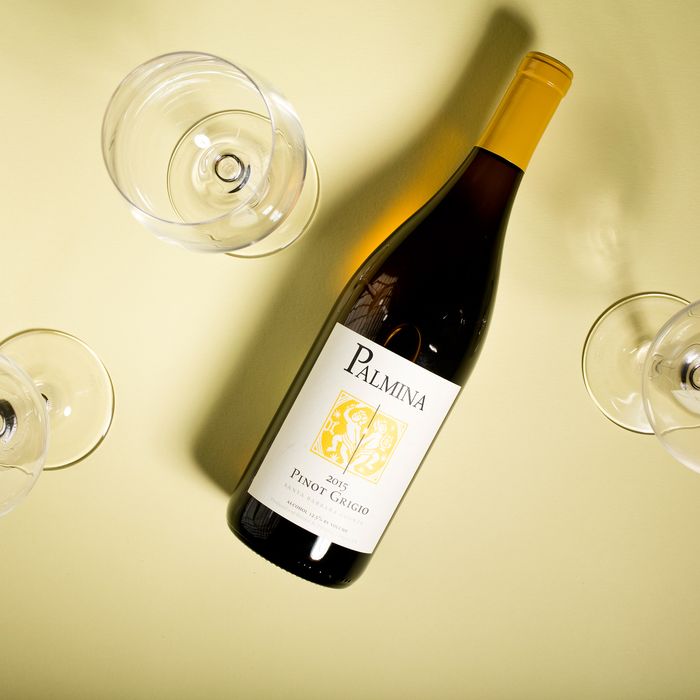 Pinot Grigio is the chicken finger of wine, a basic go-to that never gets any real respect. It's the wine your mom drinks with a few ice cubes plopped in to make it really cold. At its best, it's too simple; others might just call it trashy. But America once happily swam in a sea of great Pinot Grigio, before a flood of swill — led by Italian winemaker Santa Margarita — tanked Pinot Grigio's reputation as a respectable wine. Lately, though, a producer in California has been working to change that, turning out bottles of wine that are far more interesting than anything you'd pick up at the supermarket or drink for free during your friend's wedding.
"What happened with Pinot Grigio, or Pinot Gris, is that it became a brand more than grape, more than a wine," says Paul Grieco, the wine guru behind Terroir. "Santa Margarita, what they did marketing-wise, they fucked the pooch with what they did to it."
By contrast, a California winery called Palmina makes wine in what you could call a Cal-Ital style. Winemaker Steve Clifton and his crew use traditional Italian grapes like Barbera, Nebbiolo, and Vermentino, and focuses on making wines that are food-friendly. In a state known for Chardonnay and Pinot Noir, Clifton makes wines like Lambrusco, things rarely seen outside Italy.
"They've decided to craft something bigger, weightier. It's its own animal," Grieco says. "What they're doing is as righteous a style as anything they're making in Italy or Alsace, any that are crafted in Oregon or wherever else in the world." (It's worth noting that there are the producers in Alsace and Italy — a favorite of Grieco's is the Italian winemaker Venica & Venica — who have been making great wine with Pinot Grigio all along.) Clifton's Pinot Grigio shows that, if made well, the grape can yield wine with distinct qualities that drinkers look for in more fashionable wines.
As Chad Walsh, a prominent New York sommelier, says, "When Pinot Gris is kind of let to go a little bit in reliable hands, it can be such an interesting wine." Palmina's wine isn't complicated or difficult, but it's instead an affordable, unique wine you could drink every day. You won't even want to put ice cubes in it.