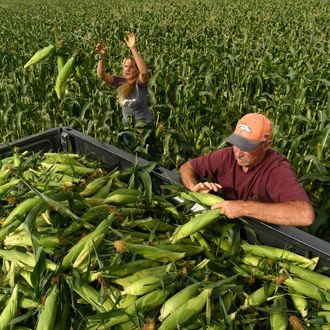 Farmers are hurting.
Photo: Helen H. Richardson/Denver Post via Getty Images
It's never easy being a farmer, but it's particularly tough right now. Supermarket prices fell for the tenth straight month in September, down 2.2 percent from last year. This makes the 2016 decline in food prices, as analysts predicted would happen, the worst since 1960. While this is a boon for consumers, it's been hard on everyone else, including restaurants that are finding it more difficult to attract customers, grocery stores with thinning profits, and farmers struggling to make ends meet.
A number of factors have contributed to the price plummet. After years of high prices and insufficient resources, there's now an oversupply of meat and grains, including a record corn crop of 15 billion bushels forecasted. Demand from China has declined, and the global economy isn't exactly running on all cylinders. Meanwhile, farmers are expected to produce 212 pounds per capita of beef, poultry, and pork.
The price declines are significant. Last month, a pound of ground beef was down to $3.66 from $4.13 last year; bacon fell to $5.48 a pound from $5.73; and the cost of a dozen eggs fell more than 100 percent to $1.47 from $2.97. Some of the worst-hit by the decline have been pig farmers: The National Pork Board says that pigs are selling for $97 each, down from an all-time high of $280, in 2014. While pig farmers can reduce their herds, there's little crop farmers who are paying rent on the land they farm can. Supermarkets, too, are suffering: Grocery chain Supervalu says second-quarter revenue fell 4.8 percent, while Kroger lowered expectations and plans to cut capital investments by $500 million this year and next.