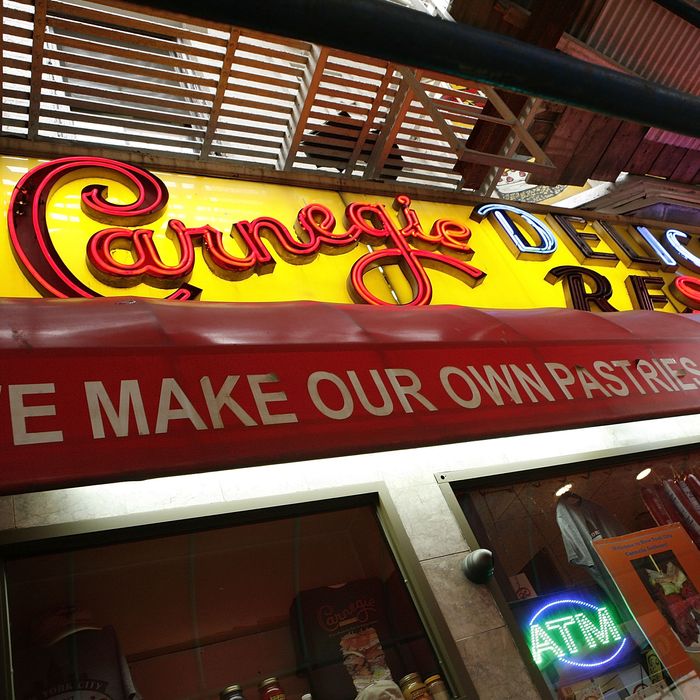 The storied delicatessen will close at the end of the year.
Photo: John Lamparski/WireImage
Even from the street, the Carnegie Deli looks like a New York institution. There's the sign — that famously florid, curlicue "Carnegie" — and the line of people that often stretches down the block. A host barks out, letting everyone know when a table is free. Inside, the room doesn't disappoint: Heaving cheesecakes crowd the refrigerator case, celebrity head shots are all over the walls, and oversize sandwiches are on every table. It's always loud, and it's always crowded. It's the portrait of a successful restaurant.
But at the end of the year, after an eight-decade run, the Carnegie Deli will close for good. The owner, Marian Harper Levine, is her own landlord, so the business wasn't done in by a rent hike. She's also rebuffed offers to buy the deli. As a result, New Yorkers who took the Carnegie for granted — which is to say, almost all of them — realize that even if the deli wasn't exactly good, we're nevertheless losing something integral to the fabric of the city itself.
When my father was growing up, his father took him to the Carnegie Deli for his first real pastrami sandwich. We're midwestern Jews, so a trip to New York was a big deal, and as far as my family is concerned, there is no New York–ier place to visit than the Carnegie Deli. When my father brought me to the city for the first time, at 13, it was obvious where our first meal would be.
Like everyone else, I thought the Carnegie's portions were ridiculous, its servers were cartoonishly brash, and the atmosphere was completely overwhelming, which was more or less how I felt about all of New York. I promptly decided I needed to live here.
Now that I do, like many New Yorkers, I avoid midtown, and the Carnegie Deli, as much as possible. It feels less like a real New York delicatessen than it does the theme-park version, or what a visitor thinks a New York deli should feel like. These days, when my dad comes to town, I rebuke his attempts to meet at the Carnegie and offer to take him to Katz's instead.
It wasn't always like this, though — the delicatessen used to be beloved by even the most jaded pastrami critics. Mimi Sheraton, writing for the New York Times in 1979, described the corned beef and pastrami sandwiches as "simply wonderful."
Now, however, the line that (still) stretches out the door is mostly tourists. When people who live in the city do crave pastrami, they head to blue-chip classics like Katz's and David's Brisket House, or newcomers like Frankel's Delicatessen and Mile End. Ed Levine of Serious Eats, who stopped by the Carnegie to pick up a sandwich to go just last week and was pleasantly surprised at "how good the pastrami still is," was equally surprised when several of his younger employees didn't even know what the Carnegie Deli is. "It has just totally fallen off the foodie radar," he says. "They'd never even heard of it."
Popular opinion is that Carnegie's food has gone downhill, its prices have gone uphill, and the tourist mobs have grown unchecked. Meanwhile, recent scandals (the nasty divorce of its owners, illegal gas siphoning) are further proof of the Deli's decline.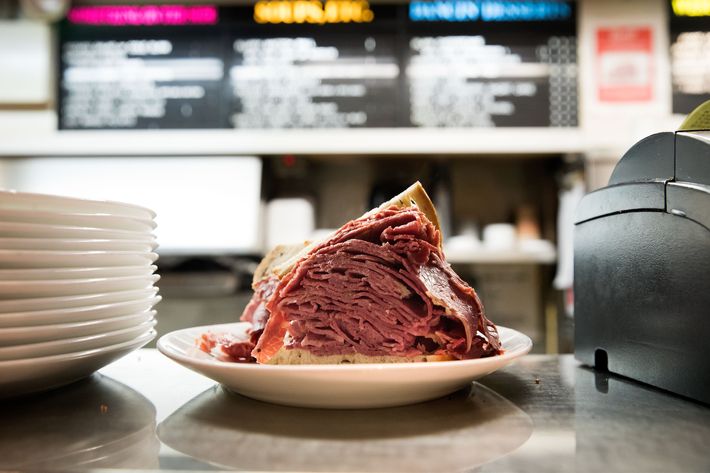 I agree with all of that, yet I was still crushed when I saw the news that Carnegie will close. Most of that is nostalgia, I'll admit, but it still feels like New York is losing an important piece of its soul, and I got the sense that I wasn't the only person who felt this way.
"I loved that place — especially when I lived out of town," says New York's restaurant critic, Adam Platt. "In those days, there were no great lines, no Disney atmosphere on the place. It was a real, unique New York institution." Platt, even though he wasn't a professional food writer at that point, had a ritual for his visits. "I'd get a hot pastrami on rye, which was frankly awesome, and sides of coleslaw and Russian dressing. I'd take the top off the rye and very delicately eat half of the meat out of the sandwich, then put the dressing and slaw on the remaining half, replace the bread, and make a properly sized sandwich that I could fit my mouth around. I'd eat the whole thing, waddle out, and not eat for two days — I consider that to be the epitome of a certain kind of timeless New York dining experience."
Matt Fisher, the pitmaster at Fletcher's Brooklyn Barbecue, grew up in the city, and he too mourns the loss of something that represents a fabled New York past. "Places like the Carnegie Deli are the flag-bearers of a deli culture — which was an essential part of the New York I grew up in — that is rapidly vanishing. I'm not opposed to progress, but someday people are going to have to decide whether progress is more important than preserving a place that represents the identity of who we are as New Yorkers," he says. "We wouldn't want to replace the Empire State Building, would we?"
"There is a roster of these types of gastronomic temples, which the Carnegie deserves to be on, that are a part of the soul of this great dining city," Platt adds. "When they go, a quarter of that soul goes with them."
Allison Robicelli, who was born in New York and now owns Robicelli's Bakery, agrees: "It's just a sign that our actual NYC culture is also becoming a thing of the past … It was designed by NYC as an exhibition on us. It wouldn't have been out of place in Epcot Center." Put another way, Robicelli says, "It was a tourist trap, but it was our tourist trap."