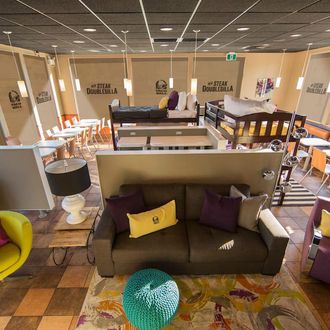 A place to "live más while enjoying our latest menu item."
To, in theory, celebrate the launch of Canada's new steak Doubledilla (a quesadilla with twice the meat), Taco Bell, a company committed to "foodie experiences," is transforming an Ontario location into an actual, operational Airbnb.
A storewide degreasing this good can't occur every day, so the deal is a onetime "steakcation" available October 17 only, to be awarded to one very lucky Chalupa superfan. He or she plus three friends will arrive to find the usual dining area furnished with two sets of bunk beds, a couple of couches, and a big-screen TV. Technically, it's listed as one room, but there are presumably two bathrooms, and perks do include the services of some poor hourly rate soul known as the "Taco Bell Butler," as well as the possibility of that notorious fast-food smell. Taco Bell is already accepting entries and will announce the lucky winner on October 11.