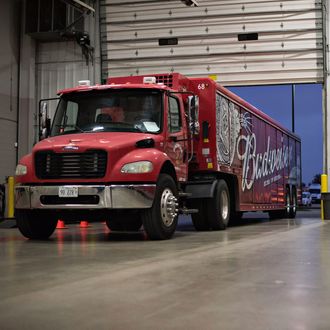 The future is apparently still Budweiser.
Photo: Daniel Acker/Bloomberg via Getty Images
Today there is some exciting booze news: An autonomous truck has completed the world's first driverless commercial beer delivery. The feat was completed by a self-driving 18-wheeler that navigated 120 miles of Colorado roadways next to, one would assume, absolutely terrified people in regular passenger cars. The truck and its 2,000 cases arrived "without incident" in Colorado Springs, the New York Times says.
Unfortunately, if you're fantasizing about cool, high-tech cargo in this driverless semi — beer made with space yeast perhaps, or loads of craft-beer powder — sorry to disappoint, but it was just 50,000 cans of lame old Budweiser. Although the start-up behind the delivery was Uber's autonomous-vehicle unit Otto, so there is that, and they at least bothered to shoot video of the truck in action:

Uber says the truck left from an Anheuser-Busch brewery in Loveland, logged plenty of interstate miles en route, and even zipped right through the center of Denver, which can only be read as a not-so-subtle middle finger to Coors. A live, trained human was paid to sit idly in the cabin at all times, but Uber promises new advancements will render this person's job superfluous in no time.

It's a daunting specter for other reasons, too: Terms of Uber and Bud's partnership weren't disclosed, but an exec at Anheuser-Busch tells the Times they "view self-driving trucks as the future" and "want to be a part of that." Anheuser-Busch delivers more than 1.2 million truckloads of beer per year — that is quite a large number of driverless deliveries — and pretty much any time anybody checks, it's clear these autonomous vehicles are up to no good.