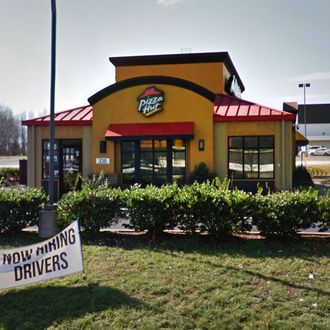 Not the cakewalk the men were hoping for.
A group of would-be robbers in North Carolina definitely picked the wrong Pizza Hut for their Saturday-night heist. Charlotte police say the trio entered the closed store a little after 1 a.m. in order to hold it up, but they ran into an employee who wore his "personal handgun" to work that day, and no doubt felt very justified in that decision. He apparently drew the weapon and shot one of the men, who police say was armed, too, and paramedics pronounced that guy dead at the scene. The other two suspects fled on foot and are still at large, while the gun-toting employee has been placed on a leave of absence "pending further review."
The Charlotte Observer notes this isn't the first time a Pizza Hut worker has shot and killed a robbery suspect on the job. The last time, it was a delivery guy who capped two men with his Glock 22. Anybody considering burglarizing an area franchise should maybe just order a pizza and chill instead.